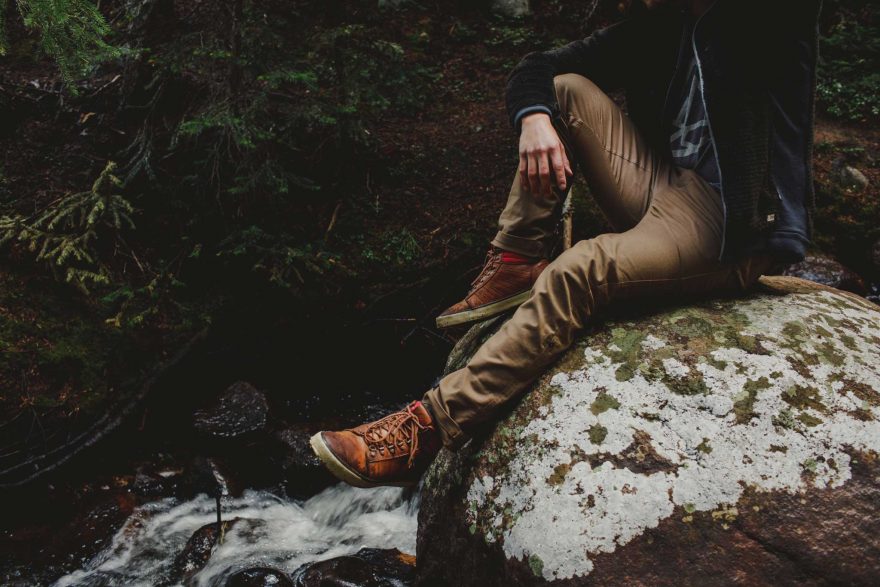 The LIVSN Flex Canvas Pant is intended to do more without looking tactical — perfect for adventuring outdoors and for heading into town
---
The pursuit for the perfect pant. It may not sound quite as epic or adventurous as seeking out the perfect vista, or the perfect wave, or the perfect slope, but for anyone who has spent years embracing life in the mountains, there's no question that having a great pair of trousers will help you on your travels. LIVSN, a startup clothing company that combines technical features and durable construction with modern styling, has worked to craft the ideal adventuring pant with its Flex Canvas Pant. I was curious — and I hope you are, too! So I spent some time reviewing the LIVSN Flex Canvas Pant. From dewy creekside mornings to the elevation of the peaks along the Blue Ridge Mountains, I liked what LIVSN delivers.
But first, I should detail what I look for in a great adventure pant. At the top of my list is:
Comfort: If clothing isn't comfortable, you're not going to wear it. It doesn't have to mimic the broken-in pair of PJs you own, but it does have to be something you're not thinking too much about after a few hours on the trail.
Durability: Yeah, I like rugged, and for that reason, something sturdy that isn't going to snag on every little twig or thorn is important. I also want something that isn't going to give me an abrasion if it rubs up against the rocks during a rappel. 
Breathability: This is the new norm for today's activewear, and it applies to a pair of pants in the same way it would apply to a hoodie or pair of socks. And it's more than just the material — it's also the way that material is constructed and layered that plays a huge role in pulling moisture away from your body.
Versatility: Can I wear this into the woods and then into town later in the evening? If I put on pants during a brisk morning, will they still work for me if the temperatures rise at lunchtime or if I hop in a kayak that afternoon? I like being able to have one item that can do more. For clothing, this category includes broad functionality, like having an appropriate number and placement of pockets.
Sustainability: I am eco-conscious, and I believe that everyone who appreciates nature and the world around them should have that mindset. So that means using materials that tap into sustainable sourcing, are upcycled or can go longer between washings.
The name LIVSN comes from the Swedish word "livsnjutare," which roughly translates to "one who loves life deeply; an enjoyer of life."
Andrew Gibbs-Dabney, the founder of Arkansas-based LIVSN, says that "the clothing you wear should never hold you back from doing the activities that you want to."
It's a philosophy that I, too, can get behind, and it's a big reason I was curious to see what his company's flagship product delivered.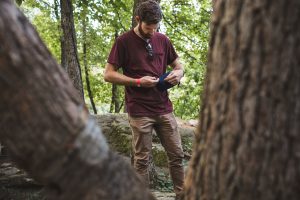 The 'Why' Behind These Pants
Gibbs-Dabney lives, works and plays in the beauty of the Ozarks, and this setting was instrumental to LIVSN's design philosophy, and one that led to the creation of the Flex Canvas Pant (which retails for $99).
"The point of these pants is to have one pair that does more without looking tactical — perfect for adventuring outdoors and around town," the company says.
Think of this as a go-to pant for wherever life takes you. I was able to wear the Flex Canvas Pant on an easy camping trip with my family, on a steep hike with friends and on a date with my wife (it has some slight tapering in the leg, giving it a more styled look than other outdoor wear). It works well paired with performance tees or with an easy-going henley or stylish button-up shirt.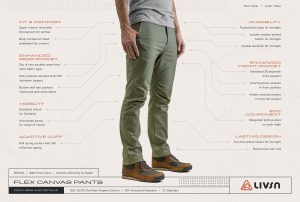 The Materials and Functionality
In hand, the LIVSN Flex Canvas Pant felt a little heavier than I would have expected, but once on, I had the exact opposite reaction — I was surprised at how lightweight they seemed. It was an amazing dichotomy that spoke well to this pant's uniqueness, and it was something that underlined how significant, yet latent, many of its features were.
For example, many of the more subtly integrated features — like a gusseted crotch, articulated knees, zippered rear pockets, knife pockets on each leg and reinforcements at all stress points — help to make these much more than your typical adventure pants.
The exterior fabric, which is a custom EcoFlex Canvas that LIVSN's produces, is highly durable, something that I appreciated during a rock scramble I wore them on. Under normal usage, there's no real threat of these pants tearing, and any dirt and debris you may get on them when you sit down for a break or for a meal brushes off quite easily. A lot of double-stitching helps to ensure that these pants will hold up over the long haul.
Truly a standout feature in the material and construction is the mesh seat liner, which makes the Flex Canvas Pant particularly comfortable and did a great job of wicking sweat off my body during the hotter part of the day or on some of my more strenuous activities. I also was happy to have the ability to roll the legs up and button them close to the knee (which I prefer over outdoor pants that zip off at the knee into shorts). And even with the fabric rolled around my calf, the pants didn't feel distracting or bulky there. Part of that is probably thanks to that EcoFlex material, which generally lays flat and packs small.
One thing to note is that this is a canvas stretch pant, incorporating elements of organic cotton and recycled polyester, and though it does bring real mobility to your adventuring, it's not going to be the extreme four-way stretch that you might be familiar with in pants that are a nylon-spandex blend, for example. But what it lacks in that spandex-level stretch, it far makes up for in durability.
Worry-Free Guarantee
LIVSN is a new company, founded only a couple of years ago and was part of the Startup Crawl at SXSW in 2019. And Gibbs-Dabney wants to stand behind the product fully — it's his simple "Worry Free Guarantee." For any manufacturing defect, LIVSN will repair, refund or replace the product at no charge. For issues from normal wear and tear, LIVSN will repair it at cost. If it can't be repaired, LIVSN says it will help with a replacement and store the old pair for upcycling
"This journey started with a mission to simplify our belongings," the company says. "We're not advocates for extreme minimalism, and don't preach throwing away all belongings. We kept what was well-made, served its purpose well, and especially those pieces that had sentimental value. We kept what mattered."
The Flex Canvas Pant truly feels like an item that matters.
Ryan Tipps is Managing Editor for ActionHub and has years of experience in a variety of digital and print media. Ryan lives along the Blue Ridge Mountains, is an avid hiker, backpacker and runner and has been a part of the wilderness search and rescue community since 2005.