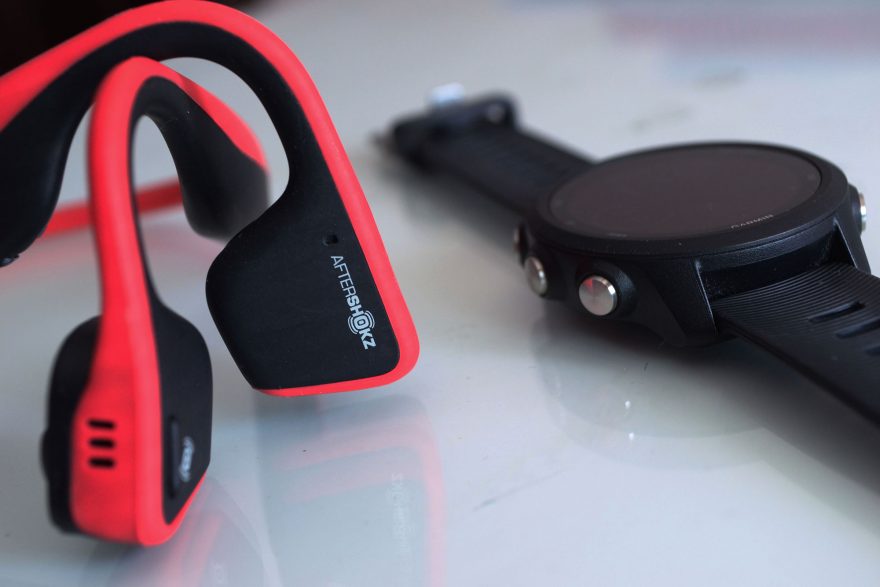 If you've struggled to find a pair of headphones that work with a music watch on your left side, this list should help
---
I've always worn a wristwatch on my left arm — and while I like to see myself as being pretty flexible in frustrating situations, this is one instance where I won't budge. I'm right-handed, so that's the hand that gets used and knocked around more, which catches me when I'm stumbling on a trail run or balancing me as I'm rappelling. It also means that having a traditional watch, a smartwatch or a fitness watch there would put it in jeopardy of breaking more easily. So when I'm on a long run or otherwise listening to music, I need to make sure I have Bluetooth headphones that are able to connect while wearing my music fitness watch on the left wrist. Usually this means that the headphones or earbuds need to have the receiver on left side, something very few headphones are equipped with these days. 
Why is This an Issue?
The Bluetooth signal from your watch is never going to be as strong as the one from your phone, and if you have a watch that plays music and has GPS capabilities, you're more likely than ever to leave your phone at home while working out (or even doing chores around the yard). But the weaker signal from a watch comes at a cost — and that cost isn't just related to sound quality. Rather, it's more difficult for the signal to get from your wrist to your ear, especially when they're on opposite sides of each other. Depending on how your arm is swinging, the signal has to penetrate your head or other parts of your body, too often resulting in a distorted (scratchy) or intermittent sound. 
These kinds of signal issues are exacerbated out of doors, where there are no walls for the signal to bounce off of and reach the opposite-side receiver. And the problem not brand specific to the watch — it'll happen with Garmin, Apple, etc.
So, your best bet, is to have headphones that create an easy line of sight between the watch and the receiver or have other features that make them amendable to such a setup.
Our Picks
I'll admit that I've spent well over a year hunting for a great set of headphones that'll work with my left-handed fitness watch, and I've got it down to a couple of pairs that really stand out and function without issue. Here are the best Bluetooth headphones I've found that work with a watch on the left side: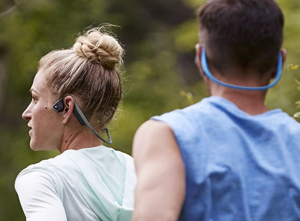 $79.95 — AfterShokz Titanium Open-Ear Bone Conduction Headphones
This one totally came as a surprise since I have yet to determine which side of these headphones the receiver is actually on. The action button — which allows you pause music, answer calls, etc. — is on the left side, but the power button and volume controls are on the right. I suspect it's on the right, but I wear these headphones now on a daily basis during runs while having my fitness watch on my left wrist, and I've never encountered an interruption to my music or podcasts.
Aftershokz Titanium headphones use bone-conduction technology, which many athletes have come to know as delivering audio through the cheekbone rather than directly into the ear. These leave your ears open to better hear oncoming traffic, race officials or other cyclists who may be coming upon you. They're also the style of headphones recommended by race organizations such as Ragnar Relays. The one complaint I've heard is that bone-conduction headphones tend to be better for podcasts and that music isn't as clear or robust as if you had traditional headphones or earbuds. But honestly, the difference is subtle for an athlete, where you're paying more attention to your workout than to the nuances of the song. My music supplements my workouts, it doesn't define them, and for that reason, the Titaniums have been great.
They're also IP55 certified to repel sweat, dust and moisture; they're comfortable; and they have a nice long battery life, which is billed at six hours.
The best reason I can guess as to why they work so well with a left-sided wristwatch is that bone-conduction technology places the "meat" of the headphone in front of the ear, so there's a slightly more direct connection between the watch and the receiver. Meanwhile, many typical headphones with the receiver on the right side have the receiver just behind the ear or inside the ear, increasing the potential for disruption. This is just a theory, however the fact is is that they do work, no matter the reason.

---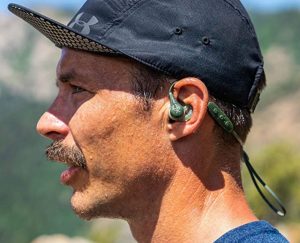 $89 — Jaybird X4 Bluetooth Headphones
It took awhile for me to warm up to Jaybird's X series, but that was because the X2s I had died on me within about four months — a time span that I thought was far too short. However, Jaybird was redeemed with the X3, and improved upon that quality (both in durability and sound) with the X4.
While not a typical left-side receiver, the beauty of the X series has been the ability to change both the size and the direction of the ear fins, meaning that you could set up an X3 or X4 to have the receiver on the left side, making for a seamless listening experience with your watch on that wrist as well. Couple that with the versatility of the size and style of ear tips you can choose (either foam or silicone), and these are headphones that will serve you well in a lot of circumstances. The only kicker is to be patient when first taking them out of the box and trying on all of the different sizing to make sure you truly find the one that works best for you. From then on out, you're good to go!
They don't weigh much, and there is a clasp to fold the cord into so that there isn't any annoying slack as it runs from one headphone to the other. They're also waterproof and have a lifespan of up to eight hours on a single charge.

---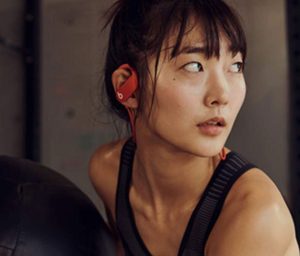 $149.95 — Powerbeats High-Performance Earphones
If you're not ready to go quite to this price point, I'd recommend the Powerbeats3 as a solid alternative, but if you want to go big, choose these premium Powerbeats. The power button and controls are on the left, so while the description has never explicitly says that the receiver is on the left-hand side, it would make sense based on its audio performance and some of its promo imagery. 
The design of Powerbeats is particularly sleek, so there's no question that you're wearing a high-end device. And the sound is better than any other set of headphones that you'll find on this list. Couple all of that with what the company boasts to be 15 hours of play time (we, admittedly, haven't pushed it quite that far), and a fast-charging option to give you an extra hour of sound, and these headphone clearly put themselves into the discussion.

---
Now what?
Does it feel like that list was a little too short? Yeah, to us too. And that's a shame. You can find Reddit discussions dating back at least five years with the complaint that companies simply don't make headphones that are compatible with music watches on the left wrist — yet very little has been done to address this. 
I would plead with companies to give us more options in that regard, but for now, choosing between the Aftershokz Titanium series, the Jaybird X series or the Powerbeats is your best way to go.
We are committed to finding, researching, and recommending the best products. We earn commissions from purchases you make using the retail links in our product reviews. Learn more about how this works.
Feature image is by Kattika Seemork, Shutterstock; all other images courtesy of the brand