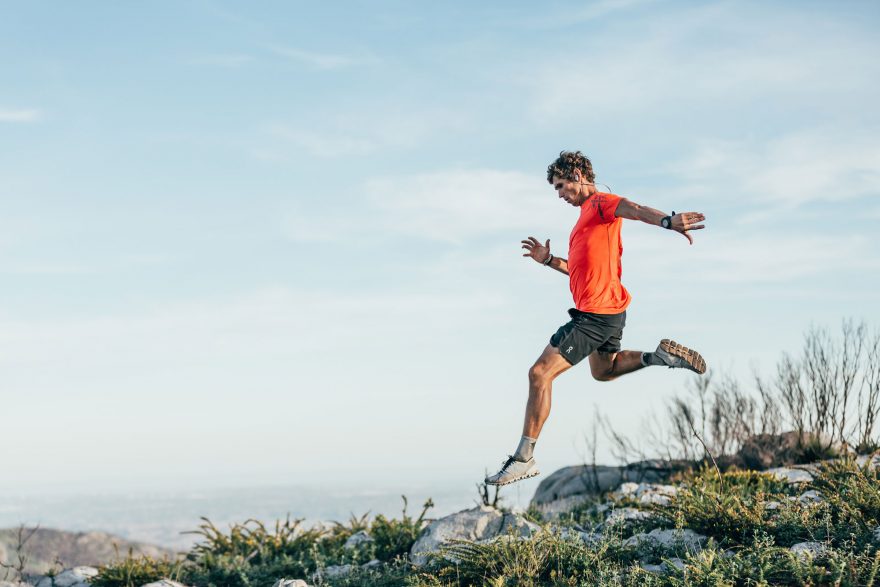 Using a nylon fabric regenerated from ocean waste, Rockay's running socks and performance sleeves are unlike anything else you'll encounter
---
In the performance wear market, there are numerous fabric blends to choose from. Many of them utilize wool and blend it with other natural materials or perhaps a synthetic material such as Lycra to help improve breathability and wicking. But Rockay's performance socks and sleeves originate from a thoroughly unique source, ocean waste, where the materials are spun into a nylon fabric that makes a stunningly comfortable and durable sock. The result will help you on both trail and road runs. To go inside the brand and see what they're all about, we get Unpacked with Rockay.
Denmark-based Rockay was founded in 2018 by Daniel Chabert, who wanted to channel his passion for running and sustainability into something great.
"He didn't want to simply create another brand … he really wanted to make a difference," said Vedrana Damjanovic, the company's digital PR coordinator.
It didn't take long for Rockay to get on the running world's radars: Just one year after launching, the company's no-show Accelerate socks were chosen by Business Insider as the best overall running socks of 2019. The company has also received press from the likes of Runner's World and Forbes, and they were featured here on ActionHub as part of an article exploring the differences between road and trail socks.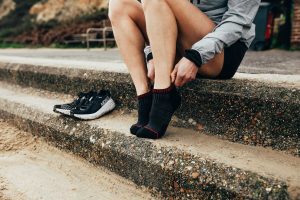 Rockay's product line includes light and ultralight ankle socks, as well as quarter-length, trail and full compression socks and calf and arm sleeves, all in their regenerated nylon fabric. They also have one style of socks in a traditional wool blend — the version that helped to get the company off the ground. 
Rockay has a simple yet purposeful mission:
We have a vision.
To inspire change.
By producing the best performance wear on the planet.
To stop senseless waste and pollution and to never waver from this.
We will bring products to the market that people have never seen.
We will go to any lengths to stick to our beliefs.
Uniting people to our movement.
So let's do this, join the Rockay Revolution.
Having worn a variety of Rockay's socks and sleeves along miles of roadway and through some torturous trails, I can attest that Rockay is undoubtedly doing things that most runners haven't encountered before. 
Built with Sustainable Materials
Foundational to Rockay's brand is its sustainability efforts and the steps in the manufacturing process — from the collection of waste such as fishing nets, fabric scraps, carpet flooring and plastic to the regeneration and purification process to the final dyeing and knitted — are described here. The company partners with Aquafil Italy to collect the ocean waste and turn it into socks that are 100 percent recycled (including packaging). The sorting and cleaning is done at a plant that fashions the waste products into Econyl regenerated nylon, making up half of the material in every pair of Rockay socks (recycled Polyamide and recycled Elastane are also part of the construction).
The company found early on that this regenerated nylon blend held up much better over time than the original Merino wool socks did, and it was an obvious choice to go all-in with Econyl's product. 
"It grew from there to keep finding ways to be as sustainable as possible," Damjanovic said.
Rockay's manufacturing uses a 200-needle thread count, which is more robust than many other socks on the market. As a whole, this approach further helps to make Rockay's socks tougher and more durable than many others you'll come across, while retaining a particularly smooth feel (think of it along the lines of the buttery smoothness of the high thread count on bed sheets). Rockay says that the denseness from the 200-needle thread count has allowed for better stretch and recovery, a closer fit that minimizes foot movement in the shoe and fewer issues with developing holes.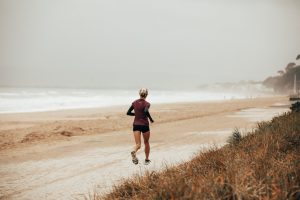 Rockay's Features
Tester athletes have put thousands of miles on these socks and sleeves to offer guidance and address their performance — not to mention that Chabert himself is an ultra-marathoner, so he had a grasp on what he wanted in a premium sock. All of this has led to the addition of a variety of features in Rockay's socks.
Perhaps what will jump out the most is the arch compression on every one of these socks. The material here provides great stability control, especially on trails, and eases symptoms of fatigue and aching from ailments such as plantar fasciitis. These have long been my go-to high-mileage socks — the kind that makes 10 miles on pavement go by that much easier. I've worn these socks with and without shoe inserts, and the compression zones complement whatever insole you're already comfortable running in. 
These are also some of the lightest-weight and most breathable socks you'll find. In fact, stack up one of Rockay's "regular" socks against any other brand's ultralights, and it's easy to see just how nice a Rockay can feel miles and miles into a run. The socks are left- and right-foot specific, further showcasing how they are honed into your feet.
Couple this with seamless toes, an anti-odor coating and anti-blister construction, and it's no wonder why this online-only brand has been catching on.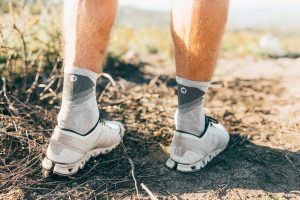 While the Accelerate, Rockay's ankle road sock, was the flagship of the early product lines, much has been added since 2018. Toward then end of 2019, the company broke into the trail sock space with its Razers, which put stability control and cushioning in just the right places. As with most trail socks, the Razers rise above the ankle, offer superb stability and have a snug elastic band at the top to keep dirt, gravel, sand and other trail debrs out.
Across all of the product lines, Rockay's founder "knew exactly the kinds of features he was looking for as a runner, and he wanted to fill in the gap in the market when it comes to these socks," Damjanovic said. The company offers a lifetime guarantee on its products to back up its position. (Recently, the company also announced that it is expanding beyond the sock and sleeve market — check out the teaser video here.)
As I've gotten back into running, I had my share of hardships. I first discovered Rockay when I began showing signs of shin splints and spent a month shopping around for the perfect calf sleeve to help with my condition. Rockay emerged victorious from the several brands I tried, and it was an easy choice to adopt their socks, too, and they quickly grew into a favorite.
If you give them a try — even just one pair to start with — it's likely they'll become a favorite of yours, too!
---
Unpacked is a regular feature on ActionHub to help people discover new performance and lifestyle items that will amplify their adventures and outdoor experiences. This article was not sponsored by the brand or any PR/marketing agency, and all opinions are that of the ActionHub writer.
Images courtesy of Rockay