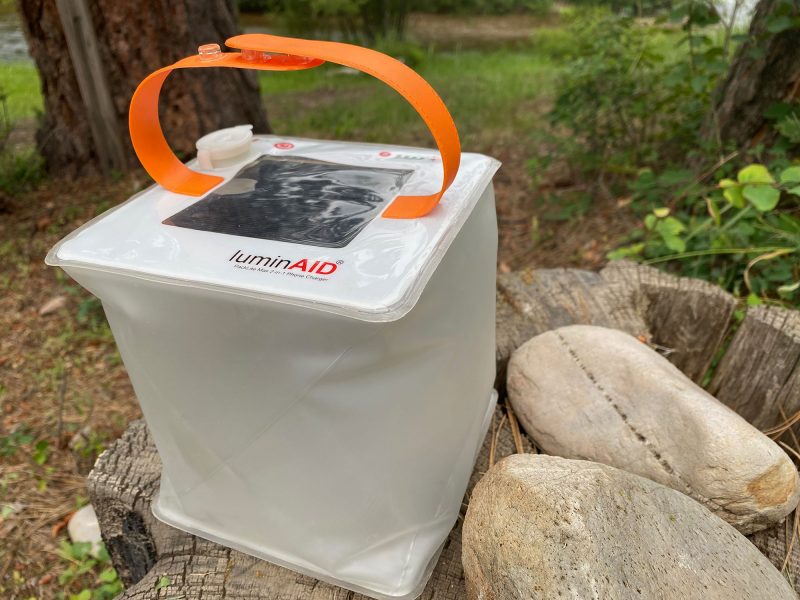 This LuminAID PackLite helps to bring modern convenience to the outdoors
As a long-time fan of the TV show Shark Tank, I've seen hundreds of people pitch their products to investors. And I've been fascinated by a lot of those products. But when an innovative product in the outdoor space appears, I'm especially interested. Back in 2015, entrepreneurs Anna Stork and Andrea Sreshta pitched their company — LuminAID — to the "sharks" and quickly struck a deal with investor, Mark Cuban for their 2-in-1 inflatable solar lantern and phone charger.
How it began
After a catastrophic earthquake hit Haiti in 2010, Stork and Sreshta (then grad students) set out to design a product to help with relief efforts. They saw a need for solar lighting on the ground after a natural disaster, so they created a lightweight inflatable solar light to give safe light to families. With the help of Cuban, Stork and Sreshta have shipped hundreds of thousands of LuminAID inflatable solar lights to more than 100 countries. And they've expanded their company — offering a solar lantern that doubles as a phone charger for camping and outdoor use.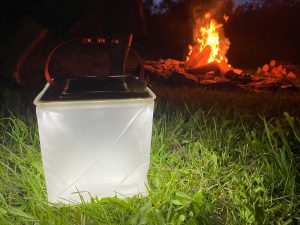 What is it?
The LuminAID PackLite Max 2-in-1 Phone Charger ($49.95) is a lightweight inflatable solar light and phone charger in one. Weighing in at less than nine ounces and measuring just one inch when flat, this solar phone charger easily fits in the ultra-compact outdoor gear category.
How does it work?
To charge your phone, simply plug your USB cable into the USB port and push the small red battery icon button. Depending on the type of phone you have, the LuminAID PackLite Max 2-in-1 Phone Charger will fully charge your phone in 2 to 4 hours. To use the light, inflate the PackLite then press the larger red power button. You can set the light to one of the five light settings (bright to low and flashing) by clicking the button. In the lowest light mode, you'll get an impressive 50 hours of light on just one charge.
And there are two ways to charge it. By USB cable (which takes about an hour) or by the sun (which takes about 14 hours). On a full charge, my iPhone went from 1 percent to 40 percent in less than 30 minutes. I'd recommend charging it before heading out into the great outdoors, so you can charge your phone fully on the first full charge and use your phone while it's re-charging from the sun via the solar panel.
It also has a snap-together strap, so you can strap it on the outside of your backpack to charge during the day. You can also hang it from a tree for a make-shift lantern.
Where can I use it?
Since it's waterproof and it floats, you can use it in any weather — and essentially everywhere — outdoors and indoors! It's ideal for lighting your tent while camping, lighting a path at night outside, lighting your house during a blackout and charging your phone while hiking and exploring. I've even used it RV camping to charge my phone as an alternative to starting the generator. And since I use my phone as a Wi-Fi hotspot to connect my laptop when working remotely, it's helped me work more effectively outside. I've also charged my wireless headphones and a smartwatch with it, so it can charge more devices than just your phone.
So, what are the cons?
Although the inflatable feature keeps the charger compact, the valve to blow it up sticks out so you can't lay it flat on surfaces. It also takes a while to fully charge from the sun alone (about 14 hours) so you need patience — or to fully charge it by the USB cable before you head out. The last con for me is the design aesthetic. It has a medical or first-aid look to it. I'd like to see LuminAID offer it in different colors and designs, so it feels more like part of my camping and adventure gear rather than an add-on piece.
The best thing about this inflatable solar light phone charger is that it actually works! And this is just one of the products LuminAID offers. For a full list of products visit luminaid.com.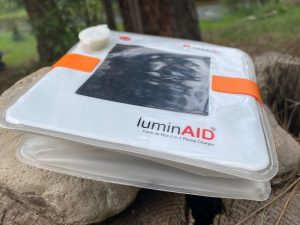 Suzanne Downing is an outdoor writer and photographer in Montana with an environmental science journalism background. Her work can be found in Outdoors Unlimited, Bugle Magazine, Missoulian, Byline Magazine, Communique, MTPR online, UM Native News, National Wildlife Federation campaigns and more.
We are committed to finding, researching, and recommending the best products. We earn commissions from purchases you make using the retail links in our product reviews. Learn more about how this works.
Images by Suzanne Downing