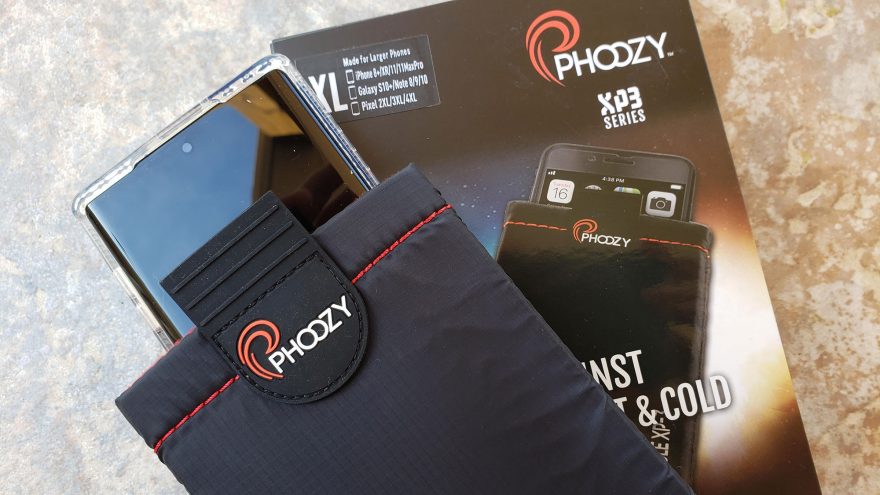 The Phoozy Thermal Capsule XP-3 is a sleeve designed to protect smartphones from extreme heat and cold, as well as offering flotation capabilities and drop protection up to 3 meters
---
When I'm in the woods, it's pretty common for me to pack my smartphone into a homemade pouch, something to protect the device in case I smack my pack on the rocks or if temperature starts to dip or climb too much. At the beach, forget about it — I don't even bother bringing my phone with me for fear it'll overheat and shut down. So I was eager to test out a Phoozy Thermal Capsule, a sleeve that is designed to protect smartphones and other electronics from extreme heat and cold, as well as offering flotation capabilities and drop protection up to 3 meters. Specifically, this piece will be a Phoozy XP-3 review and walk-through, one of the manufacturer's higher-end capsules.
What the Phoozy Does For You
The Phoozy XP-3, designed in North Carolina, is intended to reflect 90 percent of solar radiation, so keeping it sitting on your towel during a few hours at the beach isn't going to destroy your phone. Everyone who has been in a situation where their smartphone is in direct sunlight for too long knows the device overheats and shuts down — the Phoozy is billed as protecting against temperatures up to 200 degrees Fahrenheit. 
On the other end of the spectrum, cold weather can be torture on a battery, draining far more rapidly than normal. The Phoozy should keep your smartphone safe down to negative 20 degrees Fahrenheit.
While you're not going to be making calls or answering texts while your phone is in the Phoozy XP-3, the capsule doesn't block your Bluetooth signal, which means that you can continue listening to music while the phone and Phoozy are tucked away safely in your pack or in a purse.
Probably my favorite feature of the Phoozy is its flotation capabilities. Drop it in the drink, and it pops right back up, laying flat on the surface of the water. The case isn't waterproof but, rather, water resistant. Coupled with the water resistance most newer phones already have built into them, and having your device tucked into a Phoozy can save you hundreds of dollars should you find yourself amid the desperate cries of "Phone Overboard!"
The XP-3 also boasts "military-grade drop protection," claiming to keep the phone safe in a drop of up to 3 meters, which is more than double military-grade standards. I tested it at only a couple of feet, without the smartphone's normal case on it, and the Phoozy did seem to do a nice job of providing a soft landing — even when I intentionally tried to drop it on an edge or screen-side down.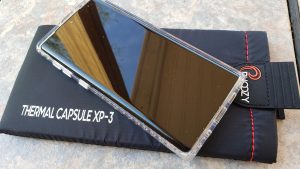 The Look and Feel of the Phoozy XP-3
The Phoozy has a space-age feel that harks back to its roots, having been adapted from spacesuit technology. The XL size, one of two sizes the XP-3 comes in, is made for devices as large as the iPhone 11 and 11MaxPro, the Samsung Galaxy S10+ and Note 10 and the Pixel 3XL and 4XL. My Samsung Galaxy S9+, even with the phone case still on it, easily fit inside the Phoozy. The interior was made up of a soft, non-scratching liner, and there was a small mesh pocket to stash credit cards and money. Both the small pocket and the main pocket of the XP-3 close using Velcro.
The mouth of the Phoozy has large durable rubber tabs so that it can be easily opened even if the user is wearing heavy winter gloves. The back side of it includes a grip attachment system to help secure the Phoozy to a hiking pack, a boat cubbie or a gear bag — just bring straps or a carabiner. All of the stitching seems well-made, which is crucial for adventures.
The Phoozy XP-3 is available in four colors: Cosmic Black (which is what I have), Iridium Silver, Iridium Gold and Woodland.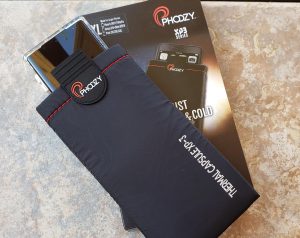 Bottom Line
I don't ever recommend your smartphone being the only tool you take with you into the backcountry or out on the water — knowing how to use a GPS, map/compass or other guidance system is vital to adventurers. But when I do have my phone on me, I want it to last as long as possible, and for that reason, I'm happy to have the added temperature and shock protection offered by the Phoozy XP-3. This device retails for $49.99, has a one-year warranty and comes in the Plus and the XL sizes. It's also part of a broader family of thermal capsules, namely the Apollo and Apollo II, which retail for a bit less money and have a couple of fewer features in them.
If you like what Phoozy delivers, as I did, the company has a broader range of products that specifically help in insulating devices such as tablets and Chromebooks, too. But don't feel limited by what's listed, as portable hard drives, drone batteries, earbuds and other electronics can each be held in a Phoozy thermal capsule.

Ryan Tipps is Managing Editor for ActionHub and has years of experience in a variety of digital and print media. Ryan lives along the Blue Ridge Mountains, is an avid hiker, backpacker and runner and has been a part of the wilderness search and rescue community since 2005.
We are committed to finding, researching, and recommending the best products. We earn commissions from purchases you make using the retail links in our product reviews. Learn more about how this works.