The pros, the cons and why I'm obsessed with Balega's Hidden Comfort socks for all my runs
---
Whether you're new to running or a seasoned distance runner, you probably know the value of quality running shoes. And you know that caring for your feet can make your runs more comfortable. Some people spend hundreds of dollars on that perfect pair of running shoes. But those same people often skimp on their socks. That's like ordering filet mignon at an upscale restaurant and asking for a bottle of ketchup.
When I first started running eight years ago, I researched a lot of running shoes. And I bought a lot of running shoes. From Brooks to Nike to Hokas, I got insights into them all. But for the longest time, I didn't give much thought into my running socks. I'd buy a three pack of whatever was on sale — Adidas, Nike, Puma, the usual big-box store suspects.
But then I discovered Balega Hidden Comfort socks. And I became obsessed! For the past few years, they've easily become my go-to running sock (and most comfortable). Here's why: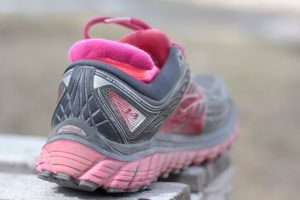 The fit and comfort
Pros: Balega socks come pre-washed, so you can wear them right out of the package. They fit low on the ankle, are super soft, and they'll easily stretch over your feet. And the socks are true to size. I wear a women's size 8 running shoe, and the recommended size small is a perfect fit.
But what really stands out is the cushioning. With a triple ply underfoot cushioning bed, it's like running on a cloud. The socks also fit the contours of my feet without restricting them or feeling tight in sections like other socks.
They are equipped with a no-slip cushioned heel tab. It's designed to keep your sock from slipping into the inside of your shoe. And it actually works. In the past three years, I've never had a Balega hidden comfort sock fall into my running shoe. If you've ever been on a run and had to frequently stop to pull your sock out of your shoe, you'll appreciate this built-in cushioned heel tab!
Cons: The beloved built-in cushioned heel tab only works with low running shoes. Fortunately, I own only low running shoes. But if you have a higher-ankle running shoe, the sock may not line up as well with your shoe.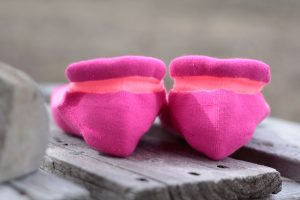 Performance and Durability
Pros: On top of the cushy feel you get with these socks, there are also specific performance features that fuel my obsession.
First, they breathe well. Balega's Drynamix moisture management system allows free movement of airflow ensuring cool and dry feet with its unique rapid moisture evaporation system, and they have built in mesh ventilation across the top.
Second, the toe is so comfortable. At the end of the sock, there's no seam! Each sock is hand-linked to give you minimal friction when you're running. I've worn other socks with uncomfortable toe seams that rub during a run. But not these!
Cons: The only con I found with performance is how they perform in extremely hot weather (which is rare here in western Montana). When it's over 90 degrees, my feet seem to feel a lot hotter than usual.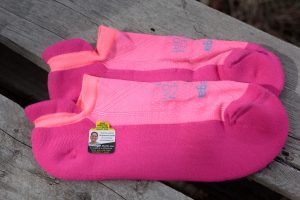 Sustainability and Giving Back
Balega packaging is made up of partially recycled cardboard. Their manufacturing facility in Cape Town, South Africa, uses a water recycling purification system that recovers up to 50 percent wastewater. And they give back to South African communities, donate money to breast cancer prevention and help veterans in need.
Other Perks
You can choose from 16 colors of Balega Hidden Comfort socks: orange, blue, pink and teal, just to name a few, and some socks have a mixture of color blends. The price point is better than most other specialty brands, at around $13 a pair. I'd choose one pair of these over a six pack of lower quality running socks any day.
They're versatile. You can wear them for practically anything. I wear them for volleyball and even without shoes for a quick cushioned run on my treadmill. The design is unisex — they make a great his-and-her gift.
Each sock is hand inspected by Balega's sock inspectors. And each pair comes with a photo of the person who inspected your socks. It's a nice personal touch. You can even meet the sock inspectors on Balega's website.
I'm not alone with my obsession to these socks. More than 2,500 people have left 5 star reviews on Amazon. Every time I lace up for a run, these socks are like a hug for my feet.

Suzanne Downing is an outdoor writer and photographer in Montana with an environmental science journalism background. Her work can be found in Outdoors Unlimited, Bugle Magazine, Missoulian, Byline Magazine, AGDAILY, Communique, MTPR online, UM Native News, National Wildlife Federation campaigns and more.
All images by Suzanne Downing
We are committed to finding, researching, and recommending the best products. We earn commissions from purchases you make using the retail links in our product reviews. Learn more about how this works.