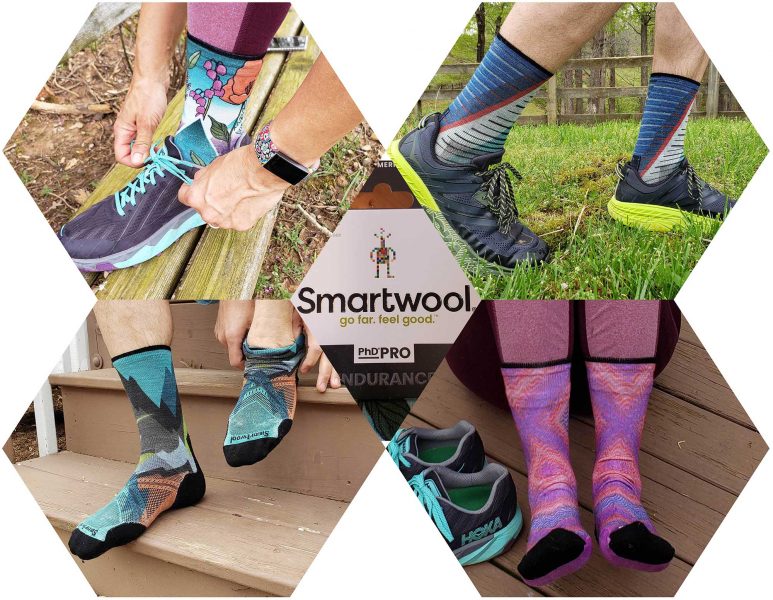 The men's and women's PhD Pro Endurance Print Crew and PhD Run Ultra Light Print Crew socks from Smartwool bring prime performance to your trail runs
---
During a trail race, you're thinking about the heavy in and out of your breathing, the beads of sweat tickling your eyebrows, the movement of your hips as you step over each rock and root and, of course, how your feet are holding up. Much of how comfortable your feet feel during a run has to do with your shoes, but it's important to note that wearing the right sock means a lot to your performance, too. We had the opportunity to spend a few weeks trying out some of Smartwool's trail running socks (the Smartwool PhD Run series), and they have certainly become part of our rotation when getting off the pavement.
Smartwool, the Colorado-based performance-wear company, is well-known among those of us who play outdoors — their baselayers are commonplace at outfitters nationwide, and their trail socks are go-to choices for thru-hikers everywhere.
The company has built itself around the premium Merino wool fiber, which is more durable and lighter weight than traditional wool. Anyone who has worn Merino wool has been able to feel the benefits firsthand — the way it pulls sweat away from the body, how well it keeps your feet warm even when soaked in snow or rain and how the natural fibers allow your skin to breathe as you exert energy. The sheep that produce this wool can live in temperatures from 5 degrees to 95 degrees with no problems, showing just how versatile the fiber is.
All of these features translate nicely to the 2020 line of Smartwool trail running socks, which include the PhD Pro Endurance Print Crew and PhD Run Ultra Light Print Crew for men and the PhD Pro Endurance Print Crew and PhD Run Ultra Light Print Crew for women.
These Smartwool products have a lot of similarities, including patent-pending technology, but also have several unique qualities that separate them from each other and from their competitors.
As runners transition back and forth between the trail and the road, it's important to know exactly what separates trail running socks apart from road running socks. Smartwool delivers socks that check all the right boxes, and we will take this time to break down each pair we tried.
Here are four Smartwool trail running socks (two men's, two women's) that we put to the test: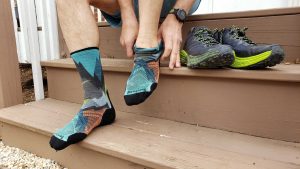 Men's PhD Pro Endurance Print Crew
Breathability was what struck me when I put on Smartwool's PhD Pro Endurance Crew for the first time. The changing texture over the top of the sock showed where it is made to vent sweat away from my feet, and as someone who certainly prefers not to carry a heaviness around my feet as I run, it was nice to have a trail running sock that felt light without sacrificing features that too often come with that moniker.
These socks are cushioned around the heel and ball of the foot better than many other running socks I have — and all the while, the cushioning has never felt cumbersome or excessive. The elastic at the top has held up well over the 23.4 miles (per my Garmin) that I've put in so far while wearing them during runs. And that elasticity, where it needs to be tight enough to keep out rocks, dirt and other trail debris but not so tight as to hinder circulation, found just the right middle ground between those needs.
The PhD Pro Endurance Crews are wonderfully soft, stylish (love the mountain designs!) and stretched in just the right way, thanks largely to Smartwool's 4-Degree Elite Fit System, which is intended to amplify performance and provide a flex zone at the ankle joint. The socks formed well to my feet, with largely seamless construction (Smartwool calls its patent-pending construction method Indestructawool) and being snug enough to where I could feel the contours of my shoe and not have any loose fabric to create blisters or other discomfort.
Perhaps a secret weapon in designing these socks was the input of famed ultra-runner Rob Krar, who set out to help make these the ultimate ultra-run socks.
Vitals:
Rob Krar signature sock
Minimal and targeted sole cushion; Achilles heel cushion
Malleolus ankle cushion for protection on the most rugged trails
Virtually Seamless toe for enhanced comfort
Made in USA of imported yarns: 57% Merino Wool, 38% Nylon, 4% Elastane, 1% Polyester
Price: $25.95

---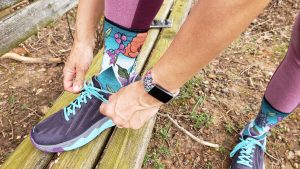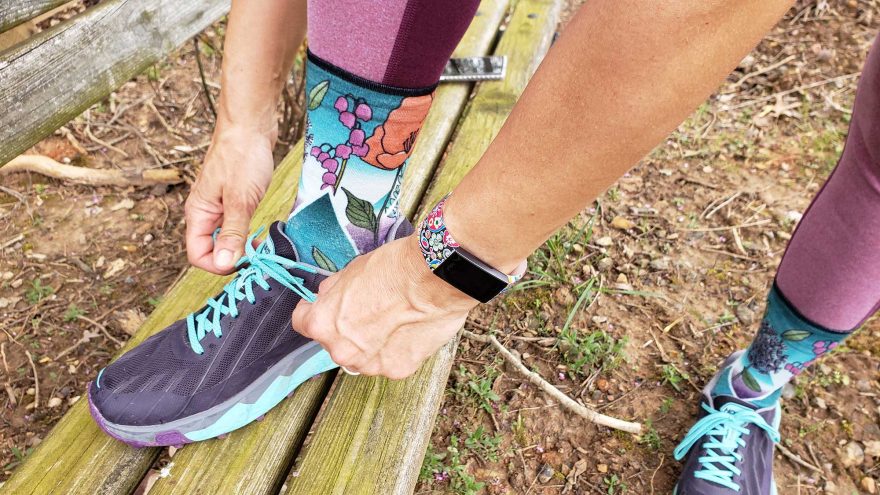 Women's PhD Pro Endurance Crew
The first thing I noticed about these socks was the bold floral pattern — it's hard not to immediately be drawn in by the eye-catching design of the Smartwool Women's PhD Pro Endurance Crew. But you're doing yourself a disservice if your interest in and appreciation for these socks stops there.
The Women's PhD Pro Endurance is new for 2020 — the men's version of this sock was released in 2019 with the help of ultra-runner Rob Krar, and his vision for it, namely the minimal and targeted sole cushioning and a new malleolus ankle cushion, has been translated into a women-specific design with the hopes of helping us on our toughest and most rugged trail runs.
My hopes of wearing these on a chilly race morning in March or April were somewhat dashed as hundreds of races were canceled nationwide in the spring and summer of 2020. Well, they were canceled in reality, but many chose to offer "virtual" options, and that's the opportunity I took to wear the PhD Pro Endurance Crews on some of the trickiest trails in my area of the Blue Ridge Mountains (at least I could try to simulate some of the race-day energy I had been looking forward to). 
With leaves still covering many trails, I found myself stepping on small rocks and sticks during two of my favorite virtual runs — so I was extremely pleased to have some key cushioned spots under the ball of my foot and around the heel, especially where I was striking heavily on the steeper parts of the trail. Compared against the men's version of this sock, the women's PhD Pro Endurance is cut slimmer, and it hugged my heel well without being too tight. Smartwool puts a lot of effort into the flexibility around the ankle with its 4-Degree Elite Fit System, and it offered good movement without sacrificing the stability I've gotten used to with other socks.
The weather in my area warmed up more quickly than I expected this spring, so I was happy to have ventilation spots along the top of this sock, helping with moisture and not planting the seeds of any hot spots on my feet. After several runs and a few turns in the washing machine, there's no sign of wear at the toe or any other key spots where I've seen socks fail in the past. The durability of this sock is partly thanks to Smartwool's patent-pending Indestructawool construction method, a technology that has found its way into so many of the company's footwear products.
Vitals:
Minimal and targeted sole and Achilles cushion to add protection without adding bulk
Malleoulus ankle cushion for protection on the most rugged trails
Virtually Seamless toe for enhanced comfort
Made in USA of imported yarn: 49% Merino Wool, 44% Nylon, 4% Elastane, 3% Polyester
Price: $25.95

---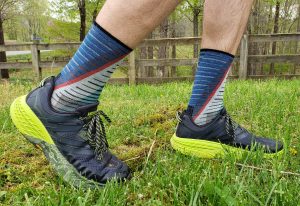 Men's PhD Run Ultra Light Print Crew
The first time I wore these socks, I was on a winding 900-foot mountain climb getting pelted by rain that somehow kept finding its way through the tree canopy. The ground was wet from the day's steady rainfall, and my vented running shoes did little to keep the water out. These were not ideal conditions for a fast run, but for those of us who love trails and enjoy squaring off against adversity, it was a fun 5+ miles. And these conditions were exactly the reason I chose to try out the natural-fiber Smartwool PhD Run Ultra Lights this particular evening.
My feet, along with the rest of my body, tend to run hot, so nearly every trail running sock I own is lightweight. Having these ultralights, though, was a nice change amid the warm rainstorm that first day in them. Since then, these socks have gone with me for an additional 20 or so miles, keeping my feet cool and comfortable each time I head out.
The Run Ultra Light Crew has an almost seamless design, which limits the opportunity for hot spots to form. Because it's thin, my foot fits particularly comfortably in my shoe and, even though each sock isn't specifically designed for right-foot vs. left-foot wear, they mold well to the shape of my feet. Smartwool has what it calls a 4-Degree Elite Fit System, which offers nice flexibility around the ankle.
There are some elements of minimalism to this sock, with only mild compression and no real cushioning to speak of. However, for durability, the Run Ultra Light has a reinforced toe that is a blessing, since that's where I tend to be hardest on socks.
I like the ventilation that stretched across the top of my foot, no doubt aiding in breathability. It also incorporates Smartwool's patent-pending Indestructawool technology, a construction method the company says makes the socks last longer and stay comfortable for their lifespan.
Of course, it's also hard not to like the creative pattern that Smartwool put on these socks.
Vitals:
Virtually Seamless toe for enhanced comfort
8.5-inch overall height
Made in USA of imported yarn: 46% Merino Wool, 49% Nylon, 4% Elastane, 1% Polyester
Price: $20.95

---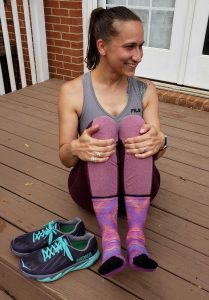 Women's PhD Run Ultra Light Print Crew
I knew I'd like these pretty, lightweight socks as soon as I slipped them on — there's a soft durability in them that is immediately apparent. I have narrow feet, and the PhD Run Ultra Lights offered a slim fit that I rarely encounter.
I was certainly in the infatuation stage after my first workout in them, a 4-mile HIIT (high intensity interval training) session down my rural road that saw me at times chugging away down asphalt, picking across gravel and praying my way through uneven grass and dirt.
Not once did I notice slippage or bunching from a too-loose fit. Not once did I feel the constriction of a too-tight fit. Whether it was Smartwool's 4-Degree Elite Fit System or simply the crew style — higher than my normal ankle preference — debris was prevented from entering the sock. I was keenly aware of this a non-development during my entire run, because there are multiple spots along this route that I dread, knowing that some miniscule chunk of rubble will sneak in and harass me until my mailbox finish line.
I was afraid the honeymoon was over once I returned home and removed my Hokas to realize that my feet were sopping wet and starting to get chilly. Merino wool is supposed to prevent that!
So at what point did I fall in love?
It took less than two minutes. I put my trail running shoes away and padded toward my clothes hamper to toss in the socks, but, as I tend to do, I got distracted along the way. And while I was involved in another task, I realized that my feet weren't cold. As I marveled over that, I realized that my feet weren't wet anymore, either. That was fast! Smartwool credits their mesh ventilation zones for this breathability and moisture management. They're not cushioned, and while I tend to like cushioning, I realized that I don't need it in these Smartwool socks, as the Elite Fit System is geared for performance without bulkiness.
The day quickly became busy, and I switched into and out of various types of shoes. All-weather work boots for spreading decorative gravel in a new garden space. Paddock boots for working with my mare. Socks only for whipping up dinner. Simple sneakers for a quick trip to fill up a gas can. Several hours later, I remembered I had never changed out of my running socks. I took them off and marveled that they were still dry!
Smartwool's Indestructawool technology — offering extreme versatility, extraordinary fit and supreme comfort — has made these my favorite socks. And their lovely print design certainly doesn't hurt!
Vitals:
Virtually Seamless toe for enhanced comfort
7.5″ Overall height
Made in USA of imported yarn: 47% Merino Wool, 49% Nylon, 3% Elastane, 1% Polyester
Price: $20.95

These items were tested by Ryan and Gretchen Tipps. Ryan is Managing Editor for ActionHub and has experience in a variety of digital and print media. Gretchen works as a marketing director after years in the publishing industry. The couple live along the Blue Ridge Mountains and are avid runners and hikers.
We are committed to finding, researching, and recommending the best products. We earn commissions from purchases you make using the retail links in our product reviews. Learn more about how this works.