I tend to be a pretty warm sleeper. Even on chillier nights out in the woods, I rarely need more than a layer or two to stay comfortable and have a great night's sleep. Because of that, a sleeping bag is often overkill, both in terms of warmth and weight. So, when I started seeing the Sierra Madre Puffle 5-in-1 Camping Trail Quilt come across my social media feeds, it caught my eye. While I've played with it a few times since I purchased it, I gave it a particularly stiff test one early March weekend on a sub-freezing and snowy camping trip. That experience did a lot to inform this Sierra Madre Puffle review.
To get an understanding of what the Puffle is, think about it like your favorite puffy jacket turned into a versatile adventure blanket. It combines many of the functions of a typical sleeping bag, top quilt, and under quilt. The Puffle comes in three ratings: 20 degrees, 40 degrees and 55 degrees — I had the 40-degree one, so that's what this writeup will focus on. It's available in synthetic (20D Hydroshield with 3D PUFL Synthetic Insulation) that weighs 2 pounds, 3.2 ounces, and down (20D Hydroshield with Waterproof 650FP RDS DownTek Insulation) that weighs 1 pound, 5.1 ounces. While the down version has the same waterproofing features, I went with the synthetic version because I have a tendency to camp and hike in some truly crummy conditions, and I know from experience that synthetics can perform well in them, even when a bit wet. (The synthetic is also significantly less expensive.)
First off, I am fully aware that, during my testing, I pushed the Puffle beyond its limits. The adventure blanket is rated for temperatures of 40 degrees Fahrenheit, and it was already below that when I began setting up my hammock. As the snow began falling, I got the fly and hammock set up along a fast-flowing creek at a Virginia state park. My phone pegged the temp at 34 degrees, and it was supposed to drop to the mid- to upper-20s overnight. Not expecting the Puffle to be able to handle the workload alone, I added in a 40-degree-rated mummy bag as my outer layer, with the Puffle acting as a top quilt to bundle me up inside that.
All that meant that I couldn't fully close the sleeping bag because of the bulk, but it was OK because it wrapped around me nicely, and the Puffle, too, fully covered me. The snaps and cinch cords on the Puffle gave me the option to really seal myself in there if I'd wake up in the middle of the night but also to leave a little breathability earlier in the evening before the deeper cold set in.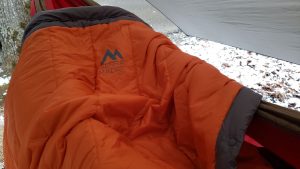 As I snuggled in, I was pleased with the protection the blanket offered. It's 52-by-80-inches in size, just long enough to cover me head to toe. Shortly before midnight, the wind began whipping in off the creek, and the position of my hammock meant that it was sneaking in at the foot of the rain fly and right across the length of the hammock. I didn't have a separate under quilt on the hammock (or a second Puffle), but sinking in a little lower and using the Puffle to create a bit of a wall just below my chin did wonders to keep the chill from hitting my face. The way I arranged that barrier is not something I can easily do with just a sleeping bag, so I definitely give the Puffle some points for versatility here. And unlike other blankets I've used, the Puffle truly blocked the force of the wind, which is the single feature I'm most thankful for.
Later in the evening, I did use some of the snaps to seal myself in a bit tighter, but my feet never got cold, so I didn't need to use the cords to zip the foot box at the bottom of the Puffle closed (something I'm sure I'd be more likely to do if I was camping with just a Puffle and nothing else on a moderately chilly evening). If you watch Puffle's video (embedded below), you'll get an understanding of just how valuable the Puffle's foot box functionality is — and how it works to keep any air from getting inside.
I was so toasty throughout the evening that I woke up later than I would have liked the next morning and almost missed the opportunity to put some footprints in the new-fallen snow on a trail run.
The Puffle impressed me, and it'll be a blanket that is sure to see a lot more adventures in the future. It's billed as being usable in lots of outdoor environments and conditions, or even when you're simply on the couch watching a movie. It's linkable and stackable, so multiple Puffles play well together, and it's available in seven colors (mine is burnt orange).
The retail price is $189 for the down Puffle and $149 for the synthetic one (you can buy it here). I caught Sierra Madre during a sale, which meant that they included their inflatable Pufflo Adventure Pillow for free, which was awesome because I realized on the drive to the park that I had forgotten the pillow I intended to bring. Having the Pufflo stashed away in the same bag as the Puffle blanket was a pleasant surprise. 
I very much liked my experience with the Sierra Madre Puffle, and I look forward to where the next adventure takes us.
Ryan Tipps is Managing Editor for ActionHub and has experience in a variety of digital and print media. Ryan lives along the Blue Ridge Mountains, is an avid hiker and backpacker and has been a part of the wilderness search and rescue community since 2005.
Images by Ryan Tipps