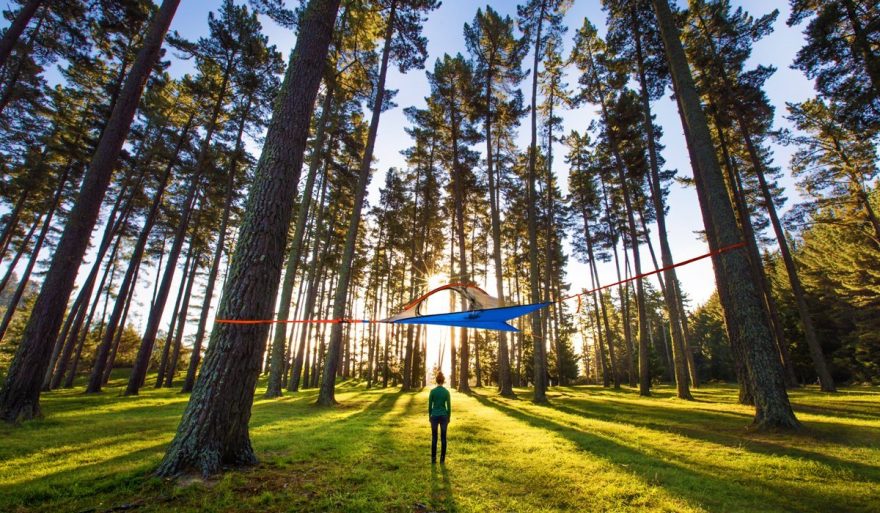 Tentsile Tree Tents let you elevate your camping experience by sleeping approximately four feet off the ground in a tent tied to a tree. Not only does it get campers away from sleeping on rocky, bumpy and uncomfortable ground, it also protects campers from animals on the ground, such as snakes and insects. Campers can also pitch these versatile tents on the ground if there are no trees nearby.
Tentsile was born from founder Alex Shirley-Smith's lifelong passion for the environment. It began in March 2012 as a simple prototype, called the Tentsile Giant. The company eventually sold its first product, the Stingray, one year later in March 2013. REI began selling its products in April 2014, and that November, the company won the Summer Hardwear category of IPSO Brand New 2015.
Tentsile has since grown to sell eight versions of its tree tents, along with hammocks, ladders, mattresses and poles. The tents can hold between one and three people (between 485 and 880 pounds total) and cost between $200 and $950. You can even bring your pet along, as the tents are durable enough for animals.
The tents are tied up to three different trees. The trees don't have to be equidistant from each other, but the tent should be in a space that makes an acute (less than 90-degree per side) triangle.
The company is headquartered in London but has brick-and-mortar stores in Ogden, Utah, and Bend, Ore. These tents ship worldwide for campers not near its stores.
Interested campers can participate in the Tentsile Experience Camps in Finland, Canada and Sweden. Activities include fishing, swimming and kayaking. The company also offered Camp Outs in Germany and California this summer.
Tentsile is also committed to helping the environment; it works with WeForest and the Eden Reforestation Projects to plant 18 trees for every tent customers purchase. The company has now planted more than 350,000 trees, with the eventual goal of planting one million trees.
Tentsile lets campers enjoy a night off the ground while at the same time making a difference in the world. After all, the more trees there are, the more places people can pitch their tree tents.
Images courtesy of Tentsile