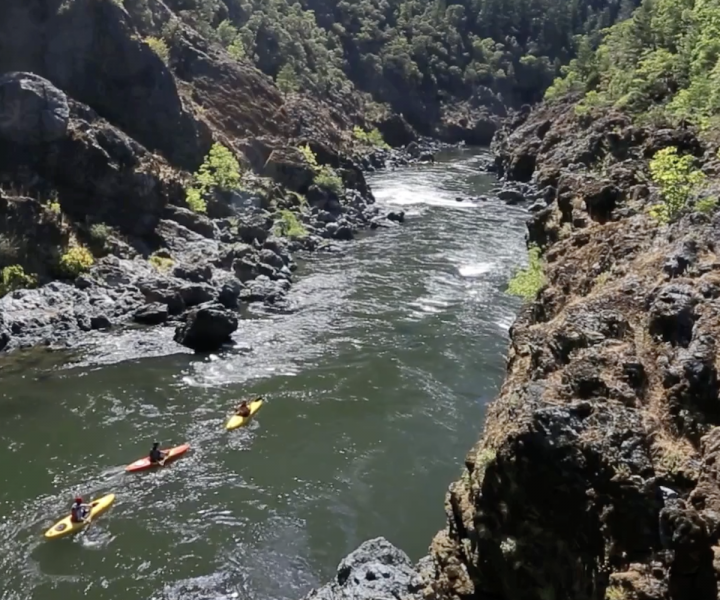 There are plenty of reasons to visit Oregon. From the world-class wineries and excellent craft beer to the beautiful waterfalls and stunning coast, there's something for everyone to enjoy.
But what if you're a bit like us and enjoy a touch of adventure? Well, then you're in luck because there are lots of activities out there that are sure to get your adrenaline pumping. We take a look at some of the top things to do while visiting Oregon.  
Mountain biking: Sandy Ridge Trail System
There are lots of excellent mountain bike trails in Oregon, from the McKenzie River Trail to the Alpine Trail and Tiddlywinks. However, if you're at the beginner or intermediate stage, then we recommend The Sandy Ridge Trail System, which offers a variety of trails for all ability levels.
The trail has been specifically built for mountain biking, mixing old-school characteristics with new design elements to bring you 17 miles of forested, single-track trails, ranging from beginner flow trails to a double-black-diamond trail.  
Here are just some of the trails you can ride: 
Easy, Laura's Line: This short trail is just 0.25 miles in length and perfect for newbies to learn about flow trails.  
Intermediate, Flow Motion: This intermediate trail is 0.75 miles in length and features berms and rollers throughout.  
Black-diamond, Hide and Seek: The trail has an upper and lower section, with the top half being more challenging than the lower half that leans towards intermediate level. Be prepared for big roots and loose rocks in the upper section.  
Double black-diamond, Follow the Leader: Whether you ride it super-fast or slow, this scrappy trail 1.65 miles in length will keep you on your toes with its drops and numerous challenging rock lines.   
What makes this trail system such a hit with mountain bikers is that there are so many trails to choose from and they've been built by riders that really understand what the riders are after. There's something for beginners, intermediate riders, and the more experienced, so you can choose a trail that provides just the right challenge.  
Hiking: The Trail of Ten Falls
Located in Silver Falls State Park, the Trail of Ten Falls Loop has got to be one of the top waterfall day-hikes in the United States. It takes you past ten beautiful waterfalls ranging from 27 to 178 feet in as little as one afternoon, as well as a number of other waterfalls and cascades that come alive in the winter and spring. 
Location: Silver Falls State Park, Silver Creek Canyon 
Length: 8.2-mile loop (or shorter 5.2-mile loop) 
Elevation gain: 1,300 ft. 
Difficulty: Easy-Moderate 
This casual, family-friendly hike takes you through a beautiful canyon past numerous waterfalls, including South Falls, and takes anywhere from two to six hours to complete as there are so many stops along the way. The trail is very well maintained, and there are lots of benches to stop and take a rest. The hike is not too strenuous, and since you have the option to go for a shorter loop, it's accessible to hikers of all skill levels.   
It's one of the most scenic hikes Oregon has to offer, with striking canyon views and beautiful forest, not to mention the spectacular falls. Due to its popularity, it does get pretty crowded, so go on a weekday if you can or get there between 7 am and 8 am when you also enjoy optimum lighting conditions.  
We definitely recommend bringing a camera on this hike, as there are so many opportunities to take some amazing photographs. You should also bring along a rain jacket and wear solid waterproof shoes, as even on sunny days it can get damp and the waterfall mist is sure to get you wet.  
Caving: The Oregon Caves
Sometimes referred to as the "marble halls of Oregon," The Oregon Caves National Monument & Preserve can be explored via three different cave tours, each offering a unique and interesting experience. 
Discovery Cave Tour: Learn about cave life, geology, and fossils as you stoop and twist through marble passageways in the dark depths of the Oregon Caves. This family-friendly tour lasts 90 minutes and is moderately strenuous, so we recommend wearing a good pair of walking shoes.   
Candlelight Cave Tour: Take a trip through history with this candlelight tour that takes you back in time. Children must be ten years or older for safety reasons, and because this tour is physically demanding, you need to be able to handle low ceilings and twisting, narrow passages. Again, we recommend good walking shoes for this one, as it lasts 60 minutes and you will be ascending and descending more than 500 steps.  
Off-trail Caving Tour: Looking for a spelunking adventure? Then consider the Off-Trail Tour, which provides an introduction to caving, allowing you to explore some of the wild areas off the trail. You will need to be at least 15 to take part in this tour, where you will come face-to-face with the marble depths of the caves during this three-hour experience. Negotiate tight squeezes, crawl on your belly, creep down steep, rocky areas, and scramble over boulders in this real caving adventure.  
These cave tours are pretty popular, so you should try and reserve ahead of time during peak times, particularly in the summer when the tours fill up quickly. If you decide to book a spot on the day, then be sure to arrive early to reduce wait times and avoid disappointment.  
Rafting and Kayaking: The Rogue River
Oregon's scenic Rogue River offers extraordinary scenery, history, whitewater, and wildlife. It's the perfect place to enjoy a rafting or kayaking trip thanks to its Class II-III+ rapids, an abundance of wildlife, and endless hiking opportunities.  
Location: Southern Oregon 
Length: 35 miles 
Difficulty: Class II-III+ (one IV) 
Gradient: 14 fpm 
 There are a variety of rafting opportunities on offer here, including scenic river trips that allow you a calm and relaxing way to enjoy the river and surrounding wildlife and half-day whitewater trips that leave you enough time for additional adventures such as ziplining, hiking, and SUP'ing. Those looking for thrilling excursions will be glad to hear that they can be found at the Rogue River.  
You can also design your own multi-day trips that are tailored to your timeline and interests. Kayakers of all ages and abilities have a chance to enjoy this river, with plenty of companies offering you the opportunity to learn and improve your kayaking skill set.  
There is so much to see and explore, from hidden camps to big sandy beaches, cascading waterfalls, wonderful grottos, and epic swimming holes. Keep an eye out for bald eagles, otters, black bears, and ospreys as you float through this incredible pine-forested canyon. 
The best time to go is from May through September, and while family friendly, some places have a minimum age requirement of seven.  
We've mentioned just a few of the awesome experiences you can have in Oregon, but if none of these take your fancy, then it's definitely worth seeing what else is out there, as there is plenty to do in this beautiful coastal state.  
With a diverse landscape that includes mountains, beaches, and forests, you can do anything from backcountry ATV tours to rock climbing, hot air balloon rides, and bungee jumping. Now excuse us while we go pack our bags!