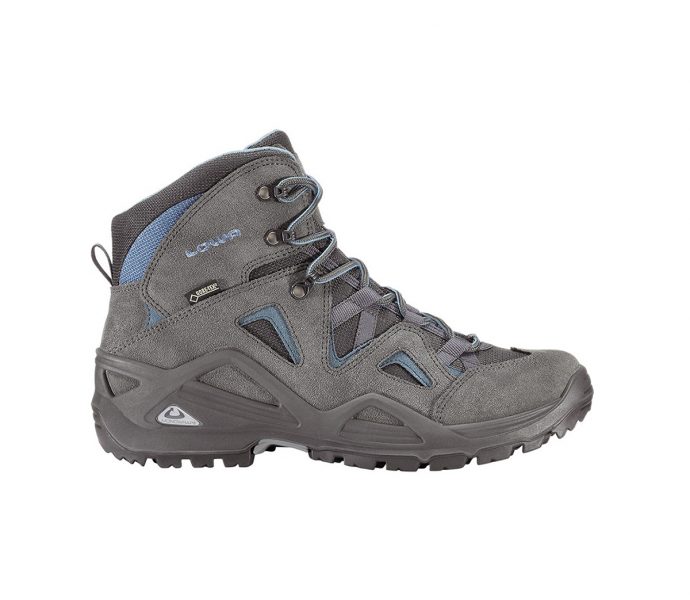 Every pair of Lowa boots I have owned, I have loved and hiked to death. The Zephyr GTXⓇ Mids are no exception. Easy to break in, the Zephyr's are comfortable, supportive, and lightweight–clocking in at 2.13 pounds. I wore them around only a few times on walks with my dog and I felt they were ready for the trail.
These traveled with me to a waterfall trail outside of Nashville and to the caves of Hocking Hills in Ohio. The GORE-TEX® lining kept my feet dry as I crossed the shallow part of the trails. Despite the waterproofing, my feet didn't get too warm (and I was hiking in 80-100°F). I typically don't have a problem with the heat in waterproofed shoes, however, if you're really looking for breathability over anything else, I would opt for a boot that doesn't have GORE-TEX®. I felt that the tread was standard, my feet didn't just slip out from underneath me crossing a couple creeks. Though I was mostly hiking on dry ground otherwise, I didn't slip across rubble.
Quality
Very good. Yet again I appreciate the quality and sturdiness that comes with the Lowa name. The boots are comfortable and decently flexible with a good tread. The boots are sturdy enough to give some ankle protection through uneven ground and comfortable until you unlace them.  With about 40 trail miles on the boots so far, I haven't had any problems. I would recommend these boots to anyone looking for a solid yet light hiking boot.  
Price/Value
These boots come in at $200 and, though not the cheapest boots around, I think they are worth the price tag. Good boots are absolutely mission-critical to a successful hike and the Zephyr GTXⓇ Mids will not lead you wrong!