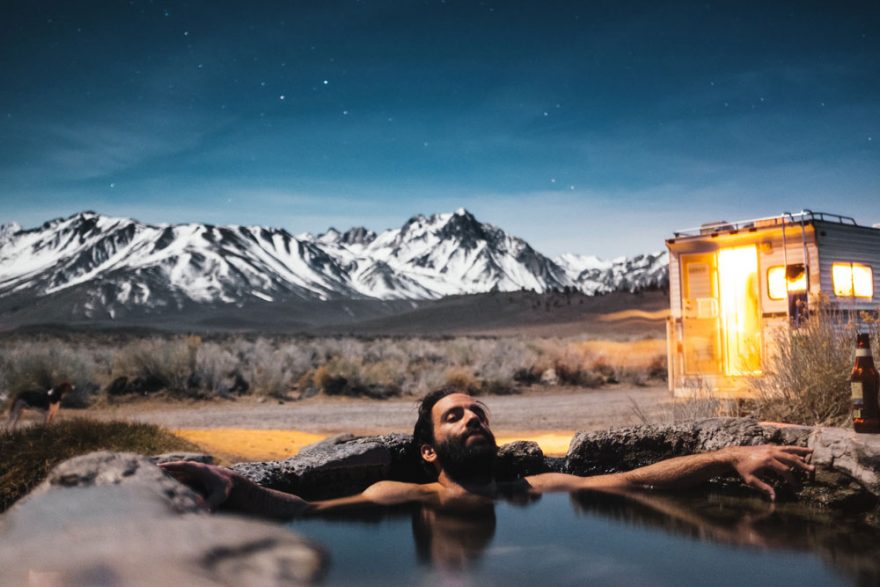 The thought of camping in the snow, with huge glaciers and frozen lakes is great. However, conditions can become harsh and unless you know what you're doing, then it can also become dangerous very quickly.
So, how can you take the pleasure and experience of snow camping without the danger and possible pain? Yes, snow/glacier glamping is a thing and we've done a round-up of the top 3 snow glamping locations in the world.
Location: Valldal, Norway
Price range: $185 per night (double room)
Why stay here: What better way to soak in the essence of Norway than to stay in this small village. Beautiful, natural landscapes combined with stunning modern architecture means that you'll not be disappointed.
With full length window, you practically feel like you're outside, but you get to stay warm and cosy in your own room. Each room is different, but all with dark interiors in order to blend in naturally to the rugged landscape.
There are also minimalist 'bird house' rooms, which are designed like typical Norwegian log houses.
Location: Monthey, Switzerland
Price range: $500 per night
Why stay here: In an attempt to combine hospitality and environmental conservation, this stunning location in the Swiss mountains defines the term snow glamping. Not only do you get to stay in a beautiful spot, but by staying here, you are doing your bit for the environment.
Each pod is shaped by self-supporting triangle frames, so that they use the least amount of material as possible. The 15 available pods are designed to be energy efficient, needing less energy to maintain even temperatures and airflow.
As well as being good for the environment, the pods blend into the natural scenery, being colored white in winter and green in the summer.
Whitepod has its own ski slopes, which means they are for guest use only. As well as skiing, other winter activities include taking out snowscoots, sledges a range of designated hiking trails.
Location: Saariselkä, Finland
Price range: $500+
Why stay here: Although there are plenty of accommodation options to choose from at this resort, what really caught our eyes were the glass igloos. You can lay back and watch the northern lights dance around the sky above you.
The ideal romantic getaway, the two-person igloos have all you need for this kind of trip. The igloos are available from August through to April, which is prime northern light season.
If you fancy taking more people, you can also rent out the popular Kelo-glass igloos which sleep up to six people, with its own private sauna and fireplace.
Aside from just a stunning sleeping location, there are a variety of exciting activities to choose from, from the likes of husky and reindeer safaris to aurora hunting and cross-country skiing. So, if you want an action-packed getaway under the northern lights, this is the place for you.