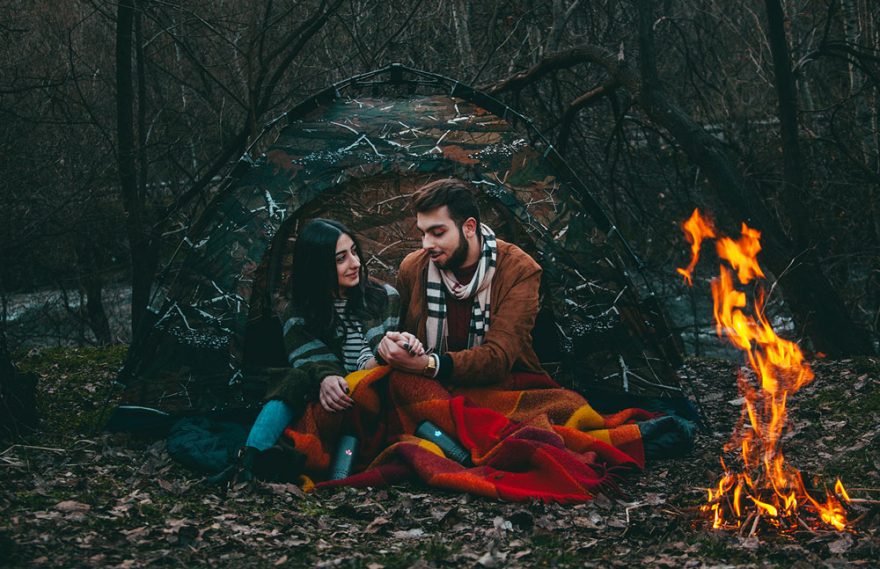 Usually, when we choose to go camping, we'll have a break from technology and enjoy only having the basics. However, don't say no to any gadgets yet, if you select carefully, there are some bits of camping equipment that can increase your experience on your next adventure. Technology is constantly evolving, and it makes sense to make the most of the gear at your disposal these days.
To enhance your next outdoor experience, we've selected some of the best hi-tech camping gear that you can get your hands on. Whether for added safety or pure comfort, you won't want to go camping without them.
Beartooth Off-Grid Device
When you're out camping in the wilderness, it's unlikely you're going to get any cell service. With Beartooth, you can turn your smartphone into an off-grid network that enables you to communicate with other Beartooth devices up to 10 miles away.
Essentially, you're turning your smartphone into a two-way radio, making it the ideal bit of tech for if you are caught out in an emergency. As long as other users are within a 10-mile radius, you can send them a text. For voice calls, you will need to be within 5 miles of each other. You can even pinpoint your location on a high-res offline topographic map, making it easy to keep track of one another.
Price tag: $179 per pair
Thermacell Mosquito Repeller Lantern
You won't need to worry about dousing yourself in bug spray this year while you're out camping. This handy battery powered lantern doesn't just emit light; it's also a pro bug repellent. The product disperses a repellant that is completely safe for humans and pets to be around. With this great little product, you can be black fly and mosquito free for up to 12 hours.
Price tag: $39.99
The Rinse Kit (aka Portable Shower)
When you're camping in the middle of nowhere, one of the last things that you'll expect to get is a hot shower. However, with this hi-tech portable shower unit, you can enjoy up to 10 minutes of washing under the highest water flow setting.
Before you set off for your trip, all you need to do is fill the Rinse Kit with hot water using a spigot. It only takes 20 seconds and can hold two gallons of water. The unit stores the pressure from your faucet and can also maintain the heat of the water for almost one day.
Price tag: $90
KEEN Versatrail Hiking Shoes
Hiking boots are heavy, stiff and bulky and for most of the hikes that you'll do while camping, they're unnecessary. Ditch your boots and opt for these lightweight slip-on shoes. Weighing in at around 11.6 ounces, these hiking shoes are perfect for all types of treks whether the ground is steady or not. Made from breathable fabrics, these shoes will not only keep your feet cool, but they also have a shock absorbing cushion inside of the sole to keep them comfortable.
Price tag: Women's $27 – $125
Price tag: Men's $59 – $120
Onja Stove
This portable and compact little stove comes in its own carry case, making it ideal for all campers. With two burners, it can both fry and boil the food of your choice. Off a single canister of gas, you'll get around 34 minutes' worth of use time. You can also use its wooden top as a chopping board.
Price tag: $110
The Exped Synmat Hyperlite Duo Pad
If you've ever made the choice to leave a sleeping pad out of your camping gear list, you've probably sorely (literally) regretted it after the first night. Sleeping on the cold hard ground is not enjoyable, even if you do try and find the flattest spot possible.
This camping pad only weighs a mere 28 ounces, yet it's big enough for two people to sleep on side-by-side comfortably. It's also insulated so you won't have to worry about being affected by the cold from the ground and thanks to the fact that it's inflatable, it's exceedingly convenient for packing. When it's deflated, it rolls up to the size of a bread loaf.
Price tag: $280
Yecup Wireless Mug
This temperature adjustable mug can be used to cool down, as well as heat up, your drinks, so you get the ideal temperature no matter what beverage you've got in there. The wireless smart mug will heat your drink up to 158F and cool it down up to 50F, so it's perfect for a range of drinks.
This bit of tech may seem a little indulgent, but it does have another feature that could prove very useful while out in the wilderness. The Yecup 365 doubles up as a portable charger and can be used to charge your smartphone up to three times a day, in case you run out of battery.
Price tag: from $109
FLIR Scout TK Night Vision Monocular
If you enjoy taking night time hikes, hoping to spot some interesting wildlife, but your headlamp keeps scaring them off, you need to switch to this night vision monocular. Yes, it may be quite an expensive gadget, but if night hikes are something that you frequently do, you'll certainly get your money's worth out of it.
This pocket-sized device can survive for around five hours of continuous use and allows you to see owls and other nocturnal creatures from up to 100 feet away.
Price tag: $600
Big Agnes – Krumholtz UL2 mtnGLO Tent
This shelter isn't just your bog standard water-resistant tent that's easy to assemble. This tent boasts its own LED ambient lighting system, a fan, and it doesn't stop there; it also has solar panels which connect to USB charging stations that can recharge your devices such as your smartphone and tablet. It may be a bit on the pricey side, but it's one heck of a tent!
Price tag: $650