[starreviewmulti id="2" tpl="20" style="nethub"]
Trusted Review™ Scorecard
Average Score: 3.0 out of 5.0
Each product or service is rated on Quality, Reliability, Price/Value, and Referability. Each area has an individual score, and creates an overall Trusted Review™.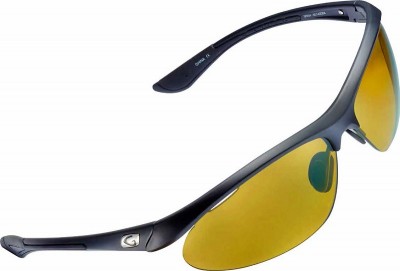 With summer coming to a close, now is the perfect time to find a pair of sunglasses that transitions well into the colder months. That's why we were excited to give Guideline Eyegear's new line of sunglasses for the active outdoors enthusiast a try.
The Spray – Reviewed by Lauren Montemurri
Guideline's Spray sunglasses are marketed for active wear and, as such, they are particularly lightweight and bendable to offer extra comfort. The rubber ear pieces also provide additional grip in order to prevent the glasses from slipping while running or rock climbing. The main problem I found with this pair was that the glasses were simply too big for me. When I gave the sunglasses to others to try, I found that on average, everyone raved about the polarization, but people with smaller heads struggled to keep the glasses in place.
That being said, the Spray glasses are relatively well made, with the ability to bend without snapping, which offers a huge perk if they do fit you correctly. This model also came with a nice case, similar to the Wake, but both glasses were missing a towel to keep them smudge free.
The biggest con to these glasses was the incorporation of nickel into the nose piece. Nickel is a common allergen for many people and, for me, wearing these glasses for a few hours a few days in a row caused the bridge of my nose to break out in a rash.
But, if you don't have this allergy, at $49.95, the glasses are well priced for the outdoors lover needing glasses that provide superior protection.
The Wake – Reviewed by Joe Gregus
The Wake sunglasses are heavy duty, and you can tell this just by looking at the larger frames and wider eyepieces. The result is that the Wake provides the wearer with massive coverage, and the simple design offers deep lenses that block any stray light effectively.
Combined with polarized UVA and UVB protective polycarbonate lenses, these sunglasses are no doubt a great choice for your on-water pursuits and at $59.95, a decent buy.
Made for a bigger head, I found that the rubberized temples and nosepads left something to be desired. I did notice that Guideline offers a few options in retainer cords to correct this problem—something I would recommend, especially given the durability of the protective case offered for the entire line.
Images courtesy of Guideline Eyegear