[starreviewmulti id="2" tpl="20" style="nethub"]
Trusted Review™ Scorecard
Average Score: 3.8 out of 5.0
Each product or service is rated on Quality, Reliability, Price/Value, and Referability. Each area has an individual score, and creates an overall Trusted Review™.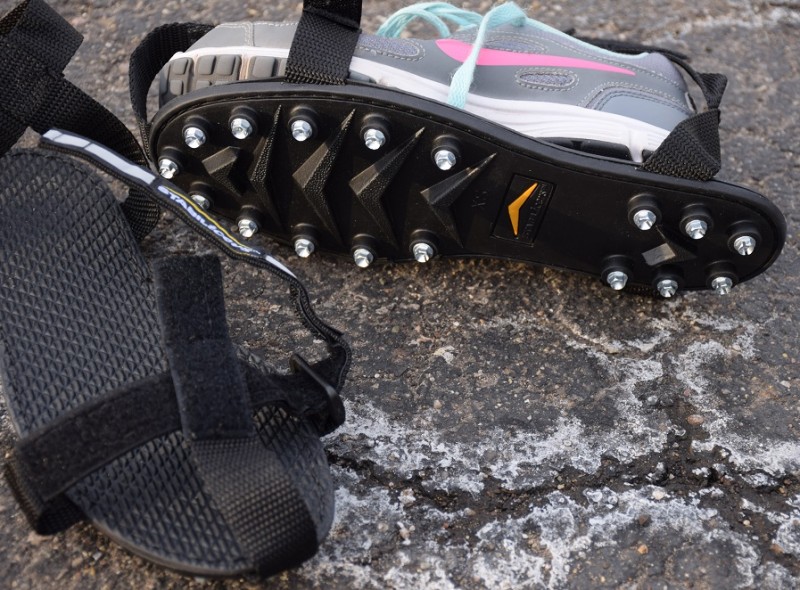 This winter in Michigan, the snow was brutal. Even worse, black ice was all over the roads and sidewalks, making slipping and falling a constant worry. Unfortunately, I don't own a great pair of snow boots so, in an attempt to keep myself upright, I decided to opt for a new pair of ice cleats.
STABILicers Maxx ice cleats from 32 North are new on the market this year. These cleats feature a sturdy rubber sole with 34 steel cleats on the bottom that provide amazing traction on ice and snow. These things are tough; they're able to cut through the deepest snow as well as provide unparalleled stability on even the slipperiest ice. No matter the surface I tried them on (I would not suggest inside usage or on hard surfaces because of the ability to damage floors and/or the cleats), I found that slipping in STABILicers was almost impossible.
I loved that the sole was rubber because it made them relatively flexible, allowing my feet to move freely. They were also skinny enough to wedge into what little room I had left in my suitcase, allowing me to take them on multiple trips without compromising space. Though you can buy replacement cleats if they fall out or get dislodged, I did not have any problems with them staying firmly in place.
I was, however, a bit unnerved by how loud these cleats were. Though I am relatively light, I still struggled with causing a racket every time I set my foot down. The loud scraping noise constantly coming from my feet caused quite a few people to stop and stare. If you are trying to be stealthy, these are not the cleats for you.
I also had some problems with the sizing. Since I have a smaller foot and was warned these run big, I ordered an extra small. Once strapped on, though, I found the cleats were still about one shoe size too big, creating a large gap at the back of my foot. The superior quality of the straps, however, was able to keep my foot relatively in place as I used the cleats.
This was why, in my opinion, the straps are one of the best features. I was very impressed by the high-quality nylon, cross design that was able to tighten enough to hold my foot in place regardless of the size of my shoe. The Velcro is stitched into place, and the nylon is thick and tough, making me confident about long-term usability.
The strap design and materials do have drawbacks, however. Because the straps are designed to go across the toe as well as up your leg, using STABILicers with shorter shoes is difficult. Tennis shoes tend to slip out of the cleat without the help of the higher strap. Also, the toughness of the STABILicers' straps slightly damages the finish of leather, so it is best to use these cleats with rubber or old suede boots.
For the everyday commuter just looking to stay upright, these may not be the best choice. But, if you love winter outdoor activities, STABILicer Maxx cleats are sure to provide you with the confidence you need to take on even the toughest ice and snow.
Images courtesy Lauren Montemurri