[starreviewmulti id="2" tpl="20" style="nethub"]
Trusted Review™ Scorecard
Average Score: 4.5 out of 5.0
Each product or service is rated on Quality, Reliability, Price/Value, and Referability. Each area has an individual score, and creates an overall Trusted Review™.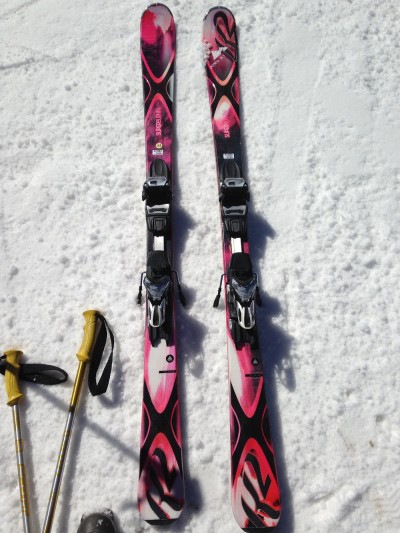 Whenever I travel out West, I try to find a new pair of skis to test. This year, K2 released their 2014 SuperBurnin 74 ski. This particular model caught my eye because of their reputation as a high-speed ski, so I thought I would take on the slopes of Kirkwood in Lake Tahoe and put them to the ultimate test.
Anyone who has skied with me knows that I love to go fast. I am experienced enough not to be reckless but at the same time, I enjoy pushing the limits with fast, tight turns and some off-trail action. This is why I shied away from some of this year's well-known, all-mountain skis that were wider underfoot. Built for heavy powder and skiers who enjoy big turns, those models were just not the right fit for me.
I also had to consider the conditions.
Kirkwood is known for its challenging backcountry runs. Each one is steep, long, and well-groomed in the middle, with paths of powder on the outskirts framed by trees and boulders. Straying into the areas is an added challenge for expert skiers. Tahoe had been experiencing some extreme sun that week, which meant the hill was a little icy and slushy. The day I tested the SuperBurnin 74, the wind was whipping hard, something that would have affected my older skis considerably, possibly stopping me in my tracks. I was hoping K2's newest model would offer stability while allowing me to be almost unaffected by the wind, and still make tight turns as I sped down the runs.
I was pleasantly surprised the SuperBurnin 74 delivered.
The ski was narrow underfoot, while still providing enough stability for my small frame. The dramatic curvature of the ski as well as a slightly elevated and widened tip made the skis incredibly responsive, allowing me to cut easily into the groomed snow. This appropriately-named Speed Rocker design helped me effortlessly weave around other skiers, stop abruptly, and turn on a dime.
Before I even took the skis for a ride, the expert at Lake Tahoe's Powderhouse Demo Center made me aware of some key elements that lend well to expert skiers, but also will push intermediate users to the next level. The first was a BioFlex core, built of a combination of three different woods woven together to create a lightweight, sturdy ski underfoot. The increased durability and edging responsiveness is thanks to metal laminate and fiberglass worked into the construction in multiple, alternating layers. Though some may complain this makes the ski less flexible, along with the added Mod technology, K2's complex combination of materials allows the ski to absorb more impact and harness the power and control of the design.
What results is a tough, all-purpose, all-mountain ski.
Though most of the time I am zooming down runs as fast as my skis will take me, there are many times when I have to cross a straightaway or path to get to a run on the other side of the mountain. As a smaller-framed female, I have constantly struggled with this, finding that no matter what my speed is, I always have to push myself a considerable distance. Not so with the SuperBurnin 74. This was the first ski that was able to use my weight and propel me, almost effortlessly, no matter the angle of the run.
Before trying out the SuperBurnin 74, I had been skiing on older skis that required almost a complete whip of the tail of the ski to turn. This was the hardest transition for me, as this is not the SuperBurnin 74's strong suit. Though the tail does not whip the way beginner skiers might like, it forces you to lean and ultimately creates a tighter, more accurate turn. This was actually a great feature for intermediates forcing themselves to the next level, because it didn't allow you to cheat and take the easy way out. But this is also why this ski is not for beginners, as they are likely to struggle with the responsiveness and speed of the model as well.
Overall, I was highly impressed with the 74s. They really delivered a speed racer's dream ski. This model created a feeling of safety, while allowing me to push myself to pursue harder runs and newer challenges.
Images courtesy Lauren Montemurri