[starreviewmulti id="2" tpl="20" style="nethub"]
Trusted Review™ Scorecard
Average Score: 4.8 out of 5.0
Each product or service is rated on Quality, Reliability, Price/Value, and Referability. Each area has an individual score, and creates an overall Trusted Review™.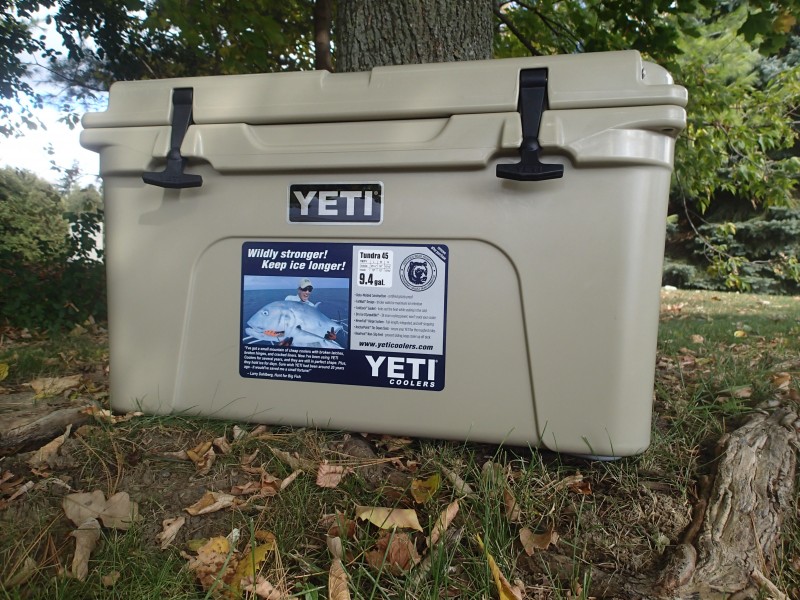 Although I had heard the name prior to this year's Outdoor Retailer Summer Market, that's when I really got the scoop on YETI Coolers and why they're considered such a big deal among outdoor enthusiasts.
YETI was established back in 2006 when brothers Roy and Ryan Seidars, who both worked in the fishing industry, noticed that there was not a cooler on the market that was up to their standards. Some of the problems with existing coolers at the time were poor insulation as well as low-quality handles and latches that broke easily.
"They were fed up with it, so they designed this cooler that was the high-end, premium, super-durable cooler made to last," said Carl Johnson from Backbone Media.
Although YETI Coolers has succeeded at making its name known in the outdoor industry, the brand is targeting a broader audience this year with the release of the YETI Tank, which is a cylindrical cooler geared toward use in a backyard BBQ environment. Some of the smaller sizes of the coolers are also advertised as being perfect for small-scale fishing and camping trips.
I recently got my hands on a YETI Tundra 45 Cooler to see if it truly lived up to its reputation.
Although YETI states on the website that it would be misleading to claim how long each cooler will hold ice, over at ActionHub we did our own test. Because I do not hunt or fish, I reviewed this cooler during a few days of boating while at my family's cottage.
I used the cooler for its purpose as a camping tool, packing it full of ice, food, and beverages at around 11 a.m. on a Saturday morning near the end of the summer in Michigan. This was one of the last times we would go out boating, so my family and friends wanted to spend as much time on the water as possible.
Accustomed to the cheap camping coolers of similar size—the Tundra 45 is 25.5 inches long, 16 inches wide, and 15 1/2 inches tall—that needs to have water drained from it roughly every half hour to an hour, the YETI delivered in the prevention of water drainage.
Despite its weight of 22 pounds, the cooler compensated by being easy to move—credit given to the durable rope handles. Once on the boat, we opened the cooler many times, considering there were between five and seven people on board at all times. We had packed a full meal, as well as a number of snacks and beverages. When I was explaining to my family why I was testing the product, several of them made comments regarding coolers we had used on the boat previously, and how they failed to keep ice, leaving most of our food ruined or soggy because the water had made its way into the containers. They said as long as the food remained unharmed after hours in the cooler, YETI would gain their approval.
The finding was that the two days at the cottage was not enough time for which to measure how long a YETI Cooler would hold ice—because it didn't really melt. There was the small amount of water at the bottom of the cooler that we had to drain occasionally, but the ice was held for the entirety of our day on the lake, and even maintained consistency into the next day, and probably would have continued had we not needed to pack up and drive home.
The cooler exceeded my expectations and was a hit with my friends and family. Although it comes with a bit of a price tag, they suggested all pitching in to buy one that we could leave at the cottage for boating days such as that one, proving its not a product meant only for hunters and fishermen, but for family use as well.
On the website, it is recommended to have a 2:1 ratio when it comes to the amount of ice versus the amount of contents in the cooler. This can easily become a problem because of the space needed while hunting or fishing, but luckily the coolers come in versions as large as the Tundra 420, which is more than 63 inches long, 24 inches wide, and has a height of 27 1/4 inches. 
"The YETI Tundra 45 is our best all-purpose cooler and our customers' top choice because of its versatile 26-can capacity and easy portability," the website stated. "And of course this cooler is infused with that legendary YETI toughness—made from roto-molded polyethylene, it's UV resistant, heavily insulated and damn-near indestructible."
The Tundra 45 has won several awards, including being being named a Men's Journal Gear Lab Approved Cooler. It is available in white, blue, or tan, and includes a dry goods rack.
For more information, visit the YETI Coolers website or watch an information video about the Tundra 45.