[starreviewmulti id="2" tpl="20" style="nethub"]
Trusted Review™ Scorecard
Average Score: 5.0 out of 5.0
Each product or service is rated on Quality, Reliability, Price/Value, and Referability. Each area has an individual score, and creates an overall Trusted Review™.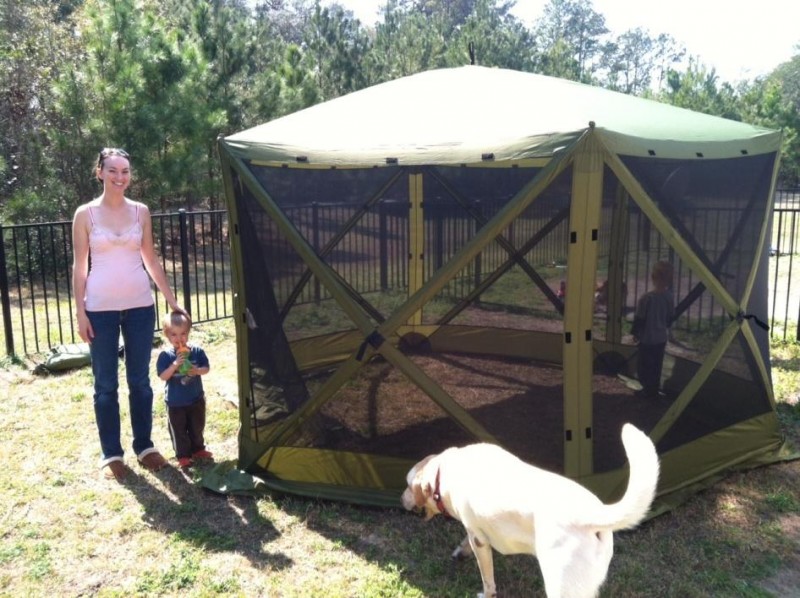 I was excited to see a new screen tent in Clam Outdoor's product line up for 2013. It looked familiar to me, and then I realized, wait…I have an ice fishing shelter kind of like that! I love the pop-up quality of my hub-style shelter. Could I be objective enough to write a product review on this screen tent since I own one of the ice fishing shelters this tent was modeled after?
I didn't trust myself. So I had the Six Pack 1660 Mag Screen Tent shipped to two young military wives to see what they would say. Besides, I live in the Northland and this summer-time product needed to be with warm-weather folks to get a fair product review.
Amanda and Justine live on Hunter Army Airfield's base in Savannah, Georgia. Deployed with the U.S. Army to Afghanistan, both of their husbands are busy serving their country. Thank you, Edson and Josh.
Amanda and Edson have two sons, aged two and four. Josh and Justine are expecting their first baby. The families share a back yard on two sides of a duplex.
I posed the question to the girls: tell me what you think of this screen tent?
Wow. They loved it.
"It popped up super easy," shared Justine. "As soon as I tugged on one handle it was evident without needing any directions what to do to set it up." It was up within seconds and she loved the size. "It was huge, which was awesome. There was plenty of room inside for table and chairs and several people." Or several dogs, kids, and toys.
"The kids just loved it," added Amanda. "And I loved the sturdy material. It didn't feel like the boys had to be gentle with it. They can play in it and it will hold up."
"The extra long flap on the bottom was an excellent feature to keep the bugs out from underneath," said Justine. "It was lightweight, which is nice, but that meant it needed to be staked or even a light breeze picked it up and moved it. The stakes were strong and hefty."
Other notables from the gals:
Looks nice—attractive color.
Good for camping next to a regular tent but also good for backyard fun.
Wind panels were great and easy to Velcro on the sides. Added benefit was that wind panels could double as shade panels.
One person set up and tear down was super convenient. Even one "expecting" handled it just fine all by herself. No directions needed. It popped right up and just as easily folded back down.
Huge. Big enough for kids, dogs, dining set, toys. Note: boasts 94 square feet of interior space, 90" at center height clearance and measures a big 140" x 140".
Good for providing shade and a bug-free zone, fine mesh will keep all the bugs out—even no-see-ums.
Comes with a zippered storage case. Too big to backpack with, but traveling with a vehicle would be fine.
Images courtesy K.J. Houtman