[starreviewmulti id="2" tpl="20" style="nethub"]
Trusted Review™ Scorecard
Average Score: 5.0 out of 5.0
Each product or service is rated on Quality, Reliability, Price/Value, and Referability. Each area has an individual score, and creates an overall Trusted Review™.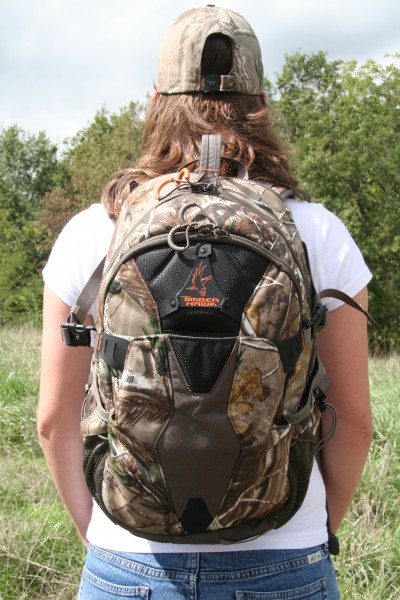 Timber Hawk's position in the outdoor industry is firmly rooted in the idea of a very high quality product at an affordable price. Certainly this is nothing new as a marketing slogan, until you get a chance to substantiate those claims by getting your hands on one of their products. Some of their offerings include the Killshot, a heavy duty haul-it-all backpack; the Buck Scrape, Spike Pack and Rut Buster day packs; and the Gut Hook, Hatch Back and Back Strap waist packs.
I got my hands on the Buck Scrape backpack, a slightly smaller cousin of the Rut Buster. It is designed to fit a smaller, shorter torso. This is a well-built pack with double stitching for reinforcement where needed and very quiet exterior and interior cloth composition.
Compression straps are placed to maximize the load carrying capacity and all the zipper pulls have large loops to accommodate gloved hands. On cold days, those pulls will come in handy. The Buck Scrape is hydration-compatible with a water pouch and hose exit port built into the pack.
The versatility of the Buck Scrape is outstanding for a smaller day pack. Two large heavy duty plastic-coated zippers with pulls provide access to the deep pack interior from the top, where you can stuff plenty of gear, clothing or a harness for a day's hunt. A smaller zipper on the top of the pack could store a small camera, pair of gloves or GPS for easy and quick access. Two water bottle pouches are placed on the lower sides of the pack with vents to drain off moisture and feature cinch straps to hold the bottles in just about any rough conditions one might encounter. The location is also good to keep the pack balanced and the weight low along the back. An additional storage area is secured by compression straps with no zipper, but it has plenty of room to place items you may want to get at quickly like a rain jacket, binoculars or maps. Because the top is open, this portion of the pack could also secure a bow, or other longer items.
The obvious features draw one's attention, but much of the pack's versatility is more subtle. As an example, woven loops are sown into the shoulder straps that allow lots of options for clipping small items than may be needed like a flashlight, head lamp, calls, or GPS. The straps are well-padded and feature excellent ventilation, plus a chest strap. The back of the pack that fits against one's body is also ventilated and actually stands the pack slightly away from the backside to allow airflow. The underside of the Buck Scrape is also configured with numerous heavy-duty woven loops to hang even more items off the pack. Two long straps are cliped into the pack and can dangle items for easy access like calls or a compass.
The interior of the pack has some other nice features. A mesh compartment that closes with a zipper is nice for storing items you need to be able to see, and this is not a mesh that will easily be torn or ripped out. The zipper is reinforced with heavy woven fabric, as is the pouch directly behind the mesh compartment. A clip is also included as a perfect place to put your car keys.
Timber Hawk provides a no nonsense warranty: right up front, they will fix it or replace it. This is a great pack worth looking into. It is smaller, but has so many features that one could easily load this with just about anything needed. The accommodating size makes this perfect for women, youth and small-framed outdoor enthusiasts. Here are the features as provided by Timber Hawk:
Compact daypack perfect for shorter trips
Roomy main compartment
Lined with ultra quiet durable twill fabric
Left & right side compression
Convenient padded front stash pocket for quick access gear
Padded front organizer compartment
Top fleece lined accessory pocket
High-density breathable foam padded back and shoulders
Hawkeye Detachable bino strap system
Heavy duty top haul handle
Left and right side bottle pouches with cinch closures
Large loop zipper pulls allow for easy use with gloved hands
Hydration compatible – reservoir not included
MSRP $69.95
Images courtesy David Vaught