[starreviewmulti id="2" tpl="20" style="nethub"]
Trusted Review™ Scorecard
Average Score: 4.5 out of 5.0
Each product or service is rated on Quality, Reliability, Price/Value, and Referability. Each area has an individual score, and creates an overall Trusted Review™.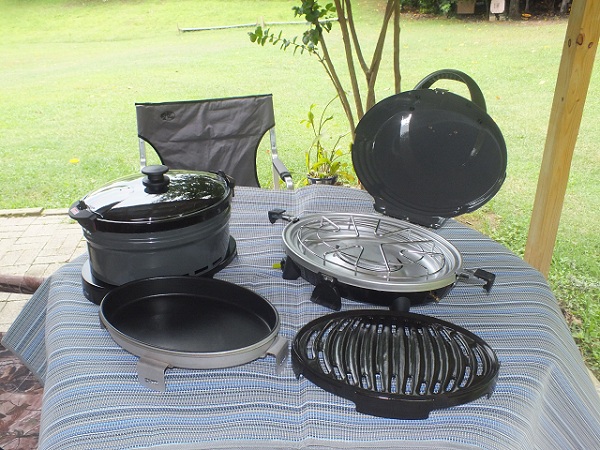 We were at Lake of the Woods, Minnesota and it was a little after noon. I was starving and couldn't quit thinking about the half-dozen nice walleyes in the boat's cooler. Our guide, Eric, was bringing the boat into the little cove where our campground and outfitters, Rainy River Resort, lay on the banks of the tea-colored water of Lake of the Woods. "Are you hungry?" I asked Eric. His face spread into a broad smile. When the boat hit the dock, he and my wife, Cherie, headed for the fish cleaning shed and I headed for the camper to slice potatoes so they'd be ready when the fillets were ready.
Food is always better outdoors. Some of the best food I've ever eaten has been cooked on boats, picnic tables and around a camp. Cooking techniques vary, with some being simple and some quite complicated. Cherie and I like to travel light and cover a lot of ground between stops so we like quick and easy cooking methods. Cooking on the pop up's stove is easy but it heats up the camper in summer and I like to be outdoors when I'm camping and therein lies the beauty of the Coleman All-in-One Cooking System.
In the past, we've carried a one burner lightweight butane stove and a small propane grill. We like grilled food and we need the stove for breakfast and other food but butane can be hard to find and having a grill and a stove takes up space. The All-in-One solves both problems. Coleman is the icon company in camp stoves but the All-in-One is a departure from the green steel suitcase that's been the most used camp stove in camping for about a hundred years.
The idea with the All-in-One is versatility and the Coleman folks did a great job. There is a simple cook surface for pots and pans, and a nonstick frying pan/griddle is part of the system. There is also a grill top for steaks, chops, or grilled fish. If you need to feed a crowd and don't want to spend a lot of time, you can always make a stew and the nonstick slow cooker pot works great for that job. The whole system comes with a Cordura bag that makes stowage simple. It even has two pockets for extra propane bottles. This is the perfect system for cooking a shore lunch, breakfast in the duck blind or tailgating.
Image copyright Dick Jones