[starreviewmulti id="2" tpl="20" style="nethub"]
Trusted Review™ Scorecard
Average Score: 4.3 out of 5.0
Each product or service is rated on Quality, Reliability, Price/Value, and Referability. Each area has an individual score, and creates an overall Trusted Review™.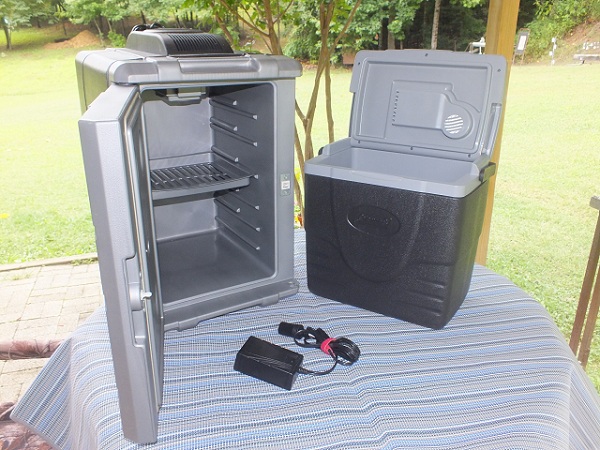 If there's one name that's synonymous with camping it's Coleman. I know Coleman didn't invent camping but they certainly made it attractive to families and those looking for some recreation without giving up all their comfort. A couple of years ago, my wife Cherie and I decided we wanted to see America; not the way we'd been seeing it but to really experience it.
Both of us have traveled extensively but it's been mostly by air. We struck off across the country by car and before we got all the way out, we were talking about taking it a step further to camping across the country. When we returned, we bought a van and a pop up camping trailer. It's comfortable enough without us feeling we simply live in a mobile home we tow around. It's also the cheapest way to go in a time of high fuel costs.
A big part of camping for most is the innovation and the gadgets. I'm not a gadget guy but I instantly recognized the value of the Coleman PowerChill Cooler. We purchased the 40 quart version first. It can stand up like a fridge or sit on its back like a cooler. It has a shelf/divider that can be moved just like the shelves in refrigerators. At $149, it's more expensive than most coolers but the great thing is that you don't need ice.
Ice is a wonderful thing but it requires a lot of effort to keep ice on food while traveling, making sure the water doesn't spoil something or drain out in the car, or that you've forgotten to buy ice and your food is spoiling. The PowerChill runs off the lighter socket in a vehicle. When the socket is energized, the cooler is cooling and it really cools. It will freeze food under certain conditions.
Since we had a high miles-per-day schedule, we always spent enough time in the car to keep everything cool. For extended stays, you have two options: you can use the adapter and plug in to AC electricity or you can hook up to 12 volt power. We do some of both. Remember though, that running the PowerChill for extended periods will drain your battery. It's made for keeping something cold, not cooling it. It runs continually when plugged in and once the battery is gone, there's no cooling. We ran ours off the camper battery just in case.
Coleman also makes a smaller version for short trips and daily car use. The 16 quart PowerChill is a small cooler that holds about 24 cans of soda, great for regular trips or tailgating. MSRP on the 16 quart is $85.
Image courtesy of and copyright Dick Jones