[starreviewmulti id="2" tpl="20" style="nethub"]
Trusted Review™ Scorecard
Average Score: 4.8 out of 5.0
Each product or service is rated on Quality, Reliability, Price/Value, and Referability. Each area has an individual score, and creates an overall Trusted Review™.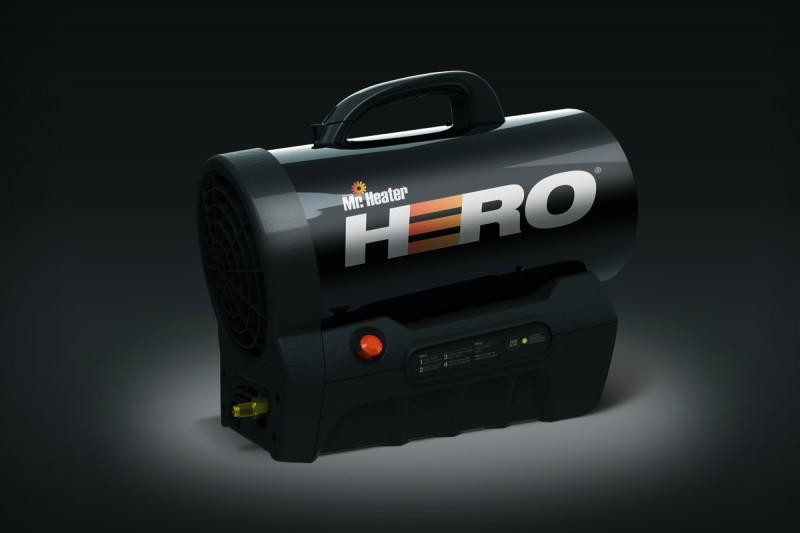 "HERO – The world's first cordless forced air heater." Man that got my attention! When I got the opportunity to review Mr. Heater's latest offering into the portable heater market, the HERO Forced Air Propane Heater, I was the kid at the back of the classroom raising my hand, trying to control my enthusiasm.
Like many outdoorsmen and garage tinkerers, I spend an inordinate amount of time fiddling with gear or working on projects in an un-heated workspace. In my case, it's a garage workshop that looks more like organized chaos than a functional workshop. But it works for me. Pacific Northwest summers are quite comfortable out there but for the other 7-9 months, it's damp, clammy, and cold. I've used electric forced-air heaters for years with meager results at best.
Diesel forced air heaters are well-known for their ability to kill the cold quickly in workshops, on loading docks, and locally around job sites. The catch has always been their size, extreme noise, and power cord, which tethers the heater and limits its portability. A 10' propane hose (included with regulator) allows for easy local positioning of the heater, plus you can easily pick up and move the propane tank and heater together, one in each hand. The HERO heater weighs a mere 12 pounds and packs a whopping 35,000 BTU punch despite its compact size: 7.25" x 14.25" x 12.75".
httpv://youtu.be/_U5od3p0bw4
According to Jeff Bush, Mr. Heater's Senior VP of Sales/Marketing,
We designed HERO to solve two of the most common issues experienced with forced air heaters portability and noise. The patent pending cordless technology allows our HERO forced air heater to be used in areas without power that could previously never be reached and the patent pending QBT burner is 50% quieter and draws over 70% less power than all the other forced air heaters available today.