[starreviewmulti id="2" tpl="20" style="nethub"]
Trusted Review™ Scorecard
Average Score: 5.0 out of 5.0
Each product or service is rated on Quality, Reliability, Price/Value, and Referability. Each area has an individual score, and creates an overall Trusted Review™.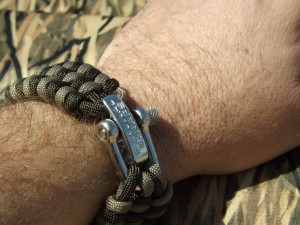 Thanks to Jason Ovitt for telling me about Survival Straps and sending me some to check out. From Jason: "Most people would not go to work wearing their hiking boots and backpack, but unpredictable situations are part of daily life and leaving your survival bracelet at home is not something you want to do. Survival Straps is introducing a new Fishtail series of bracelets featuring a flatter weave than the original Survival Strap making them more discreet for daily wear. Like the original Survival Strap, the Fishtail series bracelets can be unwound and used as heavy-duty rope. From car accidents, dogs escaping out the front door, wardrobe, purse or backpack malfunctions to serious injuries; there is no end to the number of circumstances when having a length of rope on hand could be a lifesaver."
These straps are super comfortable to wear. Even the big one on me didn't seem bulky, and it never got in the way.
They are well put together and sturdy, with no loose ends sticking out. The buckle (a shackle) seems particularly rugged without being a monstrosity.
These come in key fobs as well. In regards to the bracelets, they have a ton of colors and styles to choose from. Your favorite sports teams, medic alerts, dog tags, you can even have your own photo embossed on a dog tag and incorporated into a lanyard or bracelet. You won't believe the variety.
I didn't have the heart to unravel one of the bracelets, just to look at it. Most of us know the strength and durability of paracord, so I don't doubt its effectiveness. Frankly, I hope they will never receive a testimonial from me, but you can read a whole bunch of them here: Testimonials
Here is a sampling:
James' Story of Survival:

'Hi everybody-

I had 2 of your straps, and because I had 2… I'm still alive. I cannot give you details or too many specifics, but this is what I can tell you…

I was in Iraq and given the responsibility of providing cover for my unit on a raid. As a sniper, I chose a building that was already destroyed and hid within the rubble. I had taken out a couple insurgents before a lucky mortar shot exploded within range of my position. The blast was near enough to wound me. I was also somewhat exposed as my cover was shaken down.

While in Iraq, I wore one of your straps on each wrist (they were all black and the WIDE ones with the stainless steel clamp). I unraveled the first one, tying it on my leg above the worst wound to make a tourniquet. It stopped the bleeding. The second, I cut in half and was able to tie up some large pieces of debris to help create more cover. From this position I continued to provide covering fire for my troops as the mission was successful. We lost no one and the injuries were minimal. I was able to move on my own to rejoin my unit.

It's safe to say I might not have made it out without your straps… either by the possibility of bleeding to death or further wounds due to exposure to the enemy. In any case… I love you guys! I'm out now and home safe…I'll be strapped when they bury me…It's in the will!!! Cheers my friends!'
And another:
I have owed you an email for some time, I actually used my survival strap for pulling someone out of a river that was drowning on a float trip. I think you should hear the whole story.

A buddy and I were canoeing down a fork of the White River in southern MO. It's a popular float trip for college kids and families. It was just gonna be a guys weekend…low key. It was just after lunch and we were coming to a part in the river that was pretty fast moving, and there was a pretty big tree that had fallen into the center of the river. While the river wasn't super deep at this point, it was fast moving and the current around the tree was challenging to get our canoe around. What made it even crazier is that this was right after a bend in the river, so you really didn't see it until you were right on top of it. So my friend and I made it around the tree, but it wasn't easy. I don't know why, but something made us stop by the shore and take a break. Folks were getting around it OK, but there was a woman on an inner tube that didn't seem to be moving out of the way and she got stuck under one of the bigger tree branches, submerged in the river and couldn't get untangled… Honestly, I have no idea what happened next, other than I remember breaking the buckle on my Survival Strap, handing one end to by buddy and told him to hang on, jumped into the river and got her untangled from the branches that were holding her under the water. My buddy then helped pull me in with the paracord that came from the Survival Strap.

So there's the whole story… I will ALWAYS wear one of your products whenever I am doing anything in the outdoors again…

God Bless,

Mike Harper
This is a great product. I'll be wearing one on the field and have another on my pack. My wife has the fob on her van keys. This great company also supports the Wounded Warrior Project.
To summarize, this is one cool and useful product! Please check them out.
httpv://youtu.be/TNgutV3i7Uc