[starreviewmulti id="2" tpl="20" style="nethub"]
Trusted Review™ Scorecard
Average Score: 5.0 out of 5.0
Each product or service is rated on Quality, Reliability, Price/Value, and Referability. Each area has an individual score, and creates an overall Trusted Review™.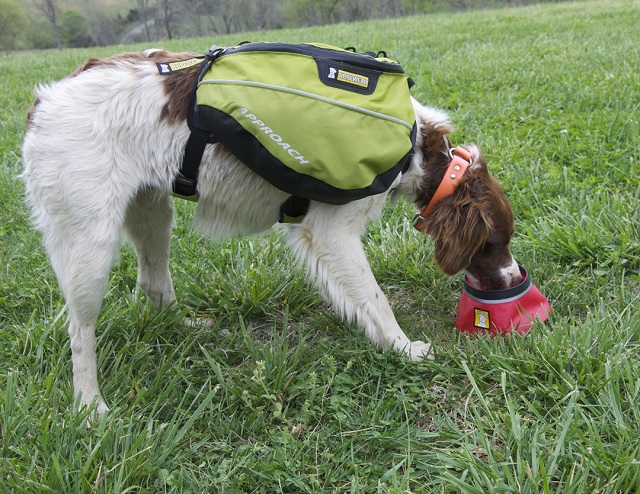 Recently, my dog Annie and I had the opportunity to test some of Ruff Wear's equipment, namely the Approach Pack and the Bivy Bowl. It was the first day of spring when we took off through the rolling hills of Southern Tennessee. My shoes soaked up the dew as the sun filtered in through the canopy of trees above our heads. Annie, sporting her new Ruff Wear Approach Pack, took the lead and only looked back to make sure I was still holding the rear.
The day before, I fitted the pack to her slender body. At first, Annie was a bit perplexed by this new device wrapped around her. Last summer was the last chance we'd had to hike together, but she quickly adapted. Fitting the pack was made easy by the accessible adjustment straps tucked neatly beneath the storage compartments of the pack. The Comfort-fit Web Master Harness added instant stability once the pack was strapped on and the weight dispersed evenly. The saddlebags did not flop up and down when she ran. The "weight-forward" feature is a key component of a good dog pack. The majority of the weight rested on the shoulders rather than too far back on her spine, which, in time, would cause your dog serious problems.
Ruff Wear provides some tips on the back of the tag that assures your dog's comfort wearing the new pack. For example, right after you have fitted the pack to your dog, engage in a fun activity so that your dog will relate the pack to FUN! These tips are sure to speed up the learning/comfort curve for your dog.
When we stopped for a rest, I retrieved the Ruff Wear Bivy Bowl from one of the saddlebags for Annie to have a drink of water. After I'd filled up the bowl from my Nalgene, I watched as she drank and noted how the lightweight bowl held its form without so much as a crease around its perimeter. The top rim did not droop from the weight of the water as she drank.
At the end of the hike, I was happy to drop my light load, though I am sure Annie could have gone on for days. Ruff Wear's Palisades Pack is designed specifically for multi-day hiking trips; however, a dog like Annie, whose food consumption is minimal, could have easily managed with the Approach Pack.
From the company's representative who made it possible for me to test Ruff Wear's gear to the products, the process was a breeze. Their objective is to make your adventure (in life and on the trail) easier and with that, they have succeeded. Check out their website at www.ruffwear.com.
Here is how I rate the gear I tested in these following categories: