[starreviewmulti id="2" tpl="20" style="nethub"]
Trusted Review™ Scorecard
Average Score: 4.8 out of 5.0
Each product or service is rated on Quality, Reliability, Price/Value, and Referability. Each area has an individual score, and creates an overall Trusted Review™.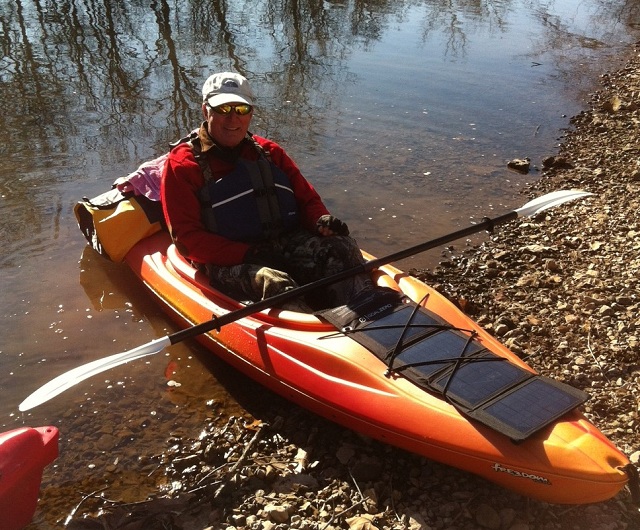 Every year about this time, when most other winter sports are winding down, I like to take to an Ozark stream for some cold weather floating, especially when there is a good snow on.
This year I had the opportunity to try something a little different. I had been contacted by Pelican International, our Canadian friends, to try out one of their newest products, the Pelican Freedom 100X kayak.
I received the Pelican Freedom 100X back in the fall. Missouri weather was quite erratic at the time with everything from flooding to extremely hot weather, and of course, life's usual everyday interruptions. I knew most of the streams would become quiet and the masses of canoeing enthusiasts would hang it up in cooler weather, leaving the streams in their peaceful state once again.
I was excited to get the 100X on the water. I contacted my oldest son, who is an avid kayak enthusiast, to come along with me. Winter floating can be hazardous and I wanted his experience and expertise to get me out of trouble if there was any. I also let him maneuver the kayak for an additional opinion of the product.
Of course we prepared lots of gear in case there was a mishap and actually included overnight gear if that became necessary! There is plenty of storage space in the Freedom 100X, even though it is just 10 feet in length. It has a superb drywell with a lock down lid and plenty of storage up under the front deck and a comfortable adjustable seat. The topside also has bungee hardware for that extra load. I actually strapped a Goal Zero solar panel on the top side to charge our camera batteries and iPhones. We had plenty of dehydrated food and water and extra dry clothing.
Features
Adjustable oversize foot pegs
Adjustable padded backrest
Bow and stern carrying handles
Elastic bungee cords in bow
Hull optimized for stability
Knee pads
Molded seat
Padded seat cushion
Stern hinged quick lock hatch
Watertight stern bulkhead
Specifications
Length 10′ – 305 cm
Beam 30" – 76 cm
Depth 14.25" – 36 cm
Cockpit width 24" – 61 cm
Cockpit length 47" – 119 cm
Weight 43 lb – 19.5 kg
Max. capacity 300 lb – 136 kg
Hull material RAM-X
Pelican International had also sent me a Lavika carbon kayak paddle which was a dream to use. It featured an extendable shaft with a lock down collar to hold the chosen length firmly in place. With the river low, the channel had narrowed to quick runs and sharp turns. There were many log and root jams along the way and the Pelican Freedom 100X handled with ease, although I did put some pretty strong pressure on the Lavika paddle. I could turn the Pelican on a dime and it was very stable with all of our gear plus my own 205 pounds. Our trip would be eight miles in length but the ease of handling made it seem much shorter on the long eddies of the river.