[starreviewmulti id="2" tpl="20" style="nethub"]
Trusted Review™ Scorecard
Average Score: 4.0 out of 5.0
Each product or service is rated on Quality, Reliability, Price/Value, and Referability. Each area has an individual score, and creates an overall Trusted Review™.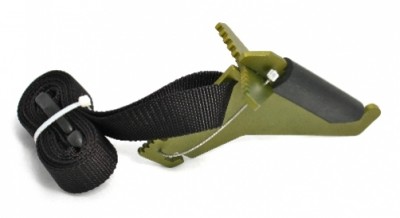 I've gotta confess: I never thought I'd be 'raving' about a tree hook. In fact, I wasn't quite sure that I'd ever really know what a 'tree hook' was or did, and when my good friend Dave asked me to try one out and write a review for NortheastHunting.com, the biggest question I had was whether or not I could also use it during my brother's bachelor party/camping trip/ManFest at the end of the summer. "I guess so," he said, with a quizzical look, clearly (and correctly) skeptical of my understanding of tree hooks and their purpose(s).
This thing has a spartan, functional aesthetic that seems common to most of the Montie Gear product line. I personally like the look and strength of the steel-cable-tethered tree bite, which allows the tree hook to sit flush against almost any tree with an OD greater than your forearm.
The EPDM (synthetic rubber) bumper material is very robust, and is attached super securely; the anodized aluminum metal tree hook frame felt and proved to be extremely strong yet lightweight as well. My only criticism of the product at face value is the nylon strap and plastic CSR buckle, which look a bit cheap and after-the-fact compared to the rugged and intelligent design of the rest of the hook itself. These, too, however proved to work just fine and never once came unclasped or frayed after an aggregate of two weeks' solid use now.
What did I/we use the Montie Gear Tree Hook for on our camping trip, exactly? Well, let's just say we never actually got around to hanging a proper compound bow from its well-supported arm. We did, however, use it as a foothold to tie one corner of a tarp to a tree for a campsite canopy shade.
We used it to facilitate "tree chin ups," reps of which were doled out as punishment for misbehaving at the campsite. We hung water storage bags from it for washing pots and pans, we hung wet gear and wet clothing from it after a rainstorm… In fact, we probably put that poor tree hook through more wear and tear than it would ever otherwise see, or was probably designed for.
And you know what? It didn't even flinch. Not only was the hook still intact, still structurally uncompromised, but also I was so impressed that I brought it with me into the woods for a couple stands during the early weeks of the Maine hunting season as a rifle support.
Never got to fire a shot off of the bumper arm, but it was still a comfort knowing that I could set my .30-06 comfortably there without having to worry about it falling off. It packed up neatly and quickly, and was easy to set up and secure quietly in the wee hours of the November mornings as well.