[starreviewmulti id="2" tpl="20" style="nethub"]
Trusted Review™ Scorecard
Average Score: 5.0 out of 5.0
Each product or service is rated on Quality, Reliability, Price/Value, and Referability. Each area has an individual score, and creates an overall Trusted Review™.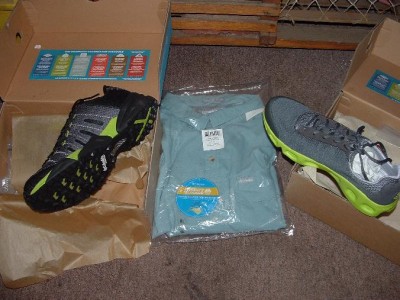 As an active outdoorsman I am often hard pressed to find equipment that will stand up to my active lifestyle. As a blogger I am afforded an opportunity from time to time to test out some of the best. Pictured to the left are three things sent to me from a great name in outdoor gear, Columbia Sportswear. The Master of Faster Sport Shoes are on the left, the Bug Shurt in the middle, and the Drainmaker Water Shoes are on the right. In this review I will tackle the Drainmaker Shoes as my third and final installment in this series of Columbia Sportswear reviews.
As an avid angler I have done a great deal of wading to get to the fish. In the spring, summer, and in the fall it can be the only avenue of success. For the most part I always wore traditional chest waders and hated the attached boots. I then graduated to stocking foot, and eventually to neoprene. But in the heat of August you have to go light and neoprene is way too hot. That is when I break out my ultra lights and a pair of sneakers or wading shoes.
Enter the Drainmaker…
I have a great pair of Redball ultra lights that I swear by in the heat of August, but I have never had a pair of shoes I truly liked. With things like the didymo and other invasive weeds becoming more of an issue in Maine, I had to go back to a standard sole and abandon the felt sole. I have even gone so far as to carry a washtub in my trunk and I wash my waders and my footgear before leaving any body of water. I always have dish liquid and spring water jugs in my trunk. As a responsible angler I feel I have to do my part to protect my natural resources.
Here is a video to watch to help you understand the new technology in these shoes.
The Drainmaker's wet grip sole is like a godsend for slippery rocks and my style of fishing. In the video they showed the wearer going bare foot (wearing no socks). Well I wear the shorter footie socks in mine just for walking comfort and to reduce normal walking friction. I'm just that particular. Not to mention when you pull on the ultralites the socks just make the package more wearer friendly.
My home river is full of slippery rocks and shifting sands. The Drainmakers were more than up to the task and they were great! I especially liked the flexible nature of the soles so I could feel the bottom structure, making it easier to choose which rocks to walk over and which to step on. When a fish is on… he demands and requires your full attention. Thinking about or having to worry over your ability to move is not an option. You must be able to move and anticipate the fish. These wading shoes gave me the grip and the comfort I need to be able to do that.