[starreviewmulti id="2" tpl="20" style="nethub"]
Trusted Review™ Scorecard
Average Score: 4.5 out of 5.0
Each product or service is rated on Quality, Reliability, Price/Value, and Referability. Each area has an individual score, and creates an overall Trusted Review™.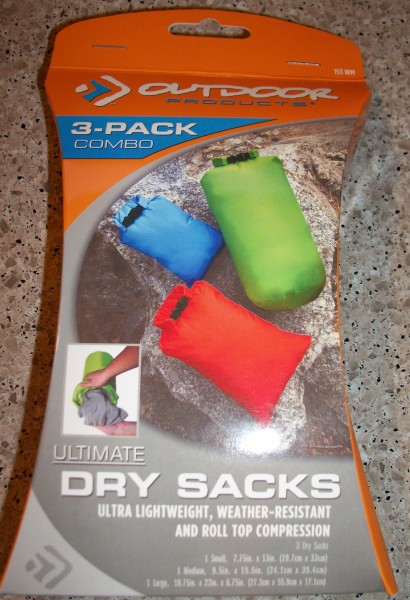 I recently went on a camping trip to the Sleeping Bear Dunes National Shore line. For the trip I knew I was going to need a few dry bags for a day of  kayaking. I didn't have a ton of money to spend on it, and I was pretty tired of using zip-lock bags to hold my camera, phone, wallet etc.
I needed something very economical, as money was a bit tight for this week-long get away with the girlfriend, and I found it. After looking around and shopping online I ended up finding a product from Outdoor Products. Outdoor Products offers a nice 3 pack of dry storage bags. I was able to buy them from Wal-mart of all places.
I was a bit worried about the price of these bags but they were only $9.99 for all three bags so I thought what did I have to lose. So after a quick test in the sink they seemed to be up to par.
The day came for the on the water test and they kept my things dry and at easy reach to snap photos along the way down the Platte River. These are worth a look if you're looking to keep things a little dryer.
Dimensions :
Large Bag – 6.75in Dia x 10.75in W x 22in H
Medium Bag – 9.5in W x 15.5in H
Small Bag – 7.75in W x 13in H
Set includes three dry sacks (2L, 4L & 8L)
Super compact and ultra lightweight
Watertight roll top closure
Soft and flexible rip-stop fabric
Polyurethane coated for ultimate waterproofing
Double stitched with watertight taped seams
Roll top allows maximum compression
Not intended for full submersion
Copyright © 2011 Out in Michigan LLC