[starreviewmulti id="2" tpl="20" style="nethub"]
Trusted Review™ Scorecard
Average Score: 4.3 out of 5.0
Each product or service is rated on Quality, Reliability, Price/Value, and Referability. Each area has an individual score, and creates an overall Trusted Review™.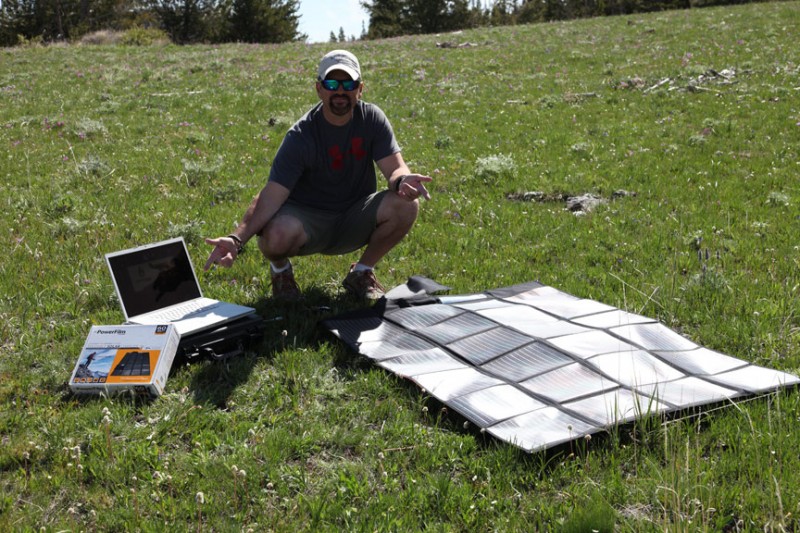 I was recently hired as third cameraman on a new reality series that involved filming scenic time-lapses, wildlife and the ranching lifestyle near Cody, Wyoming. Having filmed in areas where charging my batteries, cell phone and laptop were merely a pipe dream, I knew that one piece of gear I recently acquired would pave the way to a successful shoot. Mike Mcmaken, CEO of Green Energy Solutions, and I had spoken of the need for the outdoorsman to be able to go off the grid and charge their power-hungry gear in remote places. Solar power has been around for a while, but with the recent advances in panel technology, gone are the days of having to carry around a clumsy, heavy panel.
With the series start date fast approaching, I was anxious to get the required parts to make sure I could charge up my SONY EX3 video camera batteries, Macbook Pro and Gopro Hero camera. Powerfilm's F15-3600 is their mac-daddy foldable solar charger. With a 15.4 volt operating voltage, this 60 watt unit provides enough power to charge my Macbook Pro and Droid X cell phone at the same time. Many of today's video and still cameras shoot to solid-state media. Once your solid-state media fills up it must be offloaded to a hard drive. I am constantly shooting video and then offloading my solid-state cards in remote places. In the instance of this reality show I was able to fold out the F15-3600 panels in the Wyoming high country and get instant verification that my Macbook Pro was charging.
Powerfilm has a huge line up of solar products on the market. From their new USB+AA charger to the largest foldout that I was using, Powerfilm's products are ultra-portable, lightweight and easy to use. Every ounce counts especially when balancing out panyards for packing in on horseback or flying into the Alaskan bush by floatplane. The F15's folded dimensions are 11×9.5×2 and 59 x 43 unfolded. Weighing in at only 3.19 pounds it's never been easier to go off the grid. I can say that after extensive use with the F15-3600 foldout unit I am a believer! Each unit comes standard with a 12-volt female cigarette lighter adapter making connecting to the unit easy. To hook up your Macbook pro you'll need to look a little deeper on the Internet and check out Mikegyver's store for the proper hookup for your Macbook pro or other electronic devices. www.mikegyver.com/store/
I found the Targus premium AC/DC adapter a perfect combination for my needs. (http://www.mikegyver.com/IdeasnProducts/magsafe-targus-premium-power-adapter/) You'll still need Mike's special 90 degree third generation magsafe adapter with 85-watt adapter, which he performs his magic on. This mates Apple's proprietary technology to work with Green Energy Solutions 60 watt foldout. It was well worth the $209.00 I spent to make it work in perfect harmony. I also ordered the Dolgin dual battery charger for my SONY EX3 and 12 volt adapter. I am now able to charge two batteries at the same time! While on assignment filming on the Alaskan Peninsula last spring I ran out of battery power. Had I known about the Solar products that are available to the sportsman I would have been able to capture more footage without worrying about how I was going to charge my batteries.
http://www.bhphotovideo.com/c/product/624020-REG/Dolgin_Engineering_TC200_EX_TC200_EX_Battery_Charger.html
http://dolgin.net/zen_dolgin/index.php?main_page=product_info&cPath=11&products_id=48
Now I'll be able to tackle any job whether it's among the wilds of Tanzania to the Arctic Circle. Powerfilm's solar products go anywhere you do and provide a way to go off the grid.  In today's world of power-hungry gear, look to Green Energy Solutions for the latest solar devices from the best manufactures in the industry.
For more info on how to get this product and other solar products visit http://greenenergysolutionsdepot.com/