[starreviewmulti id="2" tpl="20" style="nethub"]
Trusted Review™ Scorecard
Average Score: 5.0 out of 5.0
Each product or service is rated on Quality, Reliability, Price/Value, and Referability. Each area has an individual score, and creates an overall Trusted Review™.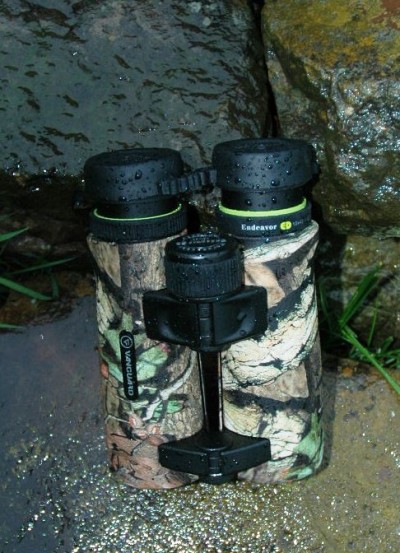 Recently, I received a pair of Vanguard Endeavor  ED 10×42 binoculars from the Vanguard Company, to test as part of my hunting gear as well as review the effectiveness and all around performance of the binoculars. Turkey season just opened in Missouri so I used this opportunity to "glass" a few birds in some early scouting.
The new Vanguard Endeavor 10×42 Mossy Oak binoculars have made a great stride forward with the binoculars ergonomic design. The binoculars feature a perfect thumb fit for gripping along each optic chamber. These binoculars are very suited for the hunter, bird watcher,  and outdoor use in general. When wet, the binoculars ergonomic design makes it easy for the hunter to grip, even when soaking wet!  The low light capabilities help the hunter to see clearly up until the last bit of light and even work great under a full moon!  Binoculars often fog up with drastic temperature changes and high humidity. I have found the fog proofing of the VANGUARD ENDEAVOR to be a big asset. When you breath on the binoculars or take the binoculars from a warm room out into the cold, they clear up almost immediately!
I recently turkey hunted with these binoculars in the rain just to see how they performed. The waterproof feature is a saving grace for those wet hunting days! The low light conditions did not affect the binoculars. They have very durable construction and non glare outer covering. The Mossy Oak cover is a great feature for the hunter. I found the VANGUARD ENDEAVOR 10×42 MOG to be very reliable and rugged for the value. I find these Vanguard binoculars to be very comparable to the higher end optics on the market today without having to pay an exorbitant price!
The VANGUARD ENDEAVOR 10×42 is light enough but I did notice neck strain after a day of hunting. I would recommend the Vanguard ENDEAVORS to anyone wanting a high quality binocular at a good price! Reach out and see it!