[starreviewmulti id="2" tpl="20" style="nethub"]
Trusted Review™ Scorecard
Average Score: 4.8 out of 5.0
Each product or service is rated on Quality, Reliability, Price/Value, and Referability. Each area has an individual score, and creates an overall Trusted Review™.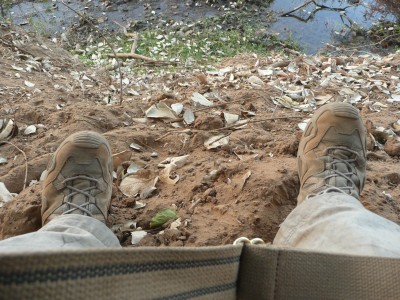 The Lowa Zephyr Desert – The Ultimate African Safari Boot
As we stalked through the impossibly thick riverine cover atop a carpet of "potato chip" dry leaves, I could hear the rumbling stomachs of the Cape Buffalo who shared this tight cover with our hunting party. The unmistakable barnyard smell of buffalo filled my nostrils with each measured breath. Wikus Groenwald, my friend and PH, turned to me and mouthed "20-yards." He dared not even whisper with the herd of potentially unfriendly bovines so close.
Still unable to see them, Wikus and I took our rifles off safe and pushed forward leaving the trackers behind. We were certainly beyond the need to track them at this point. Each step was made with total care – our pace glacial. When we closed to about 10 paces, we could see the closest buff, a middle-aged cow, but there were far more in this bunch than we could see.
Keeping the wind in our favor, we slowly made our way around the edge of the herd. At this point, a broken twig could mean a stampeding of the herd which one can only hope will be away from rather than towards the hunters. It may seem odd, but it was at that moment – 3 hours and several miles into this pursuit, that I realized how pleased I was with my boots.
Fifteen or so minutes later, I shot a beautiful heavy-bossed bull out of that herd. The shot was all of 20 yards and he had no idea we were there.
Comfort:
I have owned and hunted in many of the "classic" African hunting boots. Typically, these are full grain leather with little in the way of padding and some sort of fairly soft sole. In my experience, these boots are prettier than they are comfortable.
What sets the Lowa Zephyrs apart from the "classic" African boots is their sneaker style design. Boots of the style require little or no "break in" and have the sort of padding and venting that anyone looking to put on many miles in the African heat will appreciate. In 10 days of stalking buffalo and other game in the Selous Game Reserve in Tanzania, I walked some 75 miles in my Lowas. In that time I had not one blister, no foot fatigue – not even a hot spot.
Without a doubt, there are other sneaker style hiking boots. In my research, I found nearly all of them to be waterproof which means far too hot for serious African use.
Hunting Aptitude:
All of the other hiking boots and many of the hunting specific boots that I have worn over the years are too hard of sole for serious stalking. A boot that is stiff of sole can cost you in the field. In a pursuit where the hunter often closes inside of 50 or even 25 yards of his quarry, being quiet is a must. Without the super-soft honey colored soles on my Zephyrs, there is no way that I could have closed to within 10 yards of that wary cow.
In addition to preventing much of the scuffling sound that comes from harder soles, softer soles connect the hunter to the conditions underfoot far more directly. Feeling that troublesome twig the moment before it snaps can be all that separates success from failure.
The softness and flexibility of a hunting boot's soles are often overlooked. A hunter can only ignore these factors at his peril.
The Parting Shot:
Nearly any experienced PH or African hunter will tell you that your boots are among your most critical gear for an African safari. My research and field testing of the Lowa Zephyr Desert boot gives me deep seated confidence in recommending them as the right tool for the job of African safari hunting.