Gear to Bring to a Trail Ragnar Relay
This is some of the most functional, efficient and worthwhile gear for a trail Ragnar Relay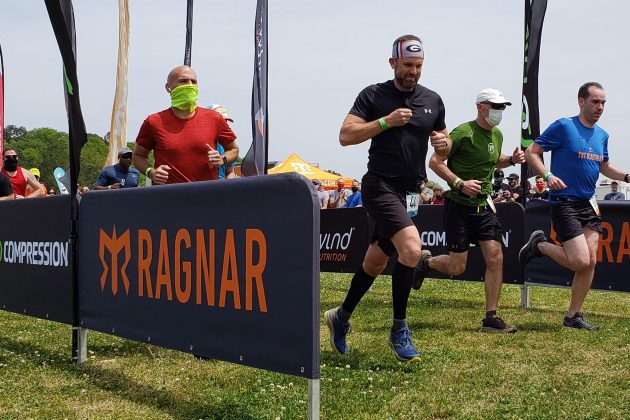 A trail Ragnar Relay is unique from other types of Ragnar Relays because everyone camps together on site, and each leg of the relay is a loop that brings you back to a central area — known at the Ragnar Village. Unlike with a Road Ragnar, you have to pack everything you're going to need for a two-night, three-day outing. You'll be able to drop everything off from your car, but you won't have regular access to your vehicle, which means you need to be strategic (and efficient) in planning what gear to bring with you to a trail Ragnar Relay.
If you're not entirely familiar with trail Ragnars, the event consists of teams of 8 who run roughly 120 miles total — in three repeating loops rated easy (green), medium (yellow) and hard (red) — on wilderness trails that wind through forests, valleys, and mountainsides. Generally speaking, you'll run day, and night, and day again, sleeping (maybe) from time to time. (Definitely expect more "naps" than actual stretches of REM sleep.)
Ragnarians (yes, there's really a term for those who run Ragnar Relay races) missed most of 2020 after the Ragnar organization put races on hold because of the COVID-19 pandemic. But races are back on for 2021, with a whole lot of smart and solid safety protocols in place. The year's first trail Ragnar Relay took place in April in Atlanta and brought over 150 teams together. Outside of immediate tent areas, where each team stakes out their own footprint and huddles tents together for camping, face coverings were strictly enforced. Social distancing was encouraged, and while water and coffee were available, you had to have your own bottles.
 

 

View this post on Instagram

 
One of the best things about running a trail Ragnar Relay is that you can make of it exactly what you want: top-notch runners can double down and make it an ultra, strong runners can be challenged on courses with some elevation, social runners can chillax around bonfires in the Ragnar Village and new runners can really push themselves with the support structure of hundreds of other people cheering them on.
Trail Ragnars can be some of the best experiences you'd have among fellow runners. You have to have the right gear with you, though. While everyone knows you need to have the big stuff (like a tent and running clothes!), there are some items that may not immediately be on your radar. There are gear items that I found to be especially helpful at a trail Ragnar. These things are functional, efficient and worthwhile to pack.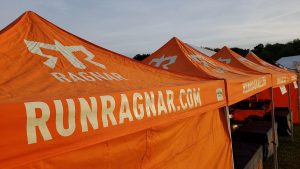 Ready to dive into some gear? Let's take a look 7 things you really should bring with you to a trail Ragnar Relay:
How does a Ragnar Relay work?
There three different types of Ragnars, and the style and vibe of each can be quite different. Of course, different people have different ones they love to run, so there's no one Ragnar type that you could call "the best."
To give a synopsis of each Ragnar, here's what you need to know:
Roads: Teams of 12 run roughly 200 miles — from point A to point B — on city streets, country roads, sidewalks, and bike paths. You'll run day, and night, and day again, lounging in vans, grassy fields, or perhaps a high school gym.
Trails: Teams of 8 run roughly 120 miles — in three repeating loops rated easy, medium and hard — on wilderness trails that wind through forests, valleys and mountainsides. You'll run day, and night, and day again, sleeping (maybe) in a temporary tent city known as Ragnar Village.
Sunset: Teams of 4 run about 26 miles in one evening — one runner at a time on a single loop — hoping to cross the finish line before the sun sets, where an epic party awaits. Ragnar notes that it "basically took a marathon, turned it into a team sport, and added live music and food trucks."
How long does a trail Ragnar Relay last? 
The start time for a trail Ragnar Relay depends on your projected team pace — and yes, Ragnar asks you to make a good-faith effort at guessing each runner's pace. Slower teams will start earlier on Friday morning, usually kicking off between 9 and 10 a.m. Some of the faster teams won't start till the early afternoon, with starts being done as late as 2:30 or 3 p.m. The idea is that the staggered start time allows each team to finish in roughly the same window of time — and definitely with enough time for Ragnar to close up shop by about 4 p.m. Saturday afternoon. Due to COVID restrictions, don't plan on camping Saturday evening.
For the trail Ragnars, if your team is starting to fall behind or that race officials don't feel like you can finish up by 3 or 4 p.m., then they'll have you double up on the race legs. That will help get you through the race faster and give everyone on the team the experience of getting to run each leg of the course.
Ryan Tipps is Managing Editor for ActionHub and has years of experience in a variety of digital and print media. Ryan lives along the Blue Ridge Mountains, is an avid hiker, backpacker and runner and has been a part of the wilderness search and rescue community since 2005.
Feature image by Ryan Tipps
We are committed to finding, researching, and recommending the best products. We earn commissions from purchases you make using the retail links in our product reviews. Learn more about how this works.