5 Best Women's Trail Running Shoes for 2021
There are many things to consider besides just the fit when choosing the best women's trail running shoes. Terrain, stability and cushioning are keys.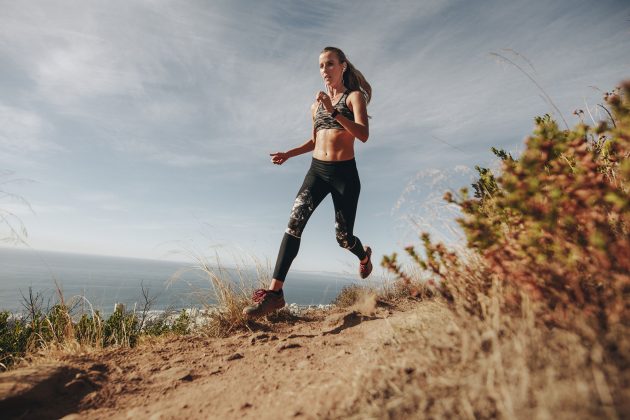 When you're on a trail run, you need stable footing. Stable footing helps prevent injuries and can give you extra confidence out on the trail — making your run more enjoyable. Since your shoes provide the foundation for your entire body, they should be comfortable and fit your feet well. But there are some other things to consider when choosing the best women's trail running shoes other than just the fit.
Before choosing a pair of trail running shoes, think about the terrain you'll be running in. For example, if you run primarily on trails that are hard-packed or you want to use your trail running shoes for running on both trails and roads, you'll want to look for shoes with lugs (the cleats, or "tread" on the sole) that are closely spaced. Closely spaced lugs will help you comfortably navigate hard-packed soil and give you the grip you need.
If you're running on gravel or rocky trails (like a lot of mountain trails in my home state of Montana), you'll want trail running shoes with special added rubber grip material on the soles that improve your grip when you're running on rock. I've learned that deep lugs can be uncomfortable to run in when you're out on very firm dirt or pavement.
You'll also want to consider the cushion of your trail running shoes. Do you like running in shoes with a lot of cushion that make you feel like you're running on a cloud? Or, do you like a firmer running shoe that allows you to feel more of the earth under your feet (usually referred to as a "responsive" shoe)? The construction of trail running shoes varies, so you'll want to choose a shoe that fits your specific needs and comfort level.
Over the years, I've learned that I like running on a variety of trails throughout the year (in addition to road running), so I keep at least three different types of trail running shoes in my rotation.
Here are five women's trail running shoe recommendations for 2021:
Suzanne Downing is an outdoor writer and photographer in Montana with an environmental science journalism background. Her work can be found in Outdoors Unlimited, Bugle Magazine, Missoulian, Byline Magazine, Communique, MTPR online, UM Native News, National Wildlife Federation campaigns and more.
Feature image by Jacob Lund, Shutterstock
We are committed to finding, researching, and recommending the best products. We earn commissions from purchases you make using the retail links in our product reviews. Learn more about how this works.