The 5 Best Winter Sleeping Pads
Our picks for the best winter sleeping pads will keep you warm and well rested on your camping trips this season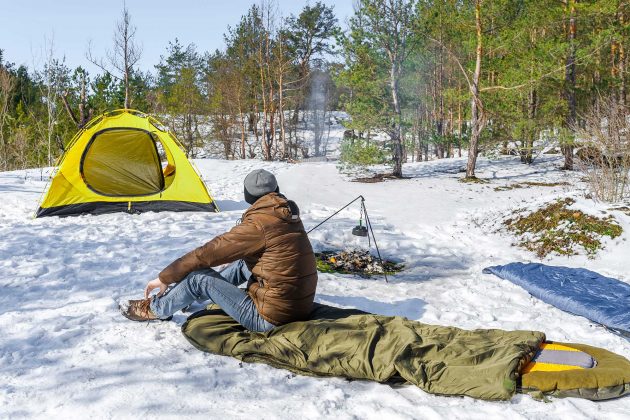 The cold winter months are no excuse to stay inside. There is arguably some of the best adventure to be had during the snowy season. Nature is at its most stunning and frightening during this time and if you're like us, you want to explore the possibilities that frozen landscapes offer. Of course, it's essential to head out prepared when winter camping, with the best winter sleeping pads and the rest of the gear you need.
While there is a lot of the importance to be placed on a good four-season tent and winter sleeping bag. Many folks who are new to winter camping will make the mistake of underestimating the importance of a good winter-rated sleeping pad. This can end up in you passing an excessively uncomfortable and sleepless night on the snow.
When you are in a sleeping bag, most of your heat is lost through the ground. The insulation below is unable to function properly when it is compressed under your weight. This is why it's so important to use an insulated sleeping pad. Do not take this lightly, if you camp on snow without an insulated sleeping pad, you will feel extremely cold and are putting yourself at risk for hypothermia.
Sleeping pad manufacturers rate their sleeping pads using a system called R-value. The higher the R-value, the warmer the pad will be. For standard winter camping, anything above 4 will work, although 5.5 and above offers more comfortable sleep.
Since insulated sleeping pads are inflatable, they can be punctured. It's important to carry a few extra safety supplies when winter camping in case your pad gets punctured accidentally. A patch kit is necessary to carry with you at all times. Additionally, I recommend carrying a closed-cell foam pad and an emergency blanket. You can put the closed-cell foam pad underneath your sleeping pad, and the R-values from both pads will stack giving you extra warmth. In case of catastrophic failure on your inflatable sleeping pad, you can use the closed-cell foam alongside the emergency blanket to stay safe.
The best sleeping pads, too, will last a long time if you treat them well. My last winter pad worked for about six years on probably 100 nights. It's important to always store it in a cool, dry place when you're not using it. All pads will develop leaks that need to be patched.
Here are some of the best options for winter sleeping pads:
Atticus Lee is an outdoors writer and perpetual traveler. When he's not writing about adventures and gear, he's riding his bike across different countries and learning about their cultures. He enjoys coffee, campfires, and street food.
Image by travin_photo, Shutterstock
We are committed to finding, researching, and recommending the best products. We earn commissions from purchases you make using the retail links in our product reviews. Learn more about how this works.