5 Best Trail Running Socks for 2021
Wading through the differing weights, cushioning, and compression in the industry's best trail running socks just got easier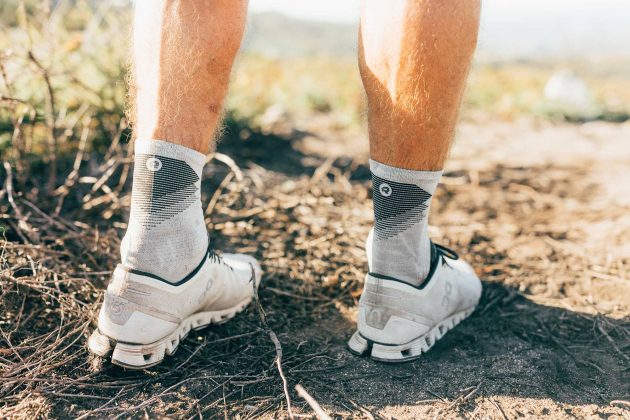 As a trail runner, I obsess about what I put on my feet. And it's not just what touches the ground that is important to maintaining or improving my health and performance; I also put a lot of focus on what touches my skin. So I always find myself trying new styles of socks — with different weights, cushioning, and compression — to try to find the best trail socks for my mountain runs. 
I live along the Blue Ridge Mountains, so that informs my decision for which socks to pick for a particular run. Oftentimes, I'm encountering:
Humid or otherwise wet conditions: I want something that'll wick moisture from my feet. The skin on your feet is never going to be as vulnerable as when it's damp and struggling to dry itself. It's a recipe for blisters/hot spots.
Uneven, technical terrain: There are trip hazards all over the forests of the East, with shallow roots poking up and ready to grab you and rocks awkwardly splayed along a path — especially during a nighttime run. I want something that'll help with stability throughout my foot and keep my soles cushioned while also offering compression through my arch and up my calf.
Debris: Whether it's small rocks and dirt, to sandy sections along river banks, debris seems to always be looking for a way in. A sock that forms well to my foot and has appropriate, but not suffocating, elasticity through the calf and at the cuff, is important to keeping my foot clean and abrasion-free.
Heavy usage: Yes, they have to be durable! If they're not, they don't deserve consideration.
There are a wealth of socks on the market to choose from, and trail socks are markedly different than road running socks. Ahead of making these picks, I wanted to narrow the field down to concise and worthwhile selections. And I wanted to go beyond what you might find in a local running store, where Feetures and Balega seem to rein supreme on shelves. I put at least 20 miles on each of more than a dozen different types of socks during testing, almost all from different brands. As I've learned from being engaged with socks for so long, one brand can have a true winner of a sock with one style, but another version from the same brand can be a total dud. 
I've already written extensively about choosing a great hiking sock, so hopefully you'll be able to gain some insights — and perhaps make a new discovery — here in the amazing selection of some of the best trail running socks that are available for the season:
Ryan Tipps is Managing Editor for ActionHub and has years of experience in a variety of digital and print media. Ryan lives along the Blue Ridge Mountains, is an avid hiker, backpacker and runner and has been a part of the wilderness search and rescue community since 2005.
Feature image courtesy of Rockay
We are committed to finding, researching, and recommending the best products. We earn commissions from purchases you make using the retail links in our product reviews. Learn more about how this works.