Home Away From Home — The Best Four-Season Tents of 2021
With advancements in fabric technology, today's best four-season tents are lighter, more durable and more packable than ever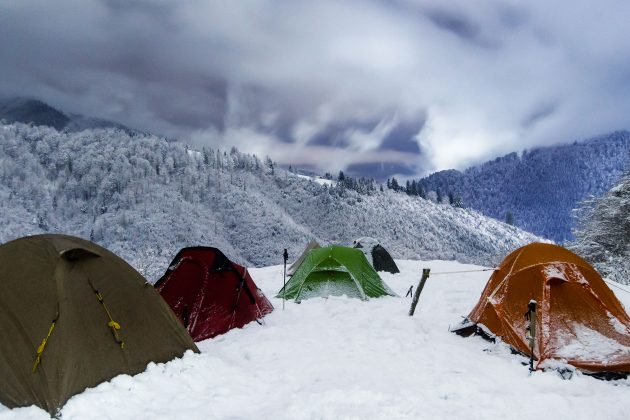 Imagine waking up early, the glow of dawn light bouncing off the ground and lighting up your tent. The trees are heavy with a fresh layer of powder. Your tent has shed off the night's snow, forming around it in a pile. Everything around you is untouched. For many of us, this is a dream scenario. Winter camping can be an amazing and rewarding experience. However, appropriate gear is vital to stay safe while camping during cold winter months. Perhaps one of the most important winter-specific pieces of camping gear is a good four-season tent. This will keep you warm(er) on the harshest of nights, and can be used as a shelter even during blizzard conditions.
There is no singular definition for what the "best" four-season tent is. You will likely want to select one based on what your plans are. Four-season tents come with a variety of features, and range from lightweight spartan mountaineering tents to more spacious and fully featured basecamp tents. As a general rule, four-season tents are more expensive than their three-season siblings. This is because the fabric and construction needs to hold up to more extreme conditions. Luckily, many four-season tents that have double-wall designs can be set up as just an inner or just a shell, and thus provide more flexibility for summer use.
When considering whether or not to invest in a four-season tent, ask yourself what kind of conditions you expect to encounter. Many people buy and use four-season tents without the explicit intention of using them in heavy snow. If you're going on an expedition-style trip, a four-season tent could provide extra protection and peace of mind. Maybe you're someone who sleeps cold and you want to do everything possible to warm up your camp. There are plenty of good reasons to consider investing in one. With advancements in fabric technology, four-season tents are also lighter and more packable than ever.
We put together a list of the best four-season tents on the market. These tents exemplify the top performers available today, and each has specific characteristics that will appeal to a specific audience.
Atticus Lee is an outdoors writer and perpetual traveler. When he's not writing about adventures and gear, he's riding his bike across different countries and learning about their cultures. He enjoys coffee, campfires, and street food.
Feature image by Alexey_Medvedev, Shutterstock; secondary images by the individual brands
We are committed to finding, researching, and recommending the best products. We earn commissions from purchases you make using the retail links in our product reviews. Learn more about how this works.