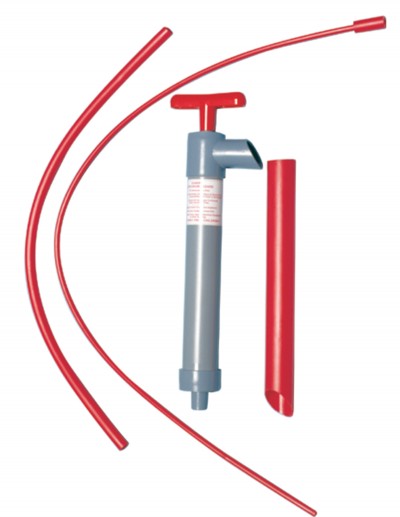 Great for handling routine or emergency jobs, Beckson's Handy-Mate pumps are designed for a variety of uses. The 212PC Pump is particularly suited to remove oil from engine crankcases when it needs changing. The winterization process is easier with a Handy-Mate 212PC Pump.
The Handy Mate is made entirely of tough marine plastic. It will not rust or corrode, is non-sparking for safety, and requires no priming to start pumping action. The pump body has a diameter of 1-1/2″, and it is fitted with a comfortable molded handle for easy, no-strain operation.
The versatile 212PC pumps come with two intake tubes, measuring 1/2″ x 22″ and 1/4″ x 36″. It also comes with a discharge tube which is 1-1/4″ x 10″, a reducing foot and adapter. The smaller 1/4″ tube is provided to insert into the dipstick hole for pumping out warm, not hot, oil. The 212PC Pump measures 12-3/4″ long and pumps 8 oz. per stroke.
For over 50 years, Beckson has manufactured high-quality, all-plastic hand pumps. The family of pumps has grown to include siphon and diaphragm action pumps.
Contact
Martin Flory Group, PO Box 360, Gurnee IL 60031
Phone: 847-662-9070; Fax: 847-336-7126
news@martinflory.com; www.martinflory.com
Image courtesy Beckson Marine