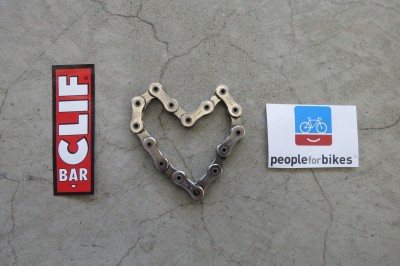 Kicking off the summer bike riding season, CLIF Bar, the great-tasting energy bar made with organic ingredients, announces today it is formally joining the national non-profit PeopleForBikes as a continuation of its long-standing commitment to bicycle advocacy.
The mission of PeopleForBikes is to improve bicycling in the U.S. by collaborating with individuals, businesses and communities. CLIF Bar recognizes that safety on American roadways needs to be improved in order to further encourage bicycling as a more popular mode of transportation. One key solution is developing protected bike lanes that provide physical separation between cars and bikes on the roadway. According to the Chicago Department of Transportation, cities around the U.S. have found that protected bike lanes increase bicycle ridership, reduce motor vehicle speeding, reduce crashes and improve people's feelings of safety on those streets. CLIF Bar and PeopleForBikes have a long-term interest in working to bring new opportunities for safer, accessible biking in communities across the nation.
"CLIF Bar was born on a bike in 1990, and we believe in a future in which people feel safer and more excited to ride bikes for fun, freedom and doing right for the environment," remarked Ryan Mayo, experience marketing manager for Clif Bar & Company. "We are proud to join PeopleForBikes, helping to create more bike-friendly environments across the nation to make that future a reality."
"We are excited to work with CLIF Bar, a company that has been involved in the biking community for more than 20 years," said Tim Blumenthal, president of PeopleForBikes. "When people ride bikes, great things happen to our bodies, minds and communities. We look forward to building this lasting relationship."
CLIF Bar partnered with friends at ARTCRANK – a poster party for bike people – to celebrate its commitment to PeopleForBikes around the theme of "Cities of the Future" with a limited-edition screen-printed poster by artist Zara Gonzales Hoang. Posters will be available for sale at all remaining ARTCRANK poster shows around the country in 2014, as well as online at www.clifbar.com/pfbposter. All proceeds will go to PeopleForBikes.
In addition, PeopleForBikes and CLIF Bar will partner to sponsor the "Living Beyond Expectations Project" in Atlanta this Saturday and Sunday, June 21 and 22. The event is a regional effort to showcase temporary street transformations and protected bike lanes for residents to preview upcoming infrastructure improvements in their communities.