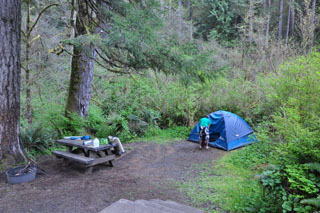 The old adage, "roughing it," has lost its definitive meaning and quite frankly, has gone out of style. While I do believe we should be comfortable after a long day of hiking with, say, a Big Agnes Air Core sleeping pad, I do not believe we need to find comfort in our various gateways to the world we've created through technology and the Internet.
However, technology has managed to work its way into our lives yet again. This time, it will follow us into the very locations where some of us like to disconnect from the real world, rather than stay connected. Gulf, Cheaha, Lakepoint and Wind Creek State Parks, all located throughout the state of Alabama, now have free Wi-Fi Internet in their campgrounds.
Why has this modern world become so reliant on the phrase "stay connected?" What happened to the days when we used the woods and various campgrounds to escape urban life and replenish our souls with whatever Mother Nature cared to offer? It is bad enough to be in a restaurant, a place where people used to go to share meals and conversation, to witness couples and even whole families paying more attention to their smart phones than the person sitting across the table.
Since starting the wireless Internet program in Gulf State Park in 2010, the state has "deployed more than 600 radios, routers and relays, utilizing 92 miles of wireless networks to provide Internet to more than 1,200 campsites," according to Tim Wishum, Acting Co-Director of Alabama State Parks. This means that now 20,000 guests will be able to access the Internet.
Trying to Keep Pace with Modern Times?
As children adapt to their virtual world, they lose any sense of the environment and are ignorant to the dire need for preservation and restoration of what we can alter, but never recreate. Now, even though they may be "camping," there is no reason not to keep their Facebook profiles active (or however the lingo goes).
Other parks, such as Blue Springs, Monte Sano, DeSoto and Florala, that do not have campgrounds, offer free Wi-Fi near the park office and store.
Alabama is not the only state implementing hot spots. As a matter of fact, they are just following trends around the country. But if we don't teach the next generation the true essence of being outdoors and all it entails, then who is going to care for Mother Nature as she gets older?
Staying Positive
Pardon my rant, but for those of us who are living with our eyes open and our noses in the wind, we understand the true meaning of nature and its thoughtful discourse that words just can't express. While many of us still take to the mountains and the unpopulated trails when we need to get away, we are the minority. We must work together to protect what is rightfully ours. We cannot let technology nullify our lives of what is and should be important, or we'll pay for it later.
In conclusion, I am aware that RV and campground camping is not really the type of camping that we envision in our romantic dreams. But when will shelters on the Appalachian Trail have the same capabilities? As technology is creeping, how far will it go?
Oh, and for more information about Alabama State Parks, visit www.alapark.com.