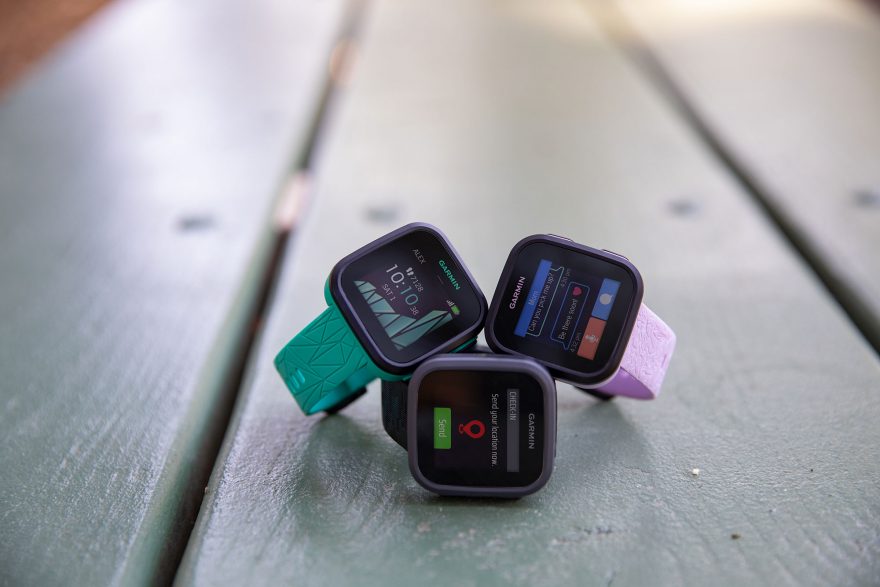 Lots of kids these days have smartphones, but for youngsters who may not quite be ready for such a device, Garmin has released a new product that can help bridge that gap. Called Bounce, this kids smartwatch with LTE connectivity lets parents easily communicate with and locate their child. With a bright, color touchscreen display and a durable, swim-friendly design, Bounce offers two-way text and voice messaging, as well as real-time location tracking to the Garmin Jr. app on a parent's or guardian's compatible smartphone.
Along with communication, Bounce offers fitness and activity tracking, fun games, and even lets parents assign chores and give rewards.
"Parents will feel comfortable introducing their children to digital communication in a fun and controlled way through texts, voice messaging and tracking right from their wrist," said Dan Bartel, Garmin vice president of consumer sales.
While Garmin wearables are generally centered around sportwatch functionalities rather than smartwatch ones, this isn't the first time the company has ventured into LTE capabilities. In 2021, Garmin's then-flagship running watch, the Forerunner 945, had an LTE version.
Similar to that one, the Bounce doesn't require users to switch phone service providers — the LTE subscription is managed directly through Garmin. 
It also comes with a variety of safety features. For example, parents can set defined areas and be notified when their kid leaves the set boundaries. Children can also use the "check in" feature to share their current location, which sends a notification to the Garmin Jr. app on the parents' smartphones. In case kids forget, parents can "refresh" their child's location in the Garmin Jr. app to see their current whereabouts.
In addition to location tracking, families can communicate with their kids through the Garmin Jr. app. Directly from their watch, kids can send text and voice messages to the Garmin Jr. app on a compatible smartphone or to other Bounce smartwatches, so long as both watches are approved to communicate with each other by their family administrators. They can also respond with customizable preset messages, voice messages, emojis or sound emojis to parent-approved contacts and in Garmin Jr. family group messages. 
During school days, parents can turn on school mode or do-not-disturb from the Garmin Jr. app to limit distractions to help kids stay focused while they're in the classroom.
If a child needs help, parents can have peace of mind knowing they and other contacts they approve in the Garmin Jr. app will be sent a message when their child activates the Assistance feature. This notification will include a LiveTrack location view of their child's live location directly in the Garmin Jr. app.
For keeping children on task, parents can also send notifications to remind their kids to complete chores and other responsibilities. These reminders can be set up to recur weekly or even daily. To help children better manage their time, Bounce puts a stopwatch, alarm and timer right on their wrist to let them know when it's time to do homework or when it's time to get ready for soccer practice.
Interactive adventures, quizzes, games and more entertainment is less than an arm's length away with Bounce. Gamification of health and habits lets kids unlock rewards for meeting their active goals and responsibilities, including fun and educational games and adventures. Adventures will let young explorers learn about different places around the globe through trivia games and new facts directly on the Garmin Jr. app on their parent's smartphone.
In addition to earning rewards, kids can also compete with their family and friends in individual and team challenges. When it's not time to be active, children can test their minds with educational games such as puzzles and flash cards right on their watch.
Bounce is available in three colors — Green Burst, Black Camo and Lilac Floral — and can be purchased exclusively on Garmin.com for $149.99. An active subscription plan and LTE connectivity is required to use connected features, which costs $9.99 per month.