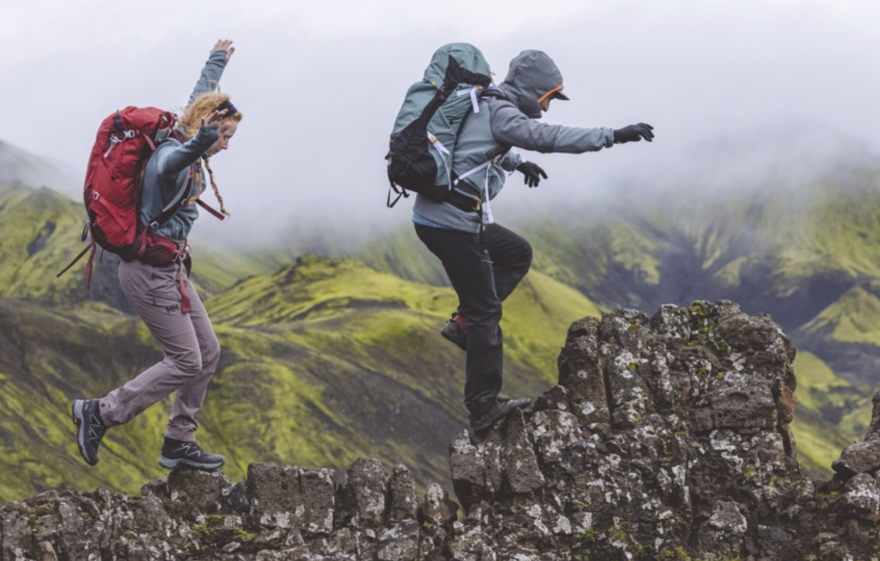 One of the most notable movements in premium adventure and athletic clothing is the incorporation of fabric created from recycled ocean plastics. Denmark-based running-apparel company Rockay does it, as does backpack-manufacturer Got-Bag and trail clothier LIVN with its Ecotrek Pants — these companies often use ocean waste (bottles, fishing nets or buoys, as some examples) for their synthetic nylon yarn. Helly Hansen is steering strongly into this sustainable and eco-friendly effort with many new items in its Spring/Summer 2023 Outdoor Collection being made with Ocean Bound recycled material. 
The Outdoor Collection, which was featured prominently at the 2022 Outdoor Retailer trade show in Denver, will showcase more than a dozen trail and mountain clothing items constructed with Ocean Bound material.
Tara Yant at Helly Hansen walked ActionHub through this new material at the trade show. The end goal, not surprisingly, is to reduce waste, lessen carbon dioxide emissions, prevent further pollution to waterways and avoid negatively impacting wildlife. Microplastics delivered to large bodies of water by weather events, currents, or littering can have a major effect on flora and fauna too.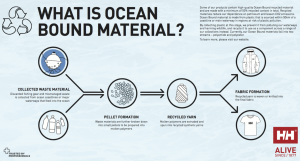 So what is Ocean Bound material? It is material made from plastic that is sourced within about 30 miles of a coastline or main waterway in regions significantly at risk of plastic pollution. There are two paths for Ocean Bound material: one that results in a polyamide (sourced from fishing buoys) and another in a polyester (sourced from plastic bottles).
It all starts as discarded fishing gear or mismanaged plastic waste, which is then broken down into small pellets to be made into molten polymers. Those polymers are then spun into synthetic yarns and woven or knitted into the final fabric for products like the backpack- and harness-compatible Blaze 3L Shell Jacket or the stretchy and comfortable Roam Pants.
No matter if the end result is polyamide or polyester, this kind of material is driven forward with the environment in mind. For example, Helly's Ocean Bound polyester repurposes around 25 PET bottles for every fleece jacket created and around 20 for every shell jacket.
While a few of Helly's sailing clothing items currently are made with Ocean Bound material, the Norway-based company is eager to expand its offering in the next year. Most notable among Helly Hansen's releases for spring and summer 2023 are items in the Blaze series, which includes the 3L Shell Jacket and the 3L Shell Pant.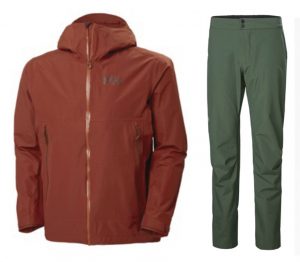 The "3L" in the name refers to the 3-layer Helly Tech Performance system that touts itself as being waterproof, windproof and breathable. The company works closely with Snohomish County Volunteer Search and Rescue in Washington state and other SAR teams to get real-world product feedback, Yant said.
The Helly Tech Performance system has a unique membrane intended to keep water molecules out, while allowing sweat vapor to pass through — ideally making you more comfortable on your adventure. The 3L jacket and pants are made of polyamide face fabric and a polyester backer. They come with an array of pockets and adjustability features. 
The jacket also has a backpack- and harness-compatible design, adjustable and climbing-helmet-compatible hood, under-arm ventilation, articulated sleeves for optimal mobility and a brushed tricot chin guard.
"This is a great day hiker or if you're going on an overnight trip," Yant said.
The Blaze 3L Shell Pant has articulated knees and a gusset in crotch for freedom of movement and hip-length side two-way zippers for easy on and off and ventilation.
Other spring 2023 items featuring Ocean Bound material are the breathable active-lifestyle Roam Pants and Roam Shorts and the lightweight and wicking Tech Trail Print Shorts for women.
Yant describes the Roam items as "especially light and feels very 'athleisure.' "
I've worn several items of clothing that are made using recycled ocean materials, and this is a trend in the industry that I hope to see continue to grow as major brands like Helly Hansen help to amplify the importance of such innovative fabrics.
Some day, we may be even seeing clothing made of other sustainable materials, such as coffee grounds. And perhaps "some day" will come sooner than we think: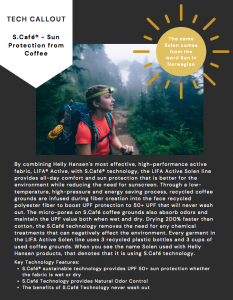 ---
Ryan Tipps is Managing Editor for ActionHub. He lives along the Blue Ridge Mountains, is an avid hiker, backpacker and trail runner and has been a part of the wilderness search and rescue community since 2005.