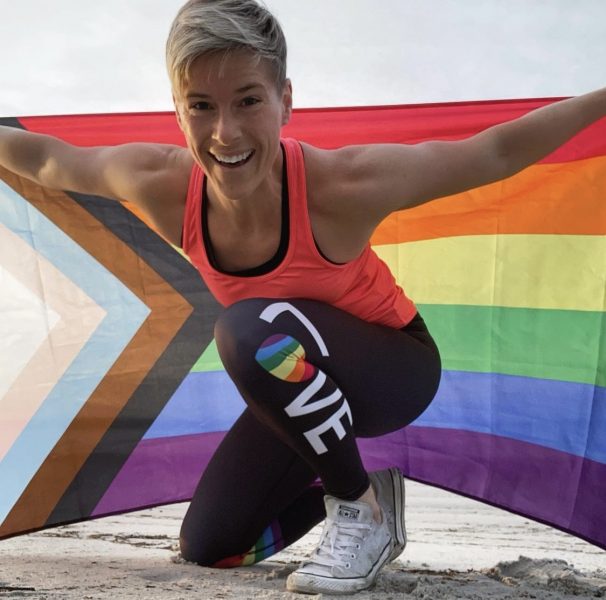 Her fitness goal is to complete consecutive 50k runs over the course of 22 days — breaking both the men's and women's world records for most consecutive days running that distance. And Kirsten Beverley-Waters, a motivational speaker, yoga medicine teacher, and fitness coach, will use this effort as a fundraising and awareness campaign for The Trevor Project, the world's largest suicide prevention and crisis intervention organization for LGBTQ+ young people.
The Trevor Project estimates that at least one LGBTQ+ youth between the ages of 13 and 24 attempts suicide every 45 seconds in the U.S. In 2020, Beverley-Waters, herself a member of the LGBTQ+ community, set her watch timer to go off every 45 seconds for the duration of a 50k run. This devastating reminder helped motivate her through the duration of that run, and then on to tackle this consecutive 50km world record challenge. As a vocal and passionate advocate for the LGBTQ+ community, Beverley-Waters has worked tirelessly to support youth through various outlets, and this fundraising effort serves as the next step in her work to help make the world a safer, better place for LGBTQ+ youth.
"Ultramarathon running requires a different level of mental sharpness, pulling us into dark places and helping us emerge on the other side of it, wiser for the lessons. I have never felt more compelled to step outside of my comfort zone than I have when hearing the devastating statistics surrounding LGBTQ+ youth and suicidal thoughts," said Beverley-Waters, who is comfortable with either feminine (she/her) or nonbinary (they/them) pronouns, according to OutsidePR.
"As a member of the queer community, advocate, and athlete, I realized I needed to combine my skills to do as much as I can to raise awareness around this detrimental part of youth experience, and I want every LGBTQ+ youth to know that I stand with them. Not just for the easy miles and the quick jogs. I'm here for the dark hours when things feel impossible, the highs when you feel unstoppable, and everything in between," she said.
The standing records for consecutive days running a 50k distance are 11 days for women and 21 days for men. Beverley-Waters, 37, plans to begin her feat on June 4, likely running for six-and-a-half to nine hours each day. She will run from her home in Maine and undertake various 50k routes from there each day for the 22-day span (totaling 684 miles).
"I want kids to see a nonbinary athlete thriving," Beverley-Waters told The Wall Street Journal. "I'm putting myself out there to remind people that we all struggle and with support we can get through any challenge."
A celebration of Beverley-Waters' effort will be held at The Hotel Zags in Portland, Oregon, a boutique outdoors-inspired hotel with a dedicated focus on inclusivity and diversity. The Hotel Zags event will also act as a fundraising partner for The Trevor Project and will welcome local running and LGBTQ+ groups to honor Beverley-Waters and her work to raise funds and awareness for LGBTQ+ youth suicide prevention.
You can visit Beverley-Waters' fundraising page and donate here.