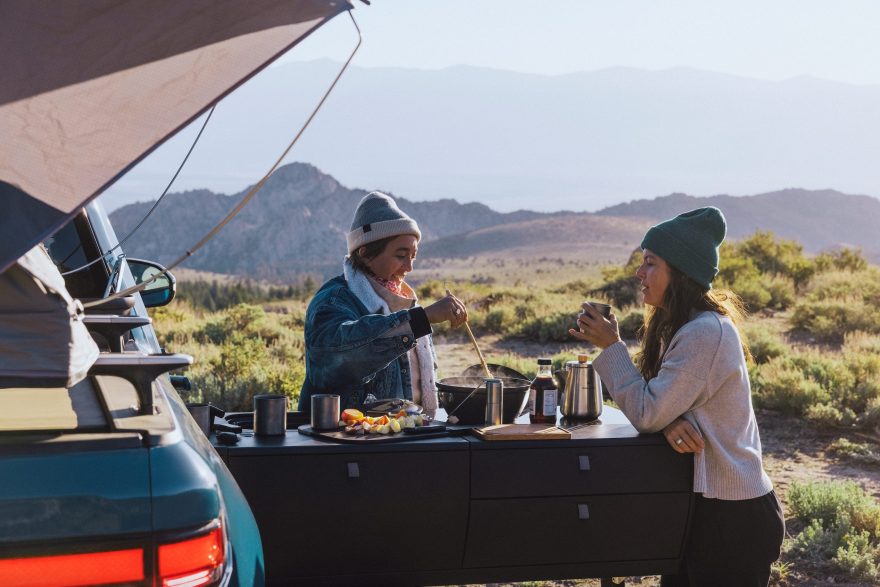 Outdoor brand Snow Peak has teamed up with Rivian, an electric vehicle company popular with overlanders, to create the Rivian Camp Kitchen x Snow Peak project. Rivian is allowing owners the option to configure the forthcoming R1T truck with the innovative camp kitchen, designed to make cooking outdoors simple and fun.
The Camp Kitchen features the 30-piece Snow Peak Kitchen Set, a curated selection of Snow Peak's top cookware and tableware, so Rivian owners have everything needed for an incredible meal wherever adventure may take them.
The Camp Kitchen is housed within the R1T's Gear Tunnel, a 65-inch long compartment that runs the width of the truck with more than 11 cubic feet of storage capacity. Attached to the Gear Tunnel Shuttle, a platform that allows it to slide out easily and securely, the heart of the Camp Kitchen is a two-burner induction cooktop, powered by the vehicle battery, that is energy efficient and powerful at 1,440 watts. The Snow Peak Kitchen Set is secured within the Camp Kitchen's drawers, nesting in custom-molded insets that hold Snow Peak cookware and tableware for four people.
The ultralight and durable Snow Peak Kitchen Set includes:
Nylon Spatula
Nylon Ladle
Bamboo Spatula
BBQ Pitts Tongs
Medium Knife
Large Knife
Cork Screw
Can Opener
Peeler
Titanium Cutlery Set (knife, fork, spoon for four people)
Tableware Set Family (plates and bowls for four people)
Titanium Stacking Mug Set (six mugs)
Home & Camp Cookset
Field Barista Kettle
Charcuterie Board
Collapsible Coffee Drip
Field Barista Coffee Grinder
For a limited time, customers pre-ordering an R1T with a Camp Kitchen will receive the Snow Peak Kitchen Set included in the purchase price. For customers who have already selected a Camp Kitchen with their R1T preorder, the Snow Peak Kitchen Set will be automatically added.
Visit the Rivian configurator to learn more. You can read more about the R1T on the Rivian Forum.