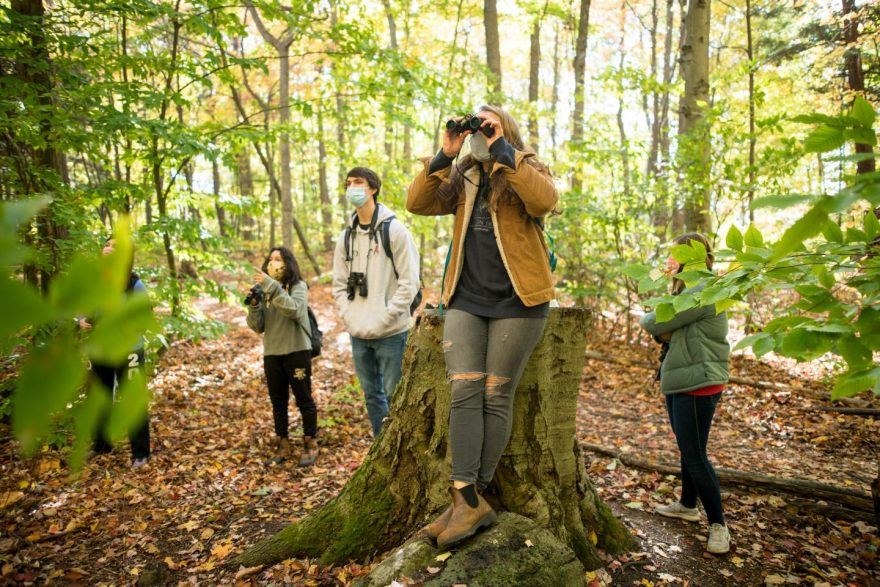 What does it take to get some people to go outside and experience nature? For some urban dwellers, it took the COVID-19 pandemic, researchers say.
The new study published today by PLOS ONE finds that 26 percent of people visiting parks during early months of the COVID-19 pandemic had rarely — or never — visited nature in the previous year.
The study, by researchers at the University of Vermont, is one of the first to explore how COVID-19 has changed Americans' relationship with nature.
"Like many people, we noticed a large increase in the number of visitors to urban forests and parks in the early days of the pandemic," said the study's senior author, Brendan Fisher of the University of Vermont. "We wanted to understand how people are using local nature to cope with the physical and mental challenges of the COVID-19 pandemic."
For the study, researchers surveyed visitors to 25 parks and natural areas around greater Burlington, Vermont, an area of roughly 214,000 residents, or roughly a third of the state's population. The team surveyed a sample of over 400 people as the state's health protocols — including social distancing, business and school closures, and travel restrictions — were introduced.
As COVID-19 health protocols were introduced, nearly 70 percent of park users increased their visits to local nature. An overwhelming number of respondents — 81 percent — reported an increased importance for these areas, and access to them. Nearly 70 percent of first time or infrequent visitors said access to these places during COVID-19 was very important.
While 27 percent of people reported reducing their group size when visiting urban nature, another 11 percent of visitors increased their group size during COVID-19. This aligns with the 17 percent of respondents who reported that these natural areas allowed them safe spaces to socialize during COVID-19.
Park users' most common reasons for visiting natural areas and parks were: getting outside, exercise, connecting to nature, finding peace and quiet, birding, dog walking, and time with children. Researchers found that 66 percent of people used these natural areas to find peace and quiet, and 32 percent reported these places as spaces for contemplation, activities that have been shown to reduce stress.
"Access to urban natural areas may be delivering mental health benefits during a time when they are most needed," said Fisher, director of both UVM's Environmental Program and the university's ten natural areas, totaling 2,527 acres. "People need more space for peace and contemplation and safe spaces to be social when so many other outlets are closed to them."
According to researchers, demand for urban green space is increasing at a time when many communities are seeing losses of urban natural areas or uncertain priority for them. In many areas in the United States, access to urban green space is unequal and a function of income and race. Given that COVID-19 has hit lower income Americans the hardest, the lack of access to green space may compound the effects of COVID-19.
Despite media reports that suggest more Americans are visiting nature during the pandemic, very few peer-reviewed studies had been published on the issue to date. This study — along with another UVM study published this week — which finds that women have especially increased their outdoor activity during COVID-19–join a recent study from Rice et al., a study on birding, and a study from Norway among the first, globally. The study is further unique because it explores not only changes in activities, but also people's values towards nature.