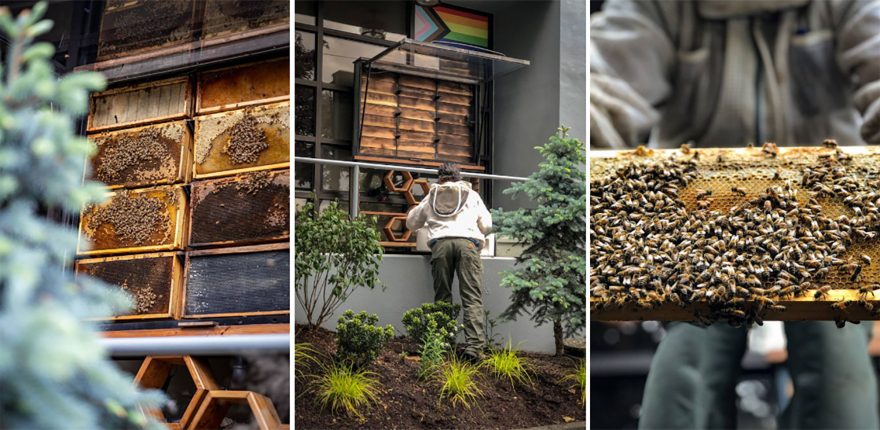 BEYOND Clothing, a Seattle-based expeditionary clothing outfitter, has announced its new Pollinator Program, a unique effort in the company's work to defend, sustain and uplift wild places for every adventurer.
Just like science class taught us, pollinators such as bees are critical for supporting ecological health, biodiversity in nature and the food we eat. Approximately 80 percent of all known green plants alive today are flowering plants, and roughly 75 percent to 95 percent of those rely upon help from pollinators to not go extinct, BEYOND said. Simply put, without a strong and diverse group of pollinators, we wouldn't have the world's wild places.
Bees face many unique threats in the modern world: insecticide misuse, habitat loss due to things like suburban sprawl and deforestation, and parasite invasions — all of which can decimate a hive.
To kick off its Pollinator Program, BEYOND Clothing has recently installed an observation beehive at its Seattle hub with more than 60,000 bees. The hive leads out of the building to an adjacent outdoor garden full of bee-friendly flowers. This be used as an educational tool for visitors to the Acropolis, BEYOND Clothing's headquarters and retail store.
Bees need diverse pollination options, but pickings are getting slim. BEYOND is making it easier than ever for everyone to join in supporting the bees with the use of Seed Paper for hang tags and order inserts. The paper is embedded with lavender/poppy seeds (a couple of the bees' favorite flowers). They're included in every order and will grow after the cards are popped into the soil and watered.
BEYOND is also teaming up with the Seola Bee Company, the Puget Sound Beekeepers Association and the American Beekeeping Federation to empower their initiatives and to learn from their expertise.
Sustainable Production Practices
The world's wild places continually suffer from damaging, wasteful practices in how products are made and consumed. BEYOND is transitioning all packaging to be eco-friendly and ready for to recycle and upgrading their manufacturing to be compliant with OEKO-TEX and bluesign standards.
Each order's out-of-the-box packaging is now compostable, recyclable and/or crafted from post-consumer content, which includes: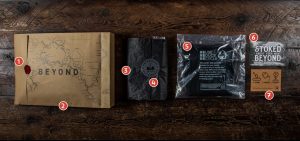 Envelope Seal Stickers – Biodegradable
Printed Envelopes – 100% Post-Consumer Recycled Material, Soy Ink Printed
Tissue Paper – Recyclable
Stickers – Biodegradable
Polybags – 100% Post-Consumer Recycled Poly
Packing Slip – Recyclable
Seed Paper Card – Plantable, Biodegradable, Soy Ink Printed
BEYOND says it is well aware that these efforts don't mean much if its own production methods were not accounted for. As such, the company is switching to PrimaLoft BIO insulation, the world's first biodegradable, 100 percent recycled synthetic insulation. BEYOND is also upgrading to bluesign-certified textiles, verified for ecological safety at every step of manufacturing. BEYOND is also working to ensure its fabrics receive standard 100 certification by OEKO-TEX, meaning they've been confirmed as free from harmful levels of more than 100 substances known to be a risk to human health. These new standards will be included in their upcoming releases this Fall/Winter.
Advocacy
Not everyone is as well-equipped to defend or stand up for themselves, and so BEYOND is partnering with organizations and programs dedicated to protection, conservation and empowerment. They are fighting for endangered species with the ESPA, giving a hand up to Veterans through the Seattle Stand Down, safeguarding education with the Special Operations Warrior Foundation, empowering diversity with Camber Outdoors and defying hate through the Seattle Safe Space Program.
Images by BEYOND Clothing