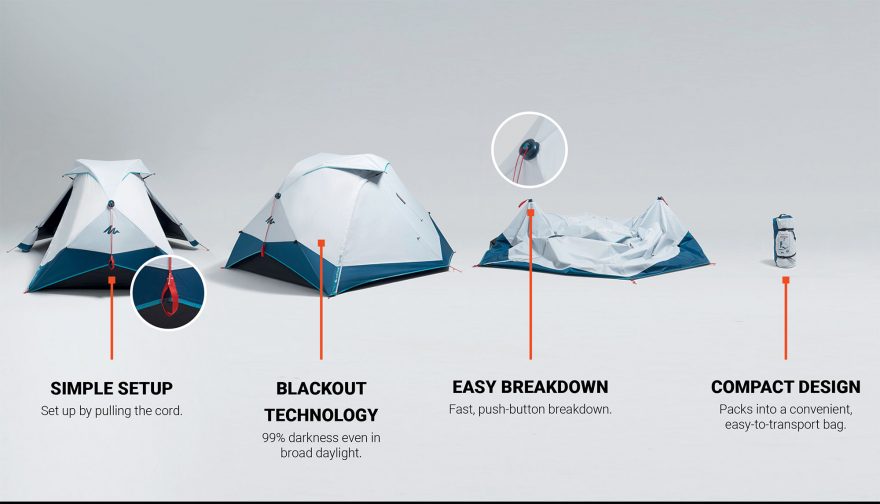 The newest iteration of Decathlon's 2 Seconds Tent revolutionizes tent setup and breakdown, making it easier than ever to set up camp
Imagine a tent that you can take out of its carry bag and with the pull of just two cords, it's set up. Done! Fini! That's all it takes for Decathlon's new 2 Seconds Easy Tent — a next-generation, state-of-the-art, easy-to-pitch tent designed to make the outdoors more accessible. With its new compact design and patented setup and breakdown system, the 2 Seconds Easy makes setting up camp super easy.
The two-person tent was revealed today in a media call over Zoom, and will be available very soon for pre-order on Decathlon's website. It runs $199 and will begin shipping in August.
We've seen countless tents over the years, and it's hard to imagine a tent being any easier than this one to set up. However, a major consideration with the 2 Seconds Easy Tent is the weight: It scales in at about 10 pounds, so it's definitely going to be better suited for a traditional camping trip than a backpacking adventure.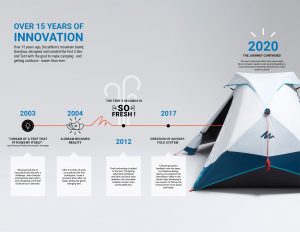 The 2 Seconds Easy Tent, part of Decathlon's Quechua mountain-centric product line, is a tent that's over fifteen years in the making. Back in 2004, Decathlon made waves in the camping market with its first-of-its-kind 2 Seconds Tent, which literally pitched itself. This version builds off that original, and really came together in the past four years, said Quechua product manager Fabien Marescaux.
"The refolding feature is what's really special about the 2 Seconds Easy — it is far and away the easiest breakdown of any tent we've ever produced," he said.
Marescaux said that Decathlon spent lots of time testing different folds and how to make it easy to replace into the carrying bag. The end result has a push-button feature to collapse the structure, with red pull cords to erect it. The company said its testing showed it to be waterproof and able to withstand up to 30 mph winds (it comes with guy lines and simple stakes, too).
The 2 Seconds Easy Tent measures 57 inches by 81 inches and is made of Decathlon's patented Fresh&Black material — a four-layer fabric that helps block UV rays and increases darkness (best for those mornings when you just want to sleep in a little longer). The material is made to help cool the tent, but it doesn't do a lot to increase warmth when needed, so the 2 Seconds Easy Tent is primarily a two-season tent. The 150D Polyester is durable, and the poles are fiberglass with plastic joints. The tent has two doorways across from each other to facilitate airflow and reduce heat buildup.
The carry bag for the 2 Seconds Easy Tent has compression straps and buckles, plus a wide mouth to facilitate getting the tent back inside. 
Finally, the Decathlon team designed the tent with a focus on sustainability and durability. This includes using a more environmentally friendly dope dyeing process for the inner room and ground sheet, reducing the amount of water and carbon impact compared to conventional dyeing. The tent also features repairable parts and a five-year warranty.
The company said it plans to release a three-person version of this tent at an undisclosed date in the future.
For a camper who wants to be able to pick up and go with ease (or even move over the course of week or weekend between specific campsites), there's a lot of value in Decathlon's 2 Seconds Easy Tent. 
Images courtesy of Decathlon