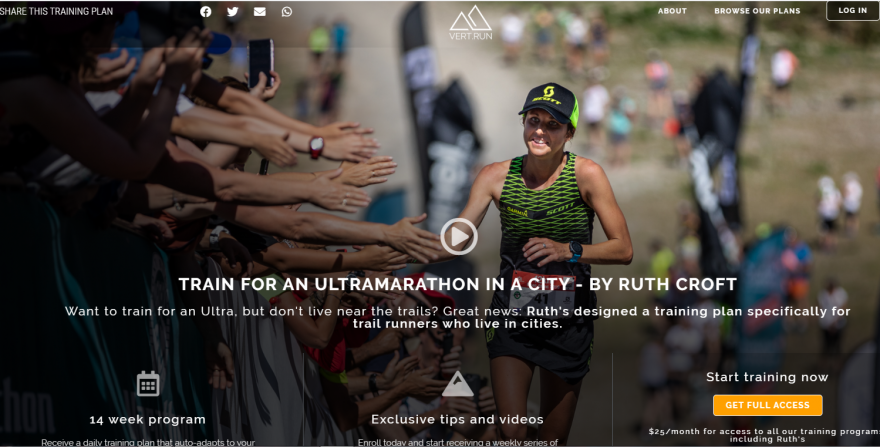 For some, it might be difficult to imagine converting all those miles spent training in the asphalt jungle into an intense ultra trail run. The terrain, the environment, the gear — it's all going to be different. But Vert.run, an online training platform for trail and ultra running, has entered a new partnership with Ruth Croft to create a training plan for people who want to build themselves up to ultra level while living in a city.
Croft's plan, which targets race distances of 60k, 70k or 80k, isn't for first-time trail or first-time ultra runners. This 14-week program is best suited for someone who wants to run their first up to 50-mile-long race or wants to improve their current abilities. 
"You have to be willing to be creative with what you have, and focus on that," Croft said. "If anything, training in a city makes you mentally a lot tougher. What is also great about cities is that there are so many people that run, so find some training partners, or a running community to share some concrete miles with."
Vert.run set out with the goal of making trail running more accessible to everyone — it offers free plans up to 32k training, which build off of a detailed questionnaire to provide a suitable plan for your needs and goals, as well as affordable premium/paid plans, which include regular feedback on your training and support from Vert founders Max Keith and Moisés Jiménez (as well as any training adjustments, if needed). While the Croft plan is the newest offering, Vert has partnered with trail runners before to offer training plans, including Hillary Allen and Dylan Bowman. Those plans include such goals as the "32k for busy athletes," "First trail race – 21k" and "First trail race city plan – 10k."
The runners who Vert partners with write their training plans for the most advanced level of runner who may use that plan, and then Vert auto-adapts that workout for the various levels of runner who would want to use it. Therefore, no two people will have the exact same training schedule, as each is tailored to what's safe and effective for the individual runner.
"It was in Taiwan where I discovered trail running, so I understand what it is like to live in a densely populated city with oppressive summers all while trying to train for an ultra," said Croft, who won the 56k OCC during the Ultra-Trail du Mont-Blanc race series in both 2018 and 2019. "What I learned was that you can undoubtedly make it work, so never stress about not having mountains or trails at your back door."
Vert.run was founded in 2018 and has had over 13,000 trail runners use its free and paid training plans. Premium-level Vert's training plans cost $25 per month, and all plans aside from Croft's are 12 weeks long. The plans are designed to lead you right up to race day, so they include appropriate taper weeks, rest weeks, etc.
The questionnaires that are used to get a runner started with both the free or paid plans include how frequently a person trains, how experienced they are and what kind of access to hills they have.
"We really drive home that it's important not to overtrain and that you need to build things gradually," said Vert co-founder Kirsten Kortebein. "We teach people that to build these skills takes time, and it's not just jumping into it overnight. You won't have longevity that way."