The CamelBak Horizon Collection is a series of tumblers packed with features and diversity.
---
CamelBak has a long and well-known history of adventure hydration, dating back to its founder's inspiration to run an IV tube to a backpack ahead of a 100-mile bike race. The company's latest offering, however, adds a new dimension to its product line: the CamelBak Horizon Collection is a series of tumblers perfect for refueling and relaxing after your journey is over.
The Horizon Collection features tumblers, camp mugs, rocks tumblers and even wine containers — almost ensuring that you'll find just the right item for your favorite beverage. The collection features sizes of 12, 14, 20 and 30 ounces, and the items have a stainless steel interior and an exterior powder coating that is dishwasher safe. One small, but important, innovation is that the powder coating comes up and over the rim, so that every sip doesn't leave you with that "tinny" taste that stainless steel has a tendency to give off.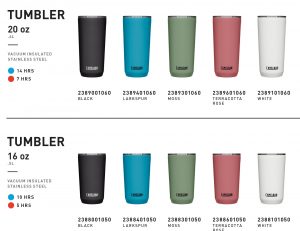 The tumblers feature a double-wall vacuum insulated structure, meaning your hot drinks stay hot and your cold drinks stay cold — for longer. The base has a silicone rubber pad on it, which means that it's less likely to slip around on a table or on a boat, and it won't scratch whatever surface it's resting on. 
Each tumbler lid features tri-mode flow control — closed, sip and drink positions. Additionally, most in the collection have a tapered design to allow for a comfortable grip and the ability to fit inside most cup holders.
While the overarching features of the Horizon Collection have some things to get excited about, each category in the collection has unique aspects, too. For example, not only is there a small, 12-ounce wine tumbler, there is also a 25-ounce wine bottle, which holds a full 750 ml bottle and has a bowl-shaped interior to maximize aroma and flavor.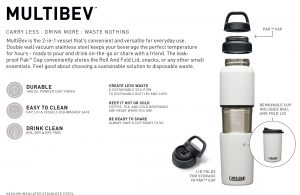 But perhaps the most standout piece in CamelBak's new offerings is the MultiBev. The 2-in-1 vessel has the same double-wall vacuum stainless steel as other Horizon Collection products, but it also has a bottom section that unscrews and serves as a second beverage container — for all those times you want to share a drink or want something smaller to drink coffee or cocoa out of. Hidden inside the MultiBev's leakproof cap is a "roll and fold lid" that can be affixed to this second mini tumbler. 
Long ago, CamelBak wasn't shy about "declaring war on the single-use plastic water bottle." The Horizon Collection product line suggests that CamelBak might be setting its sights on competing with the likes of Yeti, RTIC, Orca and others in the near future. 
Images courtesy of CamelBak