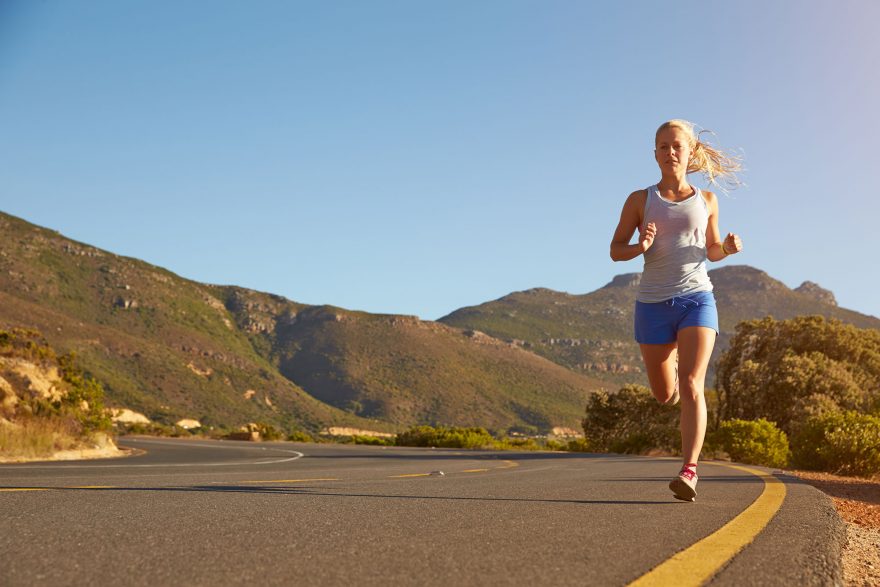 We all have seen the many East Coast vs. West Coast rivalries that crop up — some of them fun and good-natured, some of them a lot more intense. Steering firmly into the fun and good-natured category, Destination Trail Races and Yeti Trail Runners are putting together a virtual running challenge — they call it "the epic battle you didn't know you needed right now!"
The event is being led by Destination Trail Races West Coast Race Director Candice Burt and Yeti Trail Runners East Coast Race Director Jason Green. The virtual races — 50ks, half-marathons and 10Ks — can take place anywhere in the U.S. And it's easy to enter and take part:
Signup for a distance (or all three!) from April 25 to May 30 (but note that recording runs doesn't start until May 1) while choosing East Coast team or West Coast Team. If you're somewhere in between, you need to pick a side. The race organizers suggest using the Mississippi River as the dividing line. International runners can choose a team as well, whether it be East or West.
Choose a place to run that is safe/where you can socially distance whether it be indoors or outdoors please follow local COVID-19 laws and guidelines for your state. You may use a treadmill, run on the road or trail — or a little bit of all!
Run any day or time from May 1, 2020 to May 31, 2020. It's timed like a race or FKT, and once you start your run, the clock keeps going. If you don't care about your time, then you can do it slowly (as in multiple days), but the clock doesn't stop. Most participants will choose to do the entire distance in one go, rather than breaking it up into different days because of how the clock continues to tick.
Run (or walk) while recording your time. To submit a time and get on the leaderboard you will need one of two different verifications: 1. Link to a site like Strava, Garmin Connect, MapMyRun or other site that records your run — and make sure to set the run to "public" so we can verify it. OR 2. take a selfie with your time/distance if you're on a treadmill or from your watch if you don't use Strava/Garmin/other program. It's easy! Please note all verification will be public on UltraSignup.com, so you may check other people's verification when perusing live results. The Leaderboard will be live throughout the month of May! The top times for age group and genders will receive special prizes, and we will have some fun DFL prizes as well. This is on the honor system, so a photo of your treadmill mileage/watch/phone mileage will do as proof.
Upload your time and data (photo of as described above or Strava link, etc.) to UltraSignup and get results in real time! You do not have to submit a time, all participants will be mailed a medal regardless of whether they submit a time. To show up on the leaderboard or win special prizes, you will have to submit a time.
We will email you more detailed instructions on how to submit your time and how and where to find our live Leaderboard after you register. All participants will receive a medal. Medals and shirts are shipped once a week, so expect them to take up to two weeks to arrive, possibly longer if you're international.
Lastly, you will be able to better your time if you want to by uploading multiple times if you run the distance faster. If you have a top spot then someone beats your time, you can come back and run again to better your time and try to place again. Please remember that we are verifying times but that it is on the honor system — be a good human please.
You can register for this challenge here. The results will be posted here at this link.
For more information and rules, visit this page on UltraSignup.com.
Featured image by Monkey Business Images, Shutterstock