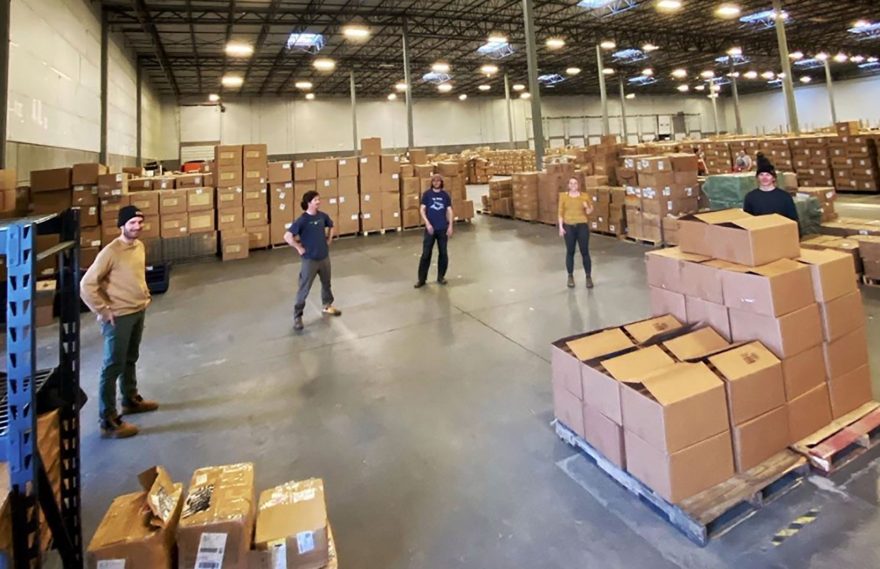 Uncharted Supply Co. helps provide furloughed Cotopaxi employees with temporary work, while Cotopaxi opens its warehouse to Uncharted in a bid to help streamline orders
---
So many businesses are adapting to the coronavirus pandemic in any way they can to help keep themselves viable during the crisis. Two Utah-based outdoor brands, Cotopaxi and Uncharted Supply Co., have entered into a unique partnership that is helping them support each other's needs and initiatives.
The panic-buying associated with the coronavirus has led to a feverish spike in sales for Uncharted Supply Co., a Park City-based brand offering a complete line of preparedness products for the everyday person. With the influx of sales, Christian Schauf, CEO and founder of Uncharted, and his staff have been working overtime to keep up with demand.
Salt Lake City-based Cotopaxi, however, faced possible ramifications through retail staff layoffs as shelter-in-place orders required shutting of stores. After seeing the ways in which the other was struggling to meet their businesses needs, Schauf and Cotopaxi CEO Davis Smith recognized the unique opportunity to come together to better serve the needs of both of these brands. They came up with an idea for a partnership in which Cotopaxi is able to offer warehouse staffing support to Uncharted — keeping Cotopaxi workers employed and helping Unchartered fill orders.
"We moved all of our inventory and fulfillment aspects of our business to Salt Lake City and Cotopaxi welcomed us into their warehouse," said Schauf. "This ensured that not only were we able to stay open, but we were able to more quickly fulfill orders and catch up. We are extremely thankful for Cotopaxi's hospitality and to their staff for getting on board to help us get orders out the door as swiftly as possible."
For the past week, the Uncharted and Cotopaxi teams have been building and assembling SEVENTY2 and SEVENTY2 Pro survival packs to keep up with record demand. They've also brought on additional customer support specialists to help customers with any questions they may have.
In addition to Cotopaxi and Uncharted teaming up for logistical and shipping support, the two brands have a new product collaboration in the works. This gear collaboration will integrate Uncharted's preparedness products into Cotopaxi's packs. Cotopaxi and Uncharted plan to launch this first product collaboration next month.